Republicans About To Party Like It's 1994?
With polls opening in less than 48 hours now, the final pre-election polling is showing that 2010 is going to be a pretty bad year for Democrats.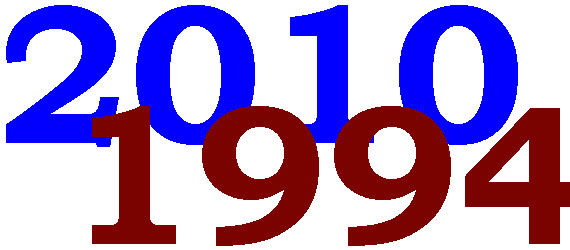 Continuing on a theme that we've touched on several times over the past few months here at OTB, a new ABC News/Washington Post poll shows that voter unrest on the eve of the 2010 midterms is similar to what it was just before the elections that swept the GOP into power in Congress for the first time in 40 years:
Voters across the country are deeply unhappy with the performance of the Democratic Congress and as dissatisfied with how Washington works as they were in1994, when Republicans took control of both chambers, according to a new Washington Post-ABC News poll.

The sour mood threatens the Democratic congressional majorities in Tuesday's midterm elections as more than seven in 10 voters see the country as off course, fully half of all voters describe the nation's economy as "poor" and many feel out of sync with President Obama when it comes to the proper size of government.

Among those most likely to cast ballots in their congressional districts, 49 percent say they side with the Republican candidate, 45 percent with the Democratic one. This four-point GOP edge puts Republicans in an even stronger position than they were heading into the final days of the 1994 election.

A narrow majority of likely voters, 52 percent, also disapproves of the way Obama is handling his job as president. That's the same as the percentage of Election Day 1994 voters who said they disapproved of President Clinton's performance, according to that year's exit polling.

One big but quickly dwindling opportunity for Democrats is that Obama and his party have significantly better ratings among all registered voters than they do among those now considered most likely to participate. Among all voters, Democrats hold a narrow five-point lead on the congressional vote question: 49 to 44 percent.

Among voters who are inclined to skip Tuesday's vote, Obama boasts a heartier 58 percent approval rating.

Among all registered voters, Democrats have a five-point advantage as the party more trusted to deal with the country's main problems, and they have a similar edge when it comes to handling Topic A, the economy. Democrats have even bigger, double-digit leads when it comes to empathy and better grasping the economic problems people in the country face.

But each of these Democratic advantages disappears when narrowing the focus to the most likely voters, as determined by their vote histories and how certain they say they are to vote on Tuesday.
This would be the much-talked about enthusiasm gap, and it is as much evidence of the fact that President Obama and the Democrats in Congress have failed to excite their own base than anything else. It's hard to pinpoint exactly why this is happening except to say that the state of the economy, the Administration's own failures to effectively communicate its message, and the fact that President Obama has not followed through on several promises made to important segments of his own base must surely have something to do with it. When you lose because you've lost independent voters it's bad enough, when that loss is made even worse because your own base is staying home instead of showing up at the polls, that's a sign that cause of your problems is far more wide-ranging than just uncooperative Republicans and a few hostile hosts at Fox News Channel.
Things get more interesting when you look deeper in the poll:
The most important issues for voters are the economy (39%), health care (17%), and "the way DC works" (14%) all other issues are in the single digits
Only 21% of Registered Voters approved of the way Congress is doing it's job, 77% disapprove
45% of Registered Voters trust Republicans more to deal with the nation's problems
Among likely voters, 47% believe the Republicans would do a better job handling the economy (for Democrats, it's 43%)
Among likely voters, 48% say the GOP best reflects their personal values (44% for Democrats)
When asked about the state of the economy, 37% say it is getting worse, 34% say it is staying the same, 29% say it is getting better
All of this boils down to a bad playing field for the Democratic Party and, if it holds up through Tuesday, it's fairly clear that we'll see the kind of Republican gains that have been forecast, and perhaps a few surprises that nobody is even thinking about right now.