Republicans Against The Military
Conservative Republicans who are typically deferential to the military are ignoring the advice of the military leadership on the new START Treaty.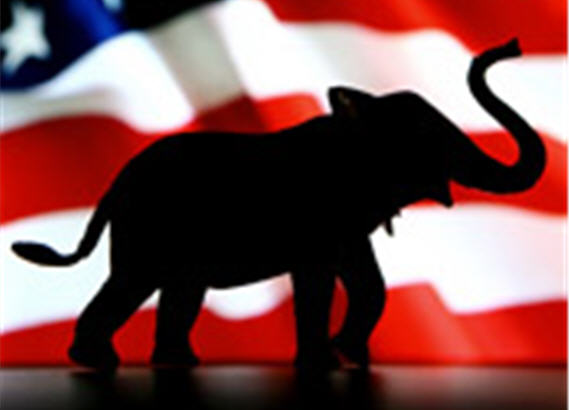 The decision by many top conservative Republicans in the Senate to oppose the START Treaty has put them in the odd position of opposing something that the military leadership has said is necessary:
An unusual split has opened between conservative Republicans and the American military leadership over the U.S.-Russia nuclear treaty, with current and former generals urging swift passage but politicians expressing far more skepticism.

Adm. Mike Mullen, chairman of the Joint Chiefs of Staff, has called the New Strategic Arms Reduction Treaty (New START) "essential to our future security." Retired generals have been so concerned about getting it ratified that some have traveled around the country promoting it.

Seven of eight former commanders of U.S. nuclear forces have urged the Senate to approve the treaty.

But five Republicans on the Senate Foreign Relations Committee said in a recent report that New START was "a bad deal." They added that U.S. military leaders had made assumptions about the pact – including that Russia will honor it – that are "optimistic in the extreme."

Meanwhile, the conservative Heritage Foundation's grass-roots lobbying arm is targeting Republican senators with mailings warning that the treaty "benefits Russia's interests, not ours."

Retired Lt. Gen. Dirk Jameson, the former deputy commander of U.S. nuclear forces, said Friday that it was "quite puzzling to me why all of this support [for New START] . . . is ignored. I don't know what that says about the trust that people have and the confidence they have in our military."

The New START treaty would reduce the two nuclear giants' stockpiles of long-range, deployed weapons by as much as 30 percent, leaving each country with about 1,550 warheads. President Obama said Thursday that he had "no higher national security priority" during the lame-duck session than having it ratified.

(…)

For current and former senior U.S. military officials, the treaty is valuable because it allows the continuation of a dialogue with a country that still has enough weapons to wipe America off the map.

"If you've had experience with this stuff, and a sense of where we've been, how far we've come . . . this is an absolute no-brainer," said retired Adm. William J. "Fox" Fallon, who was head of Central Command and Pacific Command.

Military leaders say the treaty will allow the two countries to resume inspections of each other's stockpiles, which make up 95 percent of the world's nuclear weapons. Such visits lapsed when the first START treaty expired last year.

Without such inspections, U.S. military leaders would have less insight into Russia's arsenal and might have to work off worst-case scenarios, and could consider increasing their own stockpile, officials say.

Lt. Gen. Frank G. Klotz, commander of the Air Force's nuclear forces, said meetings with his Russian counterparts over the years had been useful in dispelling their concerns about the U.S. program and sharing ideas on improving nuclear security.

"Arms control treaties are the centerpiece, the nexus around which all this takes place," he said at a recent breakfast of defense writers. The pacts "are critically important for understanding, transparency and openness between the two largest nuclear powers."
It's an odd juxtaposition partly because conservatives are typically deferential to the military leadership. When it comes to issues like tactics and strategy in Iraq and Afghanistan, the need for additional weapons systems, and the question of whether or not Don't Ask, Don't Tell should be repealed, what you typically hear from the right is that we should "trust the military" and give deference to the opinions of the leadership on military matters. Except, it seems, when the military leadership takes a position that conservatives disagree with. When the Joint Chiefs come out and say that it's time to repeat DADT, the "pro-military" right tells us that we have to survey the troops. Now, when they are saying that the START Treaty should be ratified because it's in America's interest, they instead listen to the words of men like John Bolton:
John Bolton, a conservative at the American Enterprise Institute, said that rather than drawing down on its stockpile, the United States should expand it, especially because China is modernizing its own nuclear forces, and Iran and North Korea are developing nuclear programs. He said it was wrong to see the treaty simply through a military prism.
Of course, even after going through with the reductions contemplated by START, the U.S. nuclear arsenal would still be larger than China's, and far larger than that of any other nation. Which leads one to ask the same questions that people asked during the Cold War — exactly how many times do we need to be able to nuke the Chinese into the Stone Age in order to feel safe ? According to men like John Bolton, it seems, we can never really feel safe so we need to continue adding to a nuclear stockpile that is already large enough to serve as an effective deterrent to any nation ruled by rational men.
The question for conservatives, though, is this — when it comes to reducing America's nuclear arsenal and entering into a treaty that will allow us to verify that Russia is doing the same, why don't you trust the military?