Republicans Face The Reality That Trump Is A Political Albatross They Can't Get Away From
Republicans have a Donald Trump problem, and they can't run away from it.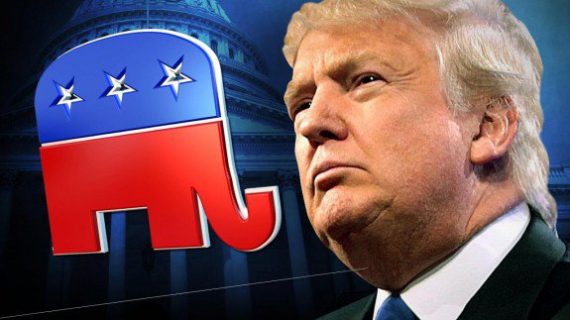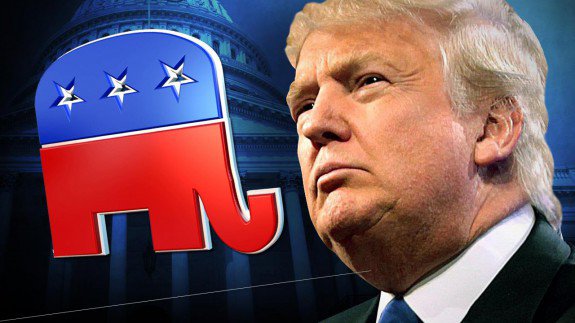 Not surprisingly, Tuesday's massive Republican loss in Virginia, which was clearly a rebuke directed at President Trump, the Trump agenda, and Republicans who support him, have left Republicans across the country shaken and wondering what's to come if the current political trends continue:
A wave of Democratic victories ignited a ferocious debate across the Republican Party on Wednesday over whether President Trump's un­or­tho­dox behavior and polarizing agenda are jeopardizing the GOP's firm grip on power in Congress, governors' mansions and state legislatures.

The recriminations sparked by Tuesday's results — a decisive rebuke of Trump and his policies in Virginia and elsewhere — threatened the fragile GOP push to pass sweeping tax cuts by the end of the year and raised deeper questions about Republican identity and fealty to a historically unpopular president.

A year ahead of the 2018 midterm elections, Republicans are increasingly uncertain about keeping their majorities on Capitol Hill and are worried about how damaging Trump's jagged brand of politics may become to the party.

"Donald Trump is an anchor for the GOP," said veteran party strategist Mike Murphy, a Trump critic. "We got that message in loud volume in Virginia. The ­canary in the coal mine didn't just pass out; its head exploded."

The unease was palpable among vulnerable lawmakers, especially in suburban districts with the kind of voters who roundly rejected Ed Gillespie in Virginia. The Republican gubernatorial nominee ran on countering gang crime and illegal immigration and protecting Confederate history — cultural issues that Trump has made a touchstone of his presidency — but lost to ­Democrat Ralph Northam, 54 percent to 45 percent.

Ohio Gov. John Kasich (R) said Tuesday's contests were a lesson to Republicans that catering to the party's conservative base with hard-line appeals and incendiary language turns off the moderate voters they need to win in states like his own. He said his party must choose between a political message of "blaming and scapegoating" or a more hopeful pitch centered around everyday issues such as health care and the economy.

"This is a repudiation of the politics of narrow," Kasich said. In an apparent reference to Trump's 2016 victory, the governor added, "The politics of anger may work for a moment in time, but it does not last, thank goodness."

But other party leaders warned against drawing overly broad conclusions about Trump and his political strength from defeats in a handful of states — including two, Virginia and New Jersey, that Democrat Hillary Clinton won in last year's presidential election.

"Democrats say this is a repudiation and this is an anti-Trump vote, but to me the case doesn't stick," said Robin Hayes, chairman of the North Carolina Republican Party. "Donald Trump is extremely popular in a lot of places. His promise to 'drain the swamp' resonated and still does."

Said Gov. Bill Haslam (R-Tenn.): "When you see one night of elections, you see one night of elections. There is always natural wind at your back if you're not in the White House, and wind in your face if you are."

Still, even among Trump's allies, there were complaints about the White House being dis­engaged and unready to deal with the party's mounting challenges.

"The White House isn't paying attention to the suburbs, and there has never really been a political operation there," said Edward J. Rollins, the strategist for the Great America Alliance super PAC, a pro-Trump group. "They have to develop a strategy where it's not just Trump alone winning, where the whole party is able to win."

Andy Surabian, an adviser to the group and an associate of former White House chief strategist Stephen K. Bannon, said blame cast upon Trump and Bannon for lurching the GOP to the right was misplaced.

"Establishment Republicans are blaming Trump and talking about Armageddon, but what is their alternative?" Surabian asked.

White House officials defended Trump's efforts to help fellow Republicans, noting that he has held numerous fundraisers and other events to help the party. And they argued that the best way for incumbents to navigate the political turbulence would be enacting tax cuts and other Trump policies.
One of the key questions facing candidates in future elections, of course, will be the question of how Republicans should handle this President and most particularly the fact that his job approval remains at historic lows and are unlikely to improve anytime between now and the 2018 midterms. For Republicans in deeply red states and districts, of course, this isn't really an issue and the rules for them if they want to survive politically are fairly simple. If they want to avoid being targeted in a primary by candidates backed by Steven Bannon, the Tea Party, or other groups that have lined up behind the President, they'll need to toe the Trumpidian line, avoid criticizing the President, and make sure they vote the "right" way on issues such as health care reform and tax reform. Similarly, such candidates likely won't need to worry about paying a price for such loyalty in the General Election unless there's a wave election that even manages to impact solidly Republican districts and states, in which case they'll be fighting for their political lives anyway. The issues are somewhat more complicated for Republicans running in purple states or districts, or in blue states or districts where Hillary Clinton won in 2016. In addition to worrying about a challenge from the right within their own party, these candidates have to consider whether being seen as too fully embracing this President, his agenda, and most especially his rhetoric could end up having a negative impact on their chances against a Democratic challenger in a General Election, especially if voters next year remain as dedicated to sending a message to Republicans in general and Trump in particular as the exit polls from Virginia make clear. For these Republicans, they're left with the seemingly contradictory problem of having to be perceived as loyal to the President by the voters in their own party while seemingly being independent of him in the eyes of the much larger population of non-base voters
The problem for these voters, as Rich Lowry notes in his piece this morning at Politico, is that there is no running away from Trump:
[T]he Virginia race revealed a problem with the Trumpism without Trump construct — namely, that it's not really possible.

First, it's not going to be convincing to Trump-haters. Ed Gillespie — even an Ed Gillespie talking about cracking down on MS-13 — is not the slightest bit Trumpy. He is earnest, wonky and friendly. When he distanced himself from Trump, it was credible because he hadn't been close to Trump to begin with. He had never met him, and all of Trump's support on Twitter was unsolicited. One of the few times Gillespie even came close to losing his cool on the campaign trail was when he expressed irritation with reporters for asking him about Trump too much.

None of this made the slightest difference to voters in Northern Virginia, where Northam racked up margins bigger than Hillary Clinton and Barack Obama. These people weren't showing up to send a message to Gillespie, the otherwise unthreatening candidate who happened to run a barrage of negative ads against Northam (not the first time this has happened in electoral politics). They were showing up to send a message to Trump, whom they believe is a clear and present danger to all that they hold dear. Gillespie could have revealed himself to be a secret member of #TheResistance, and these mobilized suburbanites still would have voted against him as the best way to make a gigantic rude gesture toward the president.

So as a sheer political matter, there can be no such thing as Trumpism without Trump, or Anti-Trumpism without Trump, or Anything Else without Trump. It is hard enough for a candidate to run away from a conventional president of his own party (Democrats couldn't do it during midterm drubbings while Bill Clinton and Barack Obama were presidents); it is going be even harder with a president who dominates the media to an extent no other president has, and courts — nay, enjoys — radioactive controversies. Until further notice, the phenomenon we saw in 2016 of Republicans running successful, traditional campaigns at a polite remove from Trump has to be considered inoperative.

Then, there is the other, opposite problem: that Trumpism without Trump won't be fully acceptable to Trumpists. They talk a lot about the "Trump agenda," although what this means is vague. How could Gillespie have run on it more to their satisfaction? Promise to build a wall and have Mexico pay for it? To implement extreme vetting? To hire the best people and make the best deals? To work with Chuck and Nancy as the mood strikes him? The fact is that the Trump legislative agenda is entirely conventional (certainly Gillespie has no problem with it) and what sets Trump apart is his populist, guy-on-a-barstool persona and perpetual combativeness.

This is what his loyalists ultimately want everyone to sign up for, the personality. As Trump himself put it in a particularly classless tweet immediately after the Virginia result, Gillespie "did not embrace me or what I stand for." The idea that this would have juiced turnout in Trump country enough to overcome Northam's 9-point margin — Gillespie already did quite well in rural areas — is hard to credit.
Lowry is largely correct, of course. Even Republicans who try to distance themselves from Trump next year or beyond are going to find it next to impossible to fully protect themselves from an anti-Trump backlash because, for better or worse, Trump is the de facto head of the Republican Party as long as he's in the Oval Office. Pushing back against the worst aspect of his Presidency may work in some isolated cases, particularly for politicians who have their own records to run on independent of the White House, but for the vast majority of Republicans there will be no getting away from an anti-Trump tsunami if that's what we end up seeing in 2018.