Republicans Foolishly Risking Default To Prove A Political Point
Once again, the House GOP is risking sending the economy into the tank to prove a political point.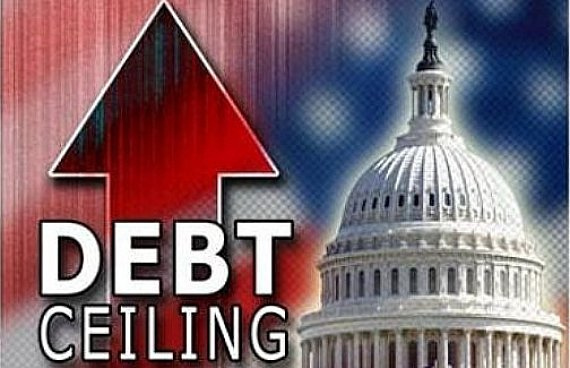 According to some estimates, we're just about a month away from the point where the statutory limit on the Federal Government's ability to borrow will begin to have an impact on the Treasury Department's ability to pay the nation's bills. We actually hit the limit, somewhat appropriately, on New Year's Eve but the Treasury has been able to avoid the consequences of that event largely by engaging in some creating accounting much as they did during the summer of 2011. That's only going to last for so long, however, and at some point we're going to reach the point where the amount of money in Federal coffers will be insufficient to pay the obligations that the government faces on a nearly daily basis. At that point, unless the debt ceiling is raised, Treasury will be forced to make choices as to what gets paid and what doesn't. Most obviously, priority items such as interest on the national debt, pensions, Medicare, and Social Security will likely get top priority, but that will still leaves tens if not hundreds of millions of dollars of obligations per month that will go unpaid. These obligations are monies owed to a wide variety of individuals and organizations ranging from contractors, to vendors of all types (including companies that sell products to the government as ubiquitous as office supplies, for example), to the state's that receive federal dollars for a wide variety of products, to landlords in spaces that the government rents space, to Federal Employees.
As there was during the debt ceiling crisis in 2011, there's been much talk recently about what the actual consequences of letting all of this happen would actually. The word default is being thrown around a lot, but there are actually two kinds of default that are possible here and the consequences of both are just a little different. The worst case scenario default would be one in which the United States actually failed to make interest payments to bondholders as required by law, or if it failed to pay bondholders who redeemed their bonds at maturity, something that we've never done in our history. If this were to happen, confidence in the safety of Federal Government debt instruments would decline significantly, interest rates would rise, and world financial markets would be sent into a panic that would potentially outweigh what we saw in the summer of 2008. In reality, there's little chance that this would happen. The United States brings in roughly $200 billion per month in revenue of various kinds, while the interest due on a monthly basis on our debt instruments is roughly $20 billion per month. There would clearly be enough money to cover our debt obligations as long as whatever crisis continued, and it's inconceivable that any American President would allow his Treasury Department to put the nation into default in this manner. Therefore, I'd say that the actual odds of the United States defaulting on its bond obligations is really quite low.
There's another kind of default that's possible here, though, and it's the one that I noted above. That $200 billion a month that the Federal Government brings in is nowhere near enough to cover all of the obligations that the Treasury has to pay out during the average month. Clearly, some obligations would have to go unpaid. This means that contractors, vendors, landlords, and employees who depend on these payments would find their bank accounts empty. The cascade effect of such an event is pretty easy to understand. Contractors and vendors who don't get paid what they're owned by the Government will find it hard to pay their own obligations, including salaries and benefits,  and this will trickle down to the people who depend upon them in a self-repeating cycle. While it doesn't involve the Federal Government's bond obligations, this is as much a "default" as you failing to pay your credit card bill or your mortgage, and the consequences would not be dissimilar. While such a default would not likely lead to the panic in the financial markets noted above, it will cause a serious economic slowdown and, according to most estimates, push the economy very quickly into a recession if it's allowed to continue.
So, whether we're talking about failing to pay our bond obligations or failing to pay our other bills, the default that would result from a failure to raise the debt ceiling would clearly be economically painful. This is why the Republican Party's current strategy seems so bizarre:
House Republicans are seriously entertaining dramatic steps, including default or shutting down the government, to force President Barack Obama to finally cut spending by the end of March.

The idea of allowing the country to default by refusing to increase the debt limit is getting more widespread and serious traction among House Republicans than people realize, though GOP leaders think shutting down the government is the much more likely outcome of the spending fights this winter.

"I think it is possible that we would shut down the government to make sure President Obama understands that we're serious," House Republican Conference Chairwoman Cathy McMorris Rodgers of Washington state told us. "We always talk about whether or not we're going to kick the can down the road. I think the mood is that we've come to the end of the road."

Republican leadership officials, in a series of private meetings and conversations this past week, warned that the White House, much less the broader public, doesn't understand how hard it will be to talk restive conservatives off the fiscal ledge. To the vast majority of House Republicans, it is far riskier long term to pile up new debt than it is to test the market and economic reaction of default or closing down the government.

GOP officials said more than half of their members are prepared to allow default unless Obama agrees to dramatic cuts he has repeatedly said he opposes. Many more members, including some party leaders, are prepared to shut down the government to make their point. House Speaker John Boehner "may need a shutdown just to get it out of their system," said a top GOP leadership adviser. "We might need to do that for member-management purposes — so they have an endgame and can show their constituents they're fighting."
David Frum wonders whether the Republicans are bluffing with all this shutdown and default rhetoric. Well, I think its certainly possible that the GOP Leadership, especially Speaker John Boehner realizes that the debt ceiling will have to be raised and that default of any kind simply isn't an option, not just for the country but for the Republican Party's political future. However, John Boehner is a wounded leader at the moment. The Fiscal Cliff negotiations, and most especially their resolution, left a lot of bad blood in the water that has yet to be fully resolved. Indeed, it's come out in the past two weeks that the main reason that Boehner pulled the Sandy Relief Bill from the schedule on the night of January 1st was because he felt that he'd already lost enough credibility with the House GOP Caucus over the Fiscal Cliff and that he couldn't risk losing more . As we saw just a few days later, those restive conservatives were part of what was ultimately a failed effort to unseat Boehner as Speaker. Now, just ten days later it's pretty clear that Boehner and the rest of the House GOP Leadership are walking on thin ice and it's entirely unclear that they have any real ability to control those members of the caucus who seem willing to send the country over the brink in an effort to win a political battle.
I'm honestly not sure how this situation is going to resolve itself. In a rational world, both sides would be sitting down right now and trying to hammer out a deal that raises the debt ceiling while satisfying enough Republicans to get a bill through the House. We're long past living in a rational world on Capitol Hill, though, and the fact that we have Republican members of the House willing to send our economy over the cliff yet again suggests that there may be no resolution at all to this crisis. I hope I'm wrong about that one.