Republicans Learned Right Lesson from 2012, Went Wrong Direction
What happened to "building a lasting relationship within the African American community"?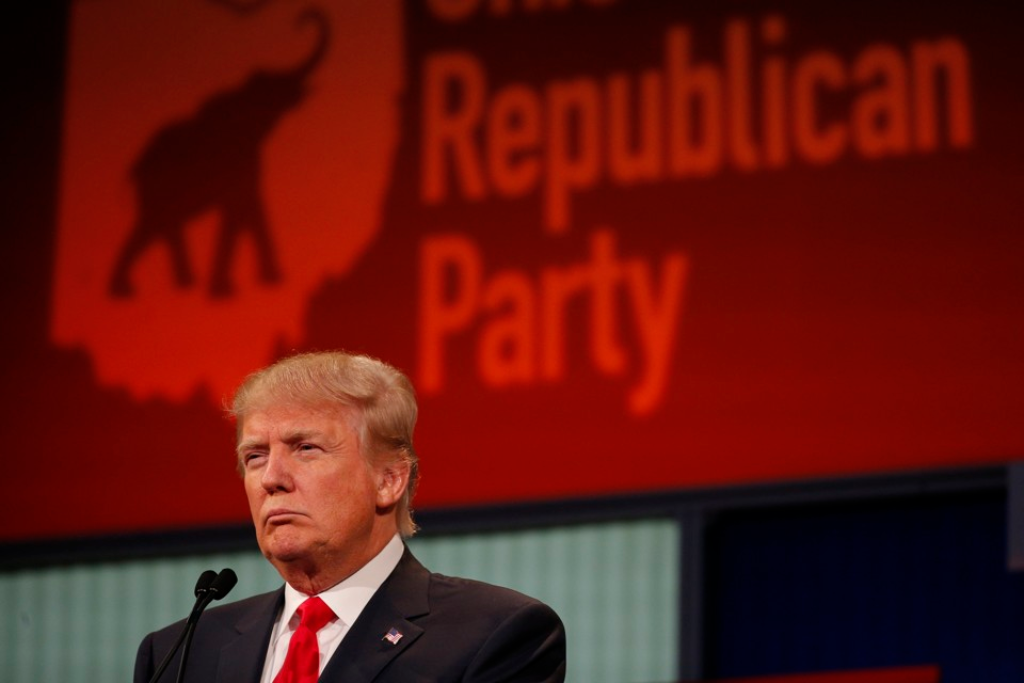 Kevin Drum points out that the famous "autopsy" conducted by the Republican National Committee after Mitt Romney's loss to Barack Obama correctly identified the GOP's problem and pointed to the logical conclusion:
In 1980, exit polls tell us that the electorate was 88 percent white. In 2012, it was 72 percent white….According to the Pew Hispanic Center, in 2050, whites will be 47 percent of the country….The Republican Party must be committed to building a lasting relationship within the African American community year-round, based on mutual respect and with a spirit of caring.
Rather obviously, they . . . did. not. do. that. not do that.
Drum's analysis as to why not:
But there was always a glaring problem with this strategy, one that everybody was keenly aware of: reaching out to black voters would only work if Republicans also ceased their tolerance of white bigotry. In other words, they'd almost certainly lose votes on a net basis at first, which would mean handing over the presidency—and maybe much more—to Democrats for upwards of a decade or so. That's just too big a sacrifice for any political party to make.

So instead they took another route: they went after the white vote even harder. In Donald Trump they found a candidate who wasn't afraid to appeal to racist sentiment loudly and bluntly, something that simply hadn't occurred to other Republicans. They never thought they could get away with something like this in the 21st century, and normally they would have been right: it would have lost them as many votes among educated whites as it won them among working-class whites. But after eight years of a black president in the White House, racial tensions were ratcheted up just enough that Trump could get away with it. Only by a hair, and only with plenty of other help, but he did get away with it, losing 10 points of support among college-educated whites but gaining 14 points among working-class whites.

The entire Republican Party is now all-in on this strategy. They mostly stay quiet themselves and let Trump himself do the dirty work, but that's enough. Nobody talks anymore about reaching out to the black community with a spirit of caring or any other spirit. Nor is there anything the rest of us can do about this. Republicans believe that wrecking the fabric of the country is their only hope of staying in power, and they're right. If working-class whites abandon them even a little bit, they're toast.
Now, I think that's slightly off. Mostly, because it treats the GOP as though it were a tightly-controlled organization rather than a decentralized collective.
The people who commissioned the post-2012 autopsy likely knew the answer ahead of time and were, I think, genuinely ready to steer the party in the right direction. The problem is that there is no party to steer.
Reince Priebus, who was RNC chair from January 2011 until resigning to become President Trump's first chief of staff in 2017, was more apparatchik than ideologue. He focused most of his energy into streamlining the party's fundraising, communications, and organization. But he understood early on that the party needed to move in the direction the "autopsy" would recommend.
For ease of effort, I'm relying here on Wikipedia's summary of his tenure:
After the Republican loss in the 2012 presidential election, Priebus called for Republicans to embrace comprehensive immigration reform that would afford illegal immigrants in the U.S. legal status.[38] He also ordered reviews of RNC operations, including the party's messaging to young people, women, and Hispanics.[39] The analysis of the election cycle would include gathering feedback from numerous volunteers and staffers who were involved at various levels.[40][41] He began development of a political plan including a long-term strategy to reach demographic groups that had voted mainly Democratic in the November 2012 elections. The plan was labeled "The Growth and Opportunity Project".[37]

[…]

For Priebus's second term he set the goal of "transforming the party – to be a force from coast to coast."[44] In his re-election speech he stated that the party would no longer approach electoral politics from a "red and blue state" perspective.[44]

On March 18, 2013, Priebus presented the completed Growth and Opportunity Project report developed from a listening tour and four-month analysis[45] carried out by Priebus and Republican strategists including Ari Fleischer, Henry Barbour, Sally Bradshaw, Zori Fonalledas and Glenn McCall.[37] The report outlined a comprehensive plan for the party to overhaul its operations.[45] Specific plans outlined in the report included: improving the Republican Party's digital and research capabilities; a $10 million outreach effort to minority communities; supporting immigration reform; and reducing the length of the presidential primary season.[45]

[…]

Also following the Growth and Opportunity Project report (also called "the autopsy" and "the post-mortem"[52]), Priebus led efforts to reach out to black, Latino and Asian American voters. In July 2014, he spoke at the National Association of Black Journalists convention, where he said that to support these efforts the Republican Party was spending approximately $8.5 million per month and had established offices in 15 states.[53]
But the 2016 campaign demonstrated how little control the RNC has over the party:
In December 2015, Priebus publicly criticized then Republican presidential candidate Donald Trump's proposal to temporarily suspend Muslim immigration in response to terrorist attacks. "I don't agree", Priebus told The Washington Examiner.[68] Following Trump's controversial remarks about Mexican illegal immigrants in early 2015, Priebus reportedly delivered a "stern 40-minute lecture" to Trump.[69]
In May 2016, Priebus again publicly criticized Trump, saying Trump was not the head of the Republican Party and that Trump must "change his tone."[70]

On August 1, 2016, after Trump criticized the Gold Star family of Captain Humayun Khan, a Muslim soldier who was killed in Iraq and whose father criticized Trump, Priebus yet again criticized Trump publicly, stating "I think this family should be off limits, and we love them and I can't imagine being the father of a little girl and boy going through the unbelievable grief of them not coming home one day in battle."[71]

A December 8, 2016, New York magazine article by Gabriel Sherman reported that "some Trump advisers are dismayed by Priebus's influence because they question the Washington insider's loyalty to the president-elect … Three sources told me that shortly after the Access Hollywood tape leaked in early October, Priebus went to Trump's penthouse and advised the candidate to get out of the race," Sherman reported. This article contains no named sources aside from two members of the current Trump administration, both of whom were cited to clear discrepancies in the otherwise unsourced article.[72] Priebus announced days afterward in October that the RNC would continue to support Trump.[73]*
Priebus would almost certainly have preferred a more mainstream nominee than Trump. But he had limited tools, indeed, to shape the outcome.
Moreover, I think many of the state-level Republican apparatuses made the calculation Drum describes. That is, whether they agreed with Priebus and company about what was good for the party in the long run, they calculated that their present interests were best served by a combination of race-baiting, nativism, and voter suppression.
That it wound up working in 2016 was, frankly, a fluke.
Trump was and is sui generis in his ability to generate free publicity from the news media. Further, whether by luck or design, scandals that would fell any other candidate merely graze him because there are so many that people grew weary of paying attention. And Hillary Clinton had been in the spotlight so long and accumulated so much baggage that Democratic enthusiasm was unusually low.
Voter suppression efforts likely helped turn a statewide race or three in the 2018 midterms but the tide continues to turn overall. A handful of historically red states, including my own home state of Virginia, have turned purple if not blue and none have gone in the other direction. (Going back a bit further, California, by far our most populous state, went from reliably Republican to reliably Democratic.) Texas is likely to flip within a couple of cycles unless the GOP can find a way to appeal to Latino voters.
The lessons of 2012, then, continue to apply. Trump's racism/nativism and the failure of all but a handful of Republican leaders to condemn it have not only delayed the necessary course correction but made it far more difficult.
______________________________
*I've left in the footnote indicators. While I didn't click the links for verification, a glance at the sources shows them to be mostly solid (there are a few Newsmax-type stories mixed in) and the narrative comports with my own recollection of events.