Republicans Not Giving Up On Electoral College Allocation Schemes
Republicans at the state level are still trying to cook the books in the Electoral College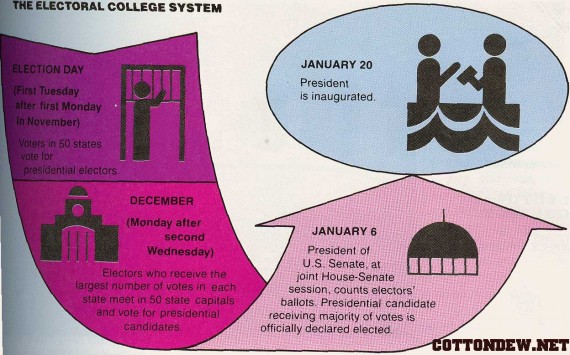 Last year, Republicans in Pennsylvania put forward the idea of changing the way that the state allocates its Electoral Votes in Presidential Elections to the so-called "District Method" in which Electoral Votes are awarded based on which candidate wins the majority of votes in each of a given state's Congressional Districts, with the remaining two votes going to the winner of the statewide popular vote. The plan aroused much controversy at the time, largely because it was seen as an attempt by the Republicans who control the state legislature to benefit Mitt Romney in the upcoming Presidential election. Eventually, the plan was dropped but Jamelle Bouie now notes that it's apparently being revived:
Over the weekend, thirteen GOP Pennsylvania Senators, led by Majority Leader Domini Pileggi, introduced a new plan to redistribute electoral votes by congressional district. Under this legislation, the winner of the state's congressional districts would receive the most electoral votes, even if she lost the popular vote.In other words, it would reward candidates for winning land, not people.

If Pennsylvania distributed its electoral votes this way in 2012, Mitt Romney would have won eight of twenty votes, on account of his strength in rural areas of the state. Indeed, if every swing state allocated its votes in this way, Romney would have won the election, which explains the sudden popularity of proposals like this in various states. In some of them, such as Virginia — which recently introduced a plan to award one electoral vote for every Congressional district — it has been abandoned.
Pennsylvania isn't the only state where the idea of the District Method is being revived, it's also happening in Michigan:
Lansing — Republicans handed Bobby Schostak another two-year term as state chairman Saturday and overwhelmingly endorsed a plan to change Michigan presidential electoral vote  rules in a way opponents charge is intended to distort election results in favor of GOP candidates.

By a 1,370-132 margin at the party convention in Lansing, GOP members approved a resolution backing a proposal from Rep. Pete Lund, R-Shelby Township, to divvy-up 14 of the state's 16 electoral votes according to which candidate got the most votes in each congressional district. The other two would go to the state-wide vote total winner.

That switch from a winner-take-all formula that has been in effect 175 years could water down the dominance Democrats have had in Michigan in presidential elections for the last 24 years.

Critics say the plan would have given Mitt Romney nine of Michigan's 16 electoral votes last year, although he lost by more than 500,00 votes to President Barack Obama state-wide. With the win, Obama captured all 16 Michigan electoral votes.

Lund introduced a bill to make the revision last year but it was unsuccessful. Hesaid he intends to reintroduce it in 2013, but leaders of the Republican majorities in both legislative chambers haven't publicly announced a position on it.
As Boulle notes, this was also tried in Virginia earlier this year, but the effort died a quick death after Governor Bob McDonnell and other high-ranking Republicans spoke out against it. What's particularly galling about these latest efforts, though, is the fact that Republicans don't seem to be offering any coherent policy arguments in favor of changing the way their state's Electoral Votes are allocated. Indeed, the only reason that they seem to be in favor of doing is at all is because of the perception that it would help future Republican candidates for President overcome the Electoral College advantage that Democrats seem to have built up over the last several Presidential cycles. Indeed, as one study noted, if the District Method had been in place in all 50 states during the 2012 election, Mitt Romney would have won the Electoral Vote despite losing the Popular Vote decisively. Another study showed that Romney would have won a narrow Electoral College victory if the District Method had been used by twelve swing states last year. Whatever one thinks about the Electoral College, one must at least admit with the a few limited exceptions, it has tracked the Popular Vote in nearly every Presidential election held quite accurately. When the two have deviated, it has been in situations where the Popular Vote was incredibly close. A deviation in an election where the Electoral College winner lost the popular vote by 5,000,000+ votes is,  I would submit, an entirely different animal and a major policy argument against adopting a District Method rule nationwide.
The fact that Republicans, at least some Republicans are latching onto this scheme as a way to deal with the fact that they have lost the four out of the last six Presidential elections,  or five out of six if you just count the popular vote, is an indication of just how disinterested they appear to be in actually thinking about what's wrong with their party. Republicans aren't going to save themselves by cooking up these Electoral College schemes, they're only going to change when they realize how badly they've fallen out of sync with the public as a whole, how much their own right wing has damaged their brand, and how little they make themselves appear to be in actually governing. Until then, they're just rearranging the deck chairs on the Titanic.