Republicans Planning Write-In Candidate Against Akin?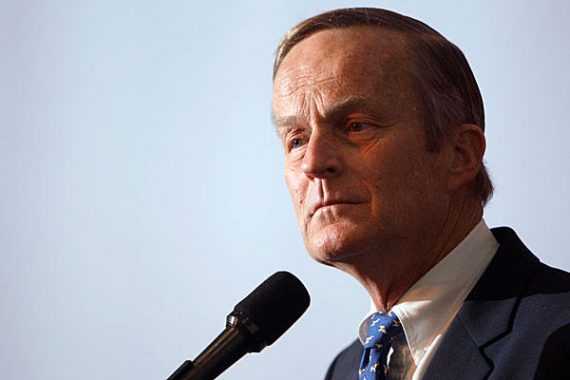 Mary Matalin suggested on ABC News's This Week that top Republicans are planning to fund a write-in candidate against Todd Akin if he fails to remove himself from the Missouri Senate race: 
This morning on ABC News, however, Mary Matalin — a well-connected GOP operative — suggested that Republicans would run a write-in candidate to defeat Akin. Matlin said that, if necessary, Republicans would "transfer the money" to Ann Wagner — a former chairwoman of the Missouri GOP who is currently running for Congress — to run as a 3rd party or write-in candidate. Transcript:

Matalin: We are going to win Missouri and Wagner is going to be our candidate.The party is going to get Ann Wagner in.

Stephanapolous: So you are just convinced he's going to get out

Matalin: Or we'll run a third party, we'll run a write-in. We can do it. We have the money to do it. We are going to transfer the money. It's not as easy. But it's a good state for Romney and we will get it back.
Since it's still early, the transcript from this morning's show hasn't been posted, but I'll get it up as soon as it's available.
I'm not familiar with Missouri's write-in rules, but my understanding is that it would be possible to mount such a campaign as long as the candidate in question did not run for the party nomination for the same seat. Additionally, Wagner's name was in the news last week as a possible replacement for Akin. The only possible problem here is that Wagner is currently the GOP candidate for Akin's Congressional seat (the plan suggested last week would have had Akin and Wagner essentially trading places on the ballot) and it's unclear how the GOP would be able to replace her in the race since she likely cannot run for two seats at the same time. The other complication is that mounting a write-in campaign may end up helping Claire McCaskill as much as it would hurt Todd Akin. Additionally, write-in campaigns for the Senate are rarely successful, with 2010's win by Lisa Murkowski being the first since Strom Thurmond had done it in South Carolina in 1954. Nonetheless, it seems clear that national and state Republicans remain committed to either getting Akin out of the race, or preventing him from winning if he does not.
Update: For reference, here is a summary of the write-in laws for Missouri.
Update #2: Here's the video of Matalin's comments: