Republicans See Donald Trump As 'Presidential,' The Rest Of America Not So Much
Polling shows that Republicans increasingly see Donald Trump as Presidential and trustworthy. The rest of America disagrees.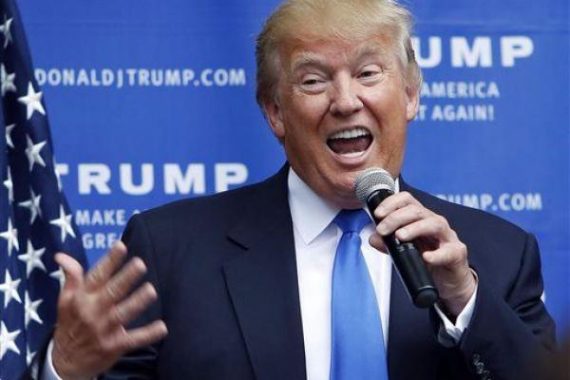 Two separate results form the most recent ABC News/Washington Post poll show a very interesting dissonance between how Republican votes see Donald Trump and how the rest of America views Donald Trump, and it could interesting and important implications for how the Republican nomination fight proceeds and how the General Election plays out.
First up, Greg Sargent notes that self-identified Republicans have come to have an increasingly positive view of Donald Trump. By a wide margin, they now say that he is "qualified to serve as President," that he is "honest and trustworthy," that he understands the problems of ordinary people, and that he  "has the kind of personality and temperament it takes to serve effectively as president." As Sargent goes on note, these numbers are consistent with a recent poll by Quinnipiac University which also found Republicans coming to have a largely positive view of Trump. In some sense, these numbers are surprising given the fact that, just two and a half months ago when Trump entered the race, opinion about him even from Republicans was overwhelmingly negative. Given the fact that the public had come to know him through his ostentatious public personality, along with an aborted 2011 flirtation with running for office that included a months-long obsession with President Obama's birth certificate, not to mention Trump's long history of saying outrageous things, this is somewhat surprising.  However, what seems to have happened is that, as Trump as risen in the polls, Republican voters have come to set aside their previous opinions of him. Additionally, the fact that Trump is saying things that many Republicans agree with is no doubt responsible for the fact that he is not only rising in the horse race polls, but that he is also being seen by Republicans as more "Presidential" than they might have seen him before he got into the race.
These results are duplicated in a new CBS News/New York Times Poll:
Republicans increasingly think that Donald J. Trump has the best chance of winning the 2016 presidential election as their nominee as confidence fades in traditional politicians like Jeb Bush and Scott Walker, according to the latest New York Times/CBS News Poll.

Although Republicans have reservations about Mr. Trump and voters often end up embracing candidates who lagged in early polls, the billionaire businessman appears to be gaining acceptance as a possible nominee.

The poll found that 39 percent of Republican primary and caucus voters viewed Mr. Trump as their best shot at winning the presidency, compared with 26 percent in a CBS survey in August. Only 15 percent said they would not back him as the party's standard-bearer.

(…)

The establishment candidates are battling fierce headwinds from a party electorate that vastly prefers a nominee from the business or private sector rather than a traditional politician, by 48 percent to 9 percent. Mr. Bush, a former Florida governor, and Mr. Walker, the governor of Wisconsin, have lost the most support by far since delivering what many analysts called lackluster performances in the August debate. Eleven percent of Republicans viewed Mr. Bush as best positioned to win in the general election, compared with 23 percent in August; only 2 percent thought Mr. Walker was most likely to win, down from 8 percent.

Carolyn Dillard, a 55-year-old Republican who is moving from Virginia to Florida, said in a follow-up interview that she was supporting Mr. Trump because he was "not your typical politician who says everything that is politically correct." She credited him with targeting the national debt and illegal immigration.

I want somebody who is able to stand tall and say there are serious issues in this country and they need to be addressed," said Ms. Dillard, a retired teacher and computer specialist. "We give Iran billions and our bridges are collapsing? Seriously? I'm more interested in leadership experience than political experience."

Republicans showing the greatest political momentum in the poll were the three outsiders: Mr. Trump, who drew strong support from self-described moderates, people with family incomes of $50,000 or less, and those without a college degree; Mr. Carson, who edged out Mr. Trump among conservatives and wealthier voters and was much stronger among college graduates; and Carly Fiorina, a former business executive who had support from 4 percent of Republicans, an improvement over her trace amount in August.
Go outside the Republican Party, though, and the views about Donald Trump are very different:
Sixty percent of Americans don't consider Donald Trump to be qualified to be president, according to new polling from the Washington Post and ABC News. Of registered voters, 56 percent hold that position, including over a third of Republicans.

That's a pretty remarkable figure. There's certainly an element of partisanship at play — more than three-quarters of Democrats think he's unqualified — but over 60 percent of independents think Trump is not qualified, compared to 37 percent who think he is.

It's a particularly interesting finding coming after Trump has seen a remarkable turnaround in his personal favorability ratings. In late May, Trump's net favorability (those who view him favorably versus those who don't) was at -49 among all voters and -18 with Republicans, according to polling from Quinnipiac University. (A Monmouth University poll in April had Trump's favorability with Republicans at -28.) In Quinnipiac's late August survey, Trump's numbers had improved significantly: Up to +29 among Republicans and -18 among all voters. Only Democrats didn't view him much more favorably.
The contrast in public opinion about Trump can be expressed visually. First, here's a chart showing the responses to the question about whether Trump is qualified to be President, broken down by party: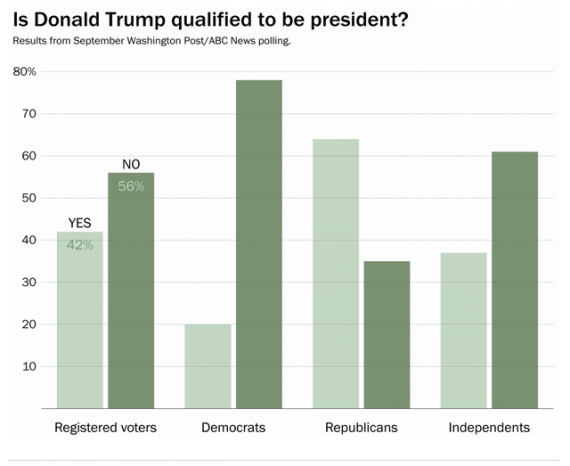 And here's a second chart showing the changes in Trump's net favorability since entering the race: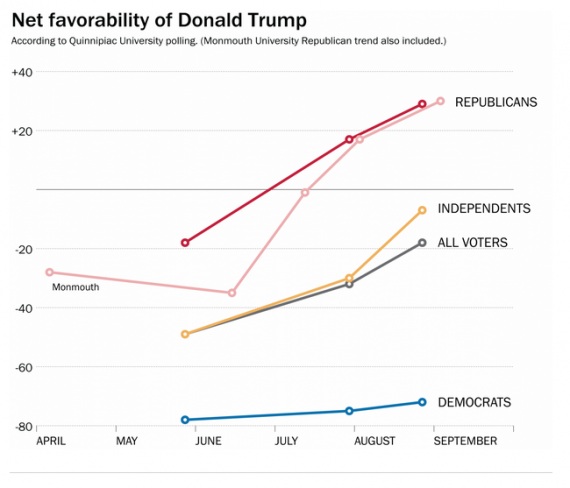 The biggest takeaway from these charts, of course, is the fact that while Trump is now increasingly being seen as a credible candidate for President by Republicans, even by Republicans that don't support him, we are not seeing the same thing happen among voters as a whole. There has been somewhat of an uptick in Trump's favorability among Independents, but this isn't surprising given the fact that much of Trump's message draws on the anti-establishment themes that people who consider themselves apart from both major political parties would be attracted. Indeed, I would suspect that many of the Independents who are now thinking more positively about Trump are people who are likely to vote for him in Republican primaries in states that allow them. Also, it's entirely unsurprising that Democrats tend to view Trump negatively, not only because of his rhetoric but also because he tends to reaffirm most of their pre-existing opinions about the Republican Party.
What should concern Republicans here, I think, is the fact that a candidate who has a long history of saying offensive things, who is doing worse among Latino voters than even Mitt Romney did, and who appeals to the worst aspects of American politics is the undisputed frontrunner in the race for their party's nomination, and that Republican voters seem to be able to increasingly seem him as an acceptable nominee. Numbers like those that Trump has among Republicans right now tend to be what leads someone to become the nominee to begin with, and while it's still possible that he will stumble somewhere along the way it is now increasingly possible that Republicans will end up cheering Donald Trump in Cleveland next June. The fact that he seems to be almost universally despised outside the Republican Party, though, means that nominating him creates the risk of setting the party up for a disastrous General Election in 2016 not only at the Presidential level, but also further down the ballot where the GOP still has to worry about holding on
The original version of this post was updated to include information regarding the new CBS News/New York Times poll.