Republicans Seek To Use Budget To Block D.C. Marijuana Legalization
The budget bill Congress set to pass Congress would effectively reverse the will of the voters of Washington, D.C., who just voted to legalize marijuana.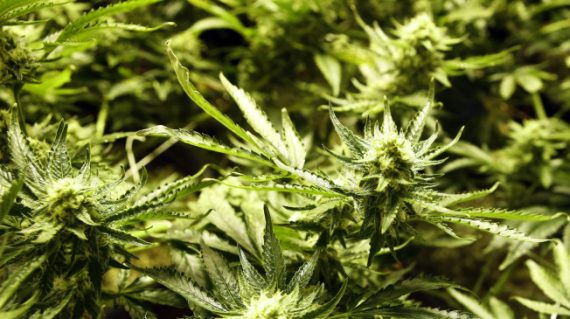 Last month, the residents of the District of Columbia overwhelmingly approved a referendum legalizing marijuana for all purposes, thus joining Colorado and Washington, which had approved similar measures in 2012, as well as Oregon and Alaska, which also approved ballot measures legalizing marijuana on Election Day, as one of five U.S. jurisdictions where marijuana is legal. There's a catch in the District of Columbia, though, in that a good portion of the city's budget comes from Federal funds and is subject to the approval of Congress. This essentially gives Congress effective veto power over not only D.C.'s budget, but also many of its laws since it can use its budgetary control to determine what laws do and don't go into effect. Initially, there was some indication that Congress would stand on the side and allow the marijuana initiative to go into effect. As thing stand right now, though, the budget bill that Congress will approve this week effectively blocks the legalization measure from going into effect:
Congress plans to block Washington, D.C., from implementing its recently passed ballot initiative legalizing marijuana, according to legislative text released late Tuesday.

The sweeping omnibus appropriations bill includes a provision that appears to prohibit the District of Columbia from spending any taxpayer funds to carry out marijuana legalization. It does not, however, affect a separate decriminalization measure passed by the City Council this spring, and leaves the city's medical-marijuana infrastructure intact. The exact meaning of the language, which Republicans and Democrats appeared to be interpreting differently, will be more clear when the House and Senate Appropriations Committees issue full reports explaining the legislation's implications.

House Republicans had been pushing for language in the bill that would have upended legalization, decriminalization, and medical marijuana. But negotiators whittled the language down to target only the most recently passed initiative, which has yet to be implemented.

The omnibus spending bill must be passed by Dec. 12 to avoid a government shutdown, so even those opposed to the measure are unlikely to scuttle the bill's passage because of the high stakes involved if the omnibus fails.

Senate Majority Leader Harry Reid said Tuesday he was against the GOP effort, but didn't call it a deal-breaker.

"If they put it in there, it's going to be hard to take it out over here, but I oppose it," Reid said.

District activists have been more vocal, complaining that any effort to block the initiative would thwart the will of local voters and impinge on the city's sovereignty.

District residents voted resoundingly—the initiative garnered nearly 70 percent of the vote—last month to pass Initiative 71, which would allow residents to possess up to 2 ounces of marijuana, grow up to six marijuana plants, and transfer without sale up to 1 ounce to another person.
The Huffington Post suggests that there may be a loophole:
[S]ome marijuana policy reformers said language in the bill may still allow marijuana legalization in the nation's capital to proceed. The text of the bill says no funds "may be used to enact any law, rule, or regulation to legalize or otherwise reduce penalties associated" with recreational use of drugs illegal under federal law.

"Some advocates I've spoken with aren't so sure" the bill blocks legalization, Marijuana Majority chairman Tom Angell told The Huffington Post. "It all hinges on the definition of the word 'enact.'"

Angell explained that the question is whether Initiative 71, which voters approved in November legalizing recreational marijuana, should be considered "enacted" on Election Day, or whether "enacting" means the District Council transmitting the initiative to Congress for review, which has not yet occurred.

"I've heard good arguments on either side," Angell said, "and I think it's up in the air now, especially since press reports from earlier on Tuesday quoted unnamed congressional staffers as saying the bill would allow D.C. to move forward with legalization. Ultimately, it may take a court case to decide what 'enact' means."
Allahpundit wonders how this move will play politically:
Well, per last month's exit polls, a majority of voters nationally favor legalizing marijuana — but that majority has dropped seven points, from 58 percent to 51 percent, since last year. Maybe the 2013 number is an outlier or maybe, as more states vote to legalize, voters think the shift is happening too fast. Only 31 percent of self-identified conservatives support legalization, so the GOP should be fine with its older, more right-wing base, even if that means irritating libertarians and younger adults. As for Washingtonians, they can still enjoy the drug publicly for now provided they can get their hands on it, which, if you're unwilling to buy from a gang member, isn't easy to do
In the same regard, The Washington Post's Christopher Ingraham notes that a majority of Americans favor Congress allowing the states to decide this issue:
Americans overwhelmingly want the federal government to keep its hands off of state-level marijuana regulations.

That's one of the conclusions of a survey on marijuana legalization recently commissioned by Third Way, a centrist think tank. Similar to other recent polling, the survey found Americans split on the question of full legalization, with 50 percent supporting versus 47 percent opposed. But the poll found that six in ten respondents said that states, and not the federal government, should decide whether to legalize marijuana. And 67 percent of Americans said Congress should go further and specifically carve out an exemption to federal marijuana laws for states that legalize, so long as they have a strong regulatory system in place.

In short, there's a lot of nuance here. "Even 21% of those opposed to legalization for recreational use still agreed Congress should pass" a waiver policy for the legalization states, according to the report. The waiver approach isn't without precedent: Congress issues waivers to states all the time.

(…)

How this would work for marijuana is detailed in an exhaustive forthcoming study in the UCLA Law Review. In short, Congress could allow states to opt out of the Controlled Substances Act provisions relating to marijuana, provided they comply with regulatory guidelines issued by the Department of Justice.

This is already the de-facto federal policy toward Washington, Colorado, and other states that have recently legalized marijuana. But it can't become a formal policy without an act of Congress. Third Way heartily endorsesthis approach, as it represents a (wait for it) third way between the current federal policy of outright prohibition, and the full legalization route favored by marijuana reform activists.

Among other benefits, such an approach would allow banks to do business with marijuana businesses without fear of federal prosecution — as things currently stand, many marijuana businesses operate on a cash-only basis. And paradoxically, formalizing the federal government's stance on state-level sales could actually strengthen the Department of Justice's hand when it comes to enforcement. "If you formalize this policy," Brookings' Hudak says, "it empowers the federal government to take a hands-on approach." It's easier for authorities to identify and penalize bad actors if they have crystal-clear guidelines regarding regulation.
The fact that Congress is using its budgetary authority over the District to override the will of the voters of the District of Columbia barely a month after they had spoken in the election makes it unlikely, of course, that Congress in either in its present form or in the form that will exist when the 114th Congress takes office on January 3rd would be willing to enact the kind of permanent waiver that Ingraham is talking about here. Additionally, while polling indicates strong support for the idea that states, and presumably the District, ought to be granted autonomy on this issue by the Federal Government to legalize marijuana, it is unlikely that any Member of Congress will pay much of a political price for supporting a measure like this. In the end, this is rather obviously a low priority issue for most voters to the point where it is unlikely that how a Congressman or Senator voter on the matter would impact how they act on Election Day. Additionally, when it comes to a measure such as this which is tucked away deep in the text of an Omnibus bill that exceeds 1,600 pages in length, it simply isn't the case that any member has the opportunity to vote "No" on the question of whether or not Congress should get involved in this matter at all. A measure like this is simply something that has been inserted into the bill by some member of one of the relevant committees, it was not voted on specifically at the committee level and it will not be voted on as a specific amendment to the final bill. Like so many other thing in such a massive bill, it will pass if the entire bill passes or fail if the bill fails. Since there are few, if any, members of either chamber who will vote against a bill because of one provision like this, there's very little risk to any member in voting in favor of it. In fact, since voting against bill means voting to shut the government down, there's almost no reason for any member to stage a fight over such a small provision of the bill. That's what the proponents of measures like this are counting on when they sneak measures like this into last minute "emergency" Omnibus bills. In short, notwithstanding the polls there's little risk that anyone who votes for this will pay a political price for it.
Perhaps the District will have luck in the Courts on this issue, but it doesn't look good. Procedurally, the victory of the initiative doesn't appear to be enough to bring the law into effect. Instead, the City Council would ordinarily be required to pass enabling legislation that puts the new law in effect and sets up a regulatory and taxation scheme before the law is considered "enacted." This, for example, is what happened when District residents approved other measures like medical marijuana so, I'm not sure that the "enact" argument is one that will succeed in Court. The best hope would be for some hope for a change of heart in Congress, but that doesn't seem likely at this point. If nothing else, though, a move like this strikes me as a very good argument for the idea that Washington, D.C. ought to have far more autonomy to enact its own laws than it has right now. There simply isn't any rational reason why Congress should have veto power over the will of nearly three-quarters of the voters in the District who voted to approve this initiative.
H/T: Andrew Sullivan