Republicans Stuck Between Trump and a Hard Place
Explaining the continuing cowardice of GOP Senators.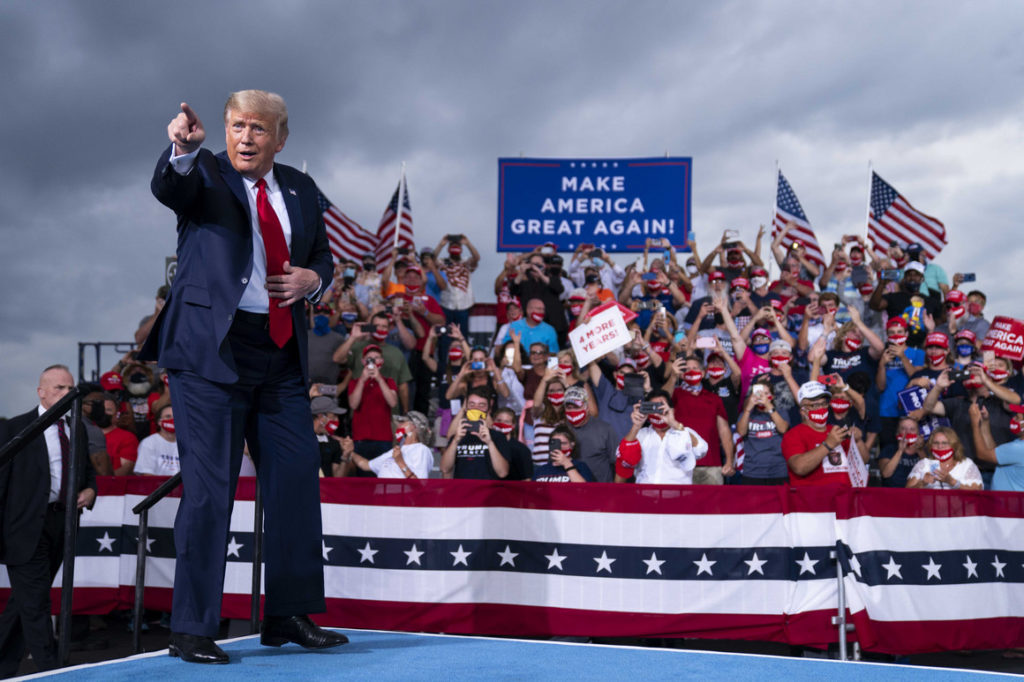 Congressional Republicans are ever-so-slowly acknowledging the reality that Joe Biden will be our next President. But few are willing to risk crossing the loser sitting in the Oval Office.
POLITICO ("Republicans start to relent: 'It looks like it will be President Biden'"):
The Republican Party is in an increasingly untenable position — how much longer can it really refuse to recognize Joe Biden as the president-elect?

Nearly two weeks after the election, there are signs that Republicans are starting to accept reality.

President Donald Trump's legal campaign to reverse his election loss is crumbling all around him and there's no mathematical possibility that he can reverse margins of 10,000 or more votes in the five states he won in 2016 but lost to Biden. Meanwhile, the Biden transition is stuck in molasses, and Trump is barely addressing the coronavirus spikes across the country, let alone cooperating with the incoming administration on vaccine distribution efforts.

Most Republicans have been reluctant to contradict Trump's claim that he can still hold the White House, but there's been a steady trickle of GOP lawmakers defecting from Trump's false contention that he was robbed by fraudsters. After Trump tweeted Monday, "I won the election," Sen. Roger Wicker (R-Miss.) told reporters, "I wouldn't have advised he put it that way."

Sen. John Cornyn (R-Texas) said Trump can and should continue his legal challenges but has "every confidence on Jan. 20 we're going to inaugurate a president. And it will probably be Joe Biden."

"It grows increasingly unlikely that a remedy would involve overturning the election," said Sen. Kevin Cramer (R-N.D.), who said he nonetheless supports Trump's goals of exposing even small cases of malfeasance on ballots. "Vice President Biden ought to be getting briefings and the transition ought to be in the works so that there's an infrastructure for that. And if he ends up winning, as it seems likely he will, that he won't have to get caught up on one day in January."

Marco Rubio (R-Fla.), the chair of the Senate Intelligence Committee, referred to Biden as the president-elect unprompted, saying "that's what the results, the preliminary results, seem to indicate, and we certainly have to anticipate that that's the highest likelihood at this point."

"We have to assume right now, based upon the current electoral count, that we are getting closer to the point where the facts on the ground will bear that out," Sen. Mike Rounds (R-S.D.) said when asked about Trump's lawsuits fizzling in court. "Right now, it looks like it will be President Biden. We understand that."

Yet acknowledging the fact that Biden will soon be president risks angering Trump and his legion of supporters — including those the GOP needs to turn out in a pair of Georgia runoffs to determine Senate control. Most Republican leaders still won't do anything to push Trump to accept the inevitable.
An NPR report ("Sen. Rubio Joins Small Group Of Republican Senators Calling Biden 'President-Elect'") notes that Rubio is one of very few who has gone all the way in publicly acknowledging reality:
Rubio joins a club of only four other Republican senators who have acknowledged Biden's win. They are Sens. Mitt Romney of Utah, Lisa Murkowski of Alaska, Susan Collins of Maine and Ben Sasse of Nebraska, who have all also congratulated Biden for clinching the White House.
This, despite real worry that Trump is dragging down the two Republicans trying to keep their Senate seats in the Georgia runoffs. WaPo ("Republicans sound alarm on Georgia Senate runoffs as they privately weigh Trump's influence"):
Republican leaders are increasingly alarmed about the party's ability to stave off Democratic challengers in Georgia's two Senate runoff elections — and they privately described President Trump on a recent conference call as a political burden who despite his false claims of victory was the likely loser of the 2020 election.

Those blunt assessments, which capture a Republican Party in turmoil as Trump refuses to concede to President-elect Joe Biden, were made on a Nov. 10 call with donors hosted by the National Republican Senatorial Committee. It featured Georgia's embattled GOP incumbents, Sens. David Perdue and Kelly Loeffler, and Karl Rove, a veteran strategist who is coordinating fundraising for the Jan. 5 runoffs.
Why would politicians risk their own careers and the ability to forestall complete Democratic control of the elected branches of government over a loser? One possible explanation is in another POLITICO report ("4 more years: Trump freezes 2024 presidential field"):
Kevin Cramer called Donald Trump last week to convey his support for the president's efforts to contest the election results when Trump dropped a casual aside that snapped the North Dakota senator to attention.

"If this doesn't work out, I'll just run again in four years," Trump said.

Cramer could only chuckle at the president musing about the next presidential race while he's still in office. But to the lineup of Republican hopefuls with their eyes on becoming the GOP's post-Trump standard bearer, the president's remark was no laughing matter.

While Trump's loss was supposed to trigger a Republican Party reset, his flirtation with a 2024 bid ensures he'll remain the dominant force in the party and cast a shadow over anyone looking to succeed him. Even the possibility of Trump running again will impede other Republicans from laying groundwork for their own bids — lest they upset Trump and his tens of millions of supporters, many of whom are convinced the election was stolen.

"Of course it makes it more difficult for people who might want to run," Cramer said, before adding: "It's not up to him to make it easy for other people to run."

Those who've worked for Trump — Vice President Mike Pence, Secretary of State Mike Pompeo and former United Nations Ambassador Nikki Haley — are in perhaps the toughest spot of all. Each would have to maneuver around the soon-to-be-former president after spending the last four years aligning themselves with him.

But some argue the three would benefit from the president freezing the 2024 field. Pence, Pompeo and Haley have used their roles in the administration to establish national profiles, build donor networks and deepen their ties to conservative activists. In the event Trump eventually decides not to run, they would start out a primary with advantages over others who are further behind organizationally.
Whether an obese 74-year-old will be a viable candidate four years from now is a question for a later time. The Republicans haven't given a losing nominee a second bite at the apple since Richard Nixon in 1968 and the Democrats haven't done it since Adlai Stevenson in 1956.
Given that he's never been able to win the popular vote and has done a demonstrably lousy job of actually governing—and has stopped even pretending to do so since losing the election—one would hope the party would be able to find a better candidate. But Trump is obviously still quite popular with the base.
Regardless, fear that Trump will continue to dominate the party would certainly explain why Senators still fear crossing a demonstrable loser.