Republicans vs. The Unions
Scott Walker's attempt to crush the Wisconsin public employee unions may be the first wave in a fight to elect Republican governors in 2012.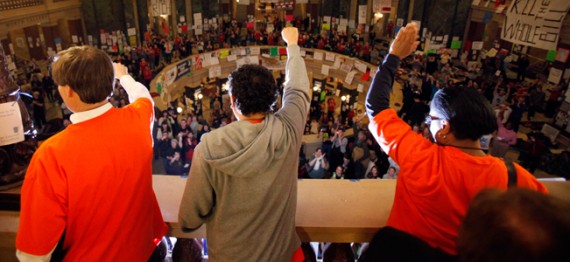 Howard Fineman argues that the right fight in Wisconsin isn't about the fate of the state's public employees but rather "about which party controls governorships and, with them, the balance of power on the ground in the 2012 elections."
Gov. Scott Walker, a Tea Party-tinged Republican, is the advance guard of a new GOP push to dismantle public-sector unions as an electoral force.

Last fall, GOP operatives hoped and expected to take away as many as 20 governorships from the Democrats. They ended up nabbing 12.

What happened? Well, according to postgame analysis by GOP strategists and Gov. Haley Barbour of Mississippi — who chaired the Republican Governors Association in 2010 — the power and money of public-employee unions was the reason.

"We are never going to win most of these states until we can do something about those unions," one key operative said at a Washington dinner in November. "They have so much incentive to work hard politically because they are, in effect, electing their own bosses — the Democrats who are going to pay them better and give them more benefits. And the Democrats have the incentive to be generous."

This is how top Republicans see the matter: a vicious cycle of union-to-Democrat-to-union power that they are determined to break.

And there is a lot of money and manpower involved. In the 2010 cycle, the American Federation of State, Country and Municipal Employees spent $87 million, making AFSCME the biggest single source of independent campaign spending last year — bigger than Karl Rove's American Crossroads.

The manpower is even more important, though, especially that of AFSCME and the National Education Association. The public-employee troops are concentrated, in absolute numbers and by percentage, in 18 states. In California alone, there are 1.4 million government employees represented by unions, according to AFL-CIO numbers. In Illinois, it's more than 400,000; in New York, 1.1 million.
The analysis is surely right: Republicans have long seen organized labor — and especially the powerful public employees unions — as a major impediment. And rightly so: They've enjoyed spending and manpower advantages without analogue on the Right.
But, while I'm sure other Republican governors are watching closely to see how things play out in Wisconsin, I'm more than a little skeptical of the idea that Scott Walker is taking one for the team here. It's much more likely that he sees this as a way to consolidate his own political power. If he thought there was a good chance of this backfiring, he certainly wasn't going to do it to help Republicans in California, Illinois, and New York.