Republicans Worried Trump Doesn't See The Danger On The Horizon In November
Republicans are worried about 2018, and they're even more worried that they have a President who is refusing to acknowledge political reality.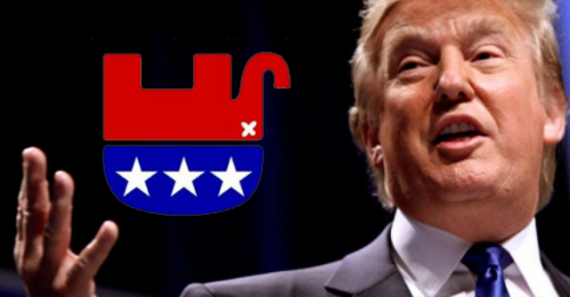 At least in private, Republicans are growing increasingly concerned that President Trump could undermine the party's efforts to stem what is increasingly looking like a coming Democratic wave in November:
WASHINGTON — President Trump is privately rejecting the growing consensus among Republican leaders that they may lose the House and possibly the Senate in November, leaving party officials and the president's advisers nervous that he does not grasp the gravity of the threat they face in the midterm elections.

Congressional and party leaders and even some Trump aides are concerned that the president's boundless self-assurance about politics will cause him to ignore or undermine their midterm strategy. In battleground states like Arizona, Florida and Nevada, Mr. Trump's proclivity to be a loose cannon could endanger the Republican incumbents and challengers who are already facing ferocious Democratic headwinds.

Republicans in Washington and Trump aides have largely given up assuming the president will ever stick to a teleprompter, but they have joined together to impress upon him just how bruising this November could be for Republicans — and how high the stakes are for Mr. Trump personally, given that a Democratic-controlled Congress could pursue aggressive investigations and even impeachment.

Over dinner with the president and other Republican congressional leaders this month, Senator Mitch McConnell, Republican of Kentucky and the majority leader, phrased his advice for the president in the form of a reminder: Mr. Trump should never forget his central role in the 2018 campaign, Mr. McConnell said, explaining that Republicans' prospects are linked to what he says and does and underscoring that their one-seat advantage in the Senate was in jeopardy.

If Mr. McConnell's warning was not clear enough, Marc Short, the White House's legislative liaison, used the dinner to offer an even starker assessment. The G.O.P.'s House majority is all but doomed, he said.

But Mr. Trump was not moved. "That's not going to happen," he said at different points during the evening, shrugging off the grim prognoses, according to multiple officials briefed on the conversation.

The disconnect between the president — a political novice whose confidence in his instincts was grandly rewarded in 2016 — and more traditional party leaders demonstrates the depth of the Republicans' challenges in what is likely to be a punishing campaign year.

Mr. Trump is as impulsive as ever, fixated on personal loyalty, cultivating a winner's image and privately prodding Republican candidates to demonstrate their affection for him — while complaining bitterly when he campaigns for those who lose. His preoccupation with the ongoing Russia investigation adds to the unpredictability, spurring Mr. Trump to fume aloud in ways that divide the G.O.P. and raising the prospect of legal confrontations amid the campaign. And despite projecting confidence, he polls nearly all those who enter the Oval Office about how they view the climate of the midterms.

According to advisers, the president plans to hold a fund-raiser a week in the months to come and hopes to schedule regular rallies with candidates starting this summer. But there is not yet any coordinated effort about where to deploy Mr. Trump, and there are divisions within his ever-fractious circle of advisers about how to approach the elections.

Among his close associates, a debate is raging about whether to focus on House races that could earn the president chits with Republican lawmakers who might ultimately vote on impeachment, or to dig in to defend the party's tenuous Senate majority.

"We need to be unified, and I know this is a frustrating business that we're involved in, but rather than having circular firing squads, we need to be shooting outward," Senator John Cornyn of Texas, the second-ranking Senate Republican, said of the White House.

Nearly every modern president has lost seats in his first midterm election, and Bill Clinton saw both the House and the Senate fall to Republicans in 1994. But given Mr. Trump's polarizing administration, the results this fall are likely to hinge more than ever on the man in the White House.

Anger toward Mr. Trump has become a crucial motivating tool for Democrats. Already, Republicans have spent millions on House special elections in strongly conservative areas of Pennsylvania and Arizona, losing one seat and retaining the other by a relatively narrow margin.'

At the same time, Republican leaders believe he is an essential force for savaging Senate Democrats and turning out voters on the right.

Yet congressional leaders remain deeply frustrated about Mr. Trump's improvisational pronouncements. At the White House dinner, Mr. McConnell raised one such policy and expressed hope that Mr. Trump could resolve the matter of his proposed tariffs, which have instilled deep worry among farm-state Republicans.

"If we can get trade resolved that would be exceptionally important," Senator James Lankford of Oklahoma said when asked in an interview how the president could help in the midterms.

Other Republican lawmakers have begun pleading with the president to be disciplined and hold up the growing economy and sweeping tax overhaul they passed in December.

"He's always defied political convention, but this is a political convention I think that we should adhere to," said Senator Bill Cassidy of Louisiana, "which is to focus on that which is important to people, which is their wallet."

(…)

Appearing in West Virginia this month at an event meant to showcase the party's tax agenda, Mr. Trump discarded his prepared remarks — even describing them as "boring" — and turned to more incendiary issues like immigration.

Eric Beach, a Republican strategist who leads a pro-Trump political committee, Great America PAC, said Mr. Trump was rightly suspicious of the political formula favored by conventional Republican leaders like Mr. Ryan and Mr. McConnell.

"He doesn't think that's how you win elections because that's not how he won his election," Mr. Beach said. "He knows and understands that the core issues of today are illegal immigration — including building the wall — and trade inequity."

Congressional leaders have left little doubt in private that they see Mr. Trump as a political millstone for many of the party's candidates. In recent weeks, Mr. McConnell has confided to associates that Republicans may lose the Senate because of the anti-Trump energy on the left.

And at Mr. Ryan's retreat, a Republican pollster, Kristen Soltis Anderson, identified Mr. Trump as a major source of the party's woes, according to multiple attendees. Ms. Anderson noted that his job approval was markedly weaker than past presidents, including President Barack Obama in the months before Democrats lost 63 House seats in the 2010 elections.

Mr. Trump, for his part, has complained to associates about having been deployed to campaign for relatively weak Republicans like Roy S. Moore, who lost last year's Senate race in Alabama, and Rick Saccone, who lost the special House election in Pennsylvania last month.
There are plenty of reasons for Republicans to be worried about their prospects when voters head to the polls in six months time, and those reasons are only likely to grow as we get closer to Election Day. The first factor that the GOP has to deal with, of course, is history and the fact that, since World War II the trend has been for the President's party to lose seats in Congress in the first midterm after his election. The only exception to this rule in recent memory came in the 2002 election, which occurred just over a year after the September 11th attacks at a time when President Bush's job approval ratings were at a historic high that didn't dissipate until we got closer to the 2004 Presidential election. Additionally, each of the non-Presidential elections over the past twelve years has seen major gains by the opposition party in Congress. In 2006, Republicans lost control of both the House and the Senate in the face of a Democratic wave. In 2010, it was Republicans turn to regain control of the House and reduce the Democratic advantage in the Senate thanks to a sluggish economy and the less than enthusiastic public response to the passage of the Affordable Care Act. Four years later, Republicans gained more seats in the House and gained nine seats in the Senate to take control of that body back after eight years of Democratic control. Given this history, the odds are in favor of Democrats gaining seats in at least one chamber of Congress and definite signs of danger for Republicans in the form of a blue wave that could give Democrats control of both the House and the Senate.
Support for this possibility can also be seen in the polls, where Republicans are faring badly in a year where the odds are already against them. While the gap between Republicans and Democrats in the Generic Congressional Ballot has narrowed somewhat from where it was earlier in the year, it's still leaning very much in favor of Democrats. In the RealClearPolitics average, for example, Democrats (45.3%) have a 6.8 point advantage over Republicans (38.5%). In the Pollster/HuffPost average, Democrats (43.4%) have a 7.2 point advantage over Republicans (36.2%). Finally, the FiveThirtyEight average gives Democrats (46.8%) an 10.6 point advantage over Republicans (36.8%).
The President's Job Approval also continues to be a potential albatross around the GOP's necks as we head to November, and there are few signs that it's going to change. The RealClearPolitics average, for example, puts the President's job approval at 42.9% while those who disapprove stand at 53.7%, for a gap of -10.8 points. Pollster/HuffPo, meanwhile, puts the President's job approval at 40.9% and his disapproval at 53.3%, for a gap of -12.4 points. FiveThirtyEight, meanwhile, puts the President's job approval at 40.6% and his disapproval at 53.7% for a gap of -13.1 points. While these numbers aren't all that radically different from what we've seen for the President since he entered office, they are a bad sign for his party and one that he seems unwilling or unable to acknowledge.
Looking at specific races, the numbers in the Senate, where the GOP should have something of an advantage since they have far fewer seats to defend, aren't looking good at all. The Senate's most vulnerable Republican, Dean Heller in Nevada is clearly in danger of flipping to the Democrats, and Republicans also seem to be facing problems in Arizona and Tennessee. Given the fact that Republicans currently hold only a one-seat majority in the Senate and that current polling shows that Republicans trailing in races against red-state Democrats in states such as West Virginia, Indiana, Missouri, and North Dakota, the odds that the GOP could lose control of both chambers of Congress are far higher than many believed they would be even six months ago.
Taking all of this into account, it's easy to see why Republicans on Capitol Hill are worried, and somewhat incomprehensible that the President doesn't seem to be able or willing to recognize the reality staring him in the face. Much like he did during the campaign, Trump is only touting polls that are favorable to him, such as the Rasmussen tracking poll, which is generally not considered to be reliable and which has largely been out of sync with all the other available polling of both Presidential job approval and the Generic Congressional Ballot. While it's natural for a politician to highlight positive polls and downplay negative polls, one gets the impression that this President actually believes these numbers and believes that those that go against him are "Fake News."
Given this, it's no surprise that Republicans are worried about how the President could impact the race going forward. Even if they manage to keep him from campaigning in races where his presence is likely to have a negative impact for the GOP, they can't stop him from lashing out on Twitter, in speeches, or on Fox News Channel. Over the past year, he's used all of these modes of communications to get his rantings out to the public, quite often with the effect of trampling all over whatever agenda his White House may have been trying to advance for a given week. That's not likely to change as we get closer to the General Election and, along with all the other factors going against them, could pose real problems for Republicans already struggling to stem a political tide that is already starting to pull them out to sea.