Ric Ocasek, Cars Frontman, Dead at 75
Another Rock and Roll Hall of Famer is gone.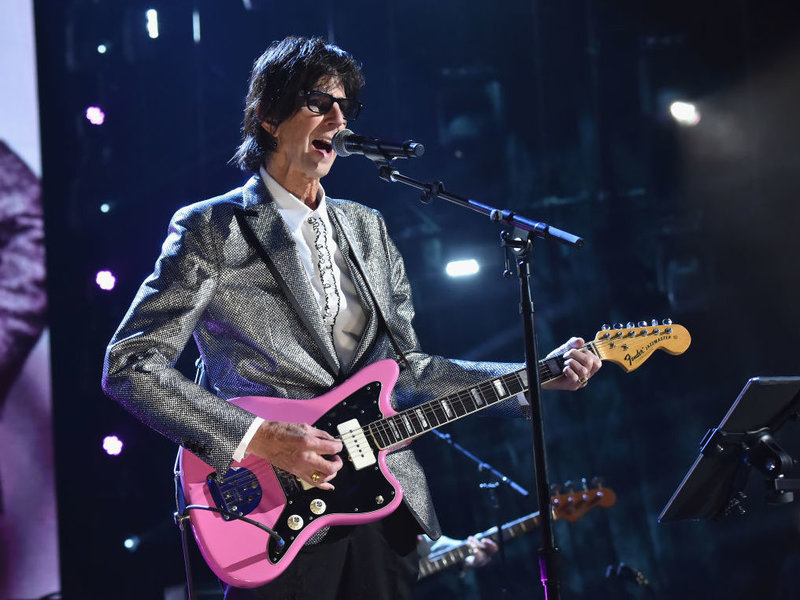 Ric Ocasek, the songwriter and lead singer for the Hall of Fame punk rock band the Cars, has been found dead. By most accounts, he was 75 years old but some reports have him as young as 70.
NPR:
The Boston-based band was inducted into the Rock & Roll Hall of Fame in 2018; the Rock Hall called The Cars "the ultimate New Wave dream machine: a hook-savvy super-charged quintet that fused 60s pop, 70s glam and avant-rock minimalism into a decade of dashboard-radio nirvana."

Ocasek — The Cars' lead singer, guitarist and songwriter — was born in Baltimore and raised in Cleveland. He co-founded the group with Benjamin Orr, a bassist and vocalist with whom he had begun playing in Ohio. The two began traveling as a duo before landing in Boston. The Cars came together in 1976 with three other musicians: guitarist Elliot Easton, keyboard player Greg Hawkes and drummer David Robinson.

Within a year, the group was signed to Elektra. During the initial wave of publicity for their eponymous debut album, then-Rolling Stone critic Jon Pareles predicted the band's lasting appeal. He wrote: "Everybody liked it: New Wavers recognized Ocasek's Velvet Underground debts and the cunning ambivalence of his lyrics, while rock fans and radio programmers picked up on the catchy tunes and meticulous arrangements."

Several cuts from The Cars became instant radio staples, including "Just What I Needed," "Good Times Roll," "My Best Friend's Girl" and "You're All I've Got Tonight." Each of the group's next four albums emerged as huge commercial successes as well.

But even at its most Top 40-friendly, The Cars wove offbeat, New Wave elements into its sound and look that were a perfect match for the MTV age, such as in 1984's "You Might Think," which won the first-ever Video of the Year honor at the MTV Video Music Awards.

Ocasek also worked in A&R and produced work by New Wave-era peers like Suicide and Romeo Void. The Cars broke up in 1988, but Ocasek's influence in rock extended well beyond the apex of the group's career. In addition to releasing half a dozen solo albums, he worked as a producer for leading bands of a younger generation, including Weezer, No Doubt, Guided by Voices and Bad Religion. Orr died of pancreatic cancer in 2000, but in 2011, the surviving members of The Cars reunited and released a new album, Move Like This.
Pareles has been chief music critic of the NYT for 30 years and wrote that paper's obituary of Ocasek:
From 1978 to 1988, Ocasek and the Cars merged a vision of romance, danger and nocturnal intrigue and the concision of new wave with the sonic depth and ingenuity of radio-friendly rock. The Cars managed to please both punk-rock fans and a far broader pop audience, reaching into rock history while devising fresh, lush extensions of it.

[…]

It was the beginning of the punk era, but the Cars made their first albums with Queen's producer, Roy Thomas Baker, creating songs that were terse and moody but impeccably polished.

In the Cars, Mr. Ocasek's lead vocals mixed a gawky, yelping deadpan with hints of suppressed emotion, while his songs drew hooks from basic three-chord rockabilly and punk, from surf-rock, from emerging synth-pop, from echoes of the Beatles and glam-rock and from hints of the 1970s art-rock avant-garde. The five albums the Cars released from 1978 to 1984 each sold a million copies in the United States alone, with ubiquitous radio singles like "Just What I Needed" in 1978, "Shake It Up" in 1981, "You Might Think" in 1984 and "Drive" in 1984. Although Mr. Ocasek wrote them, "Just What I Needed" and "Drive" had lead vocals by Mr. Orr.

When the Cars were inducted into the Rock & Roll Hall of Fame in 2018, the group's surviving members reunited, joined by Scott Shriner of Weezer on bass. In his induction speech, Brandon Flowers of the Killers described the band as "a slick machine with a 340 V8 under the hood that ran on synergy, experimentation and a redefined cool. They had it all: the looks, the hooks, Beat romance lyrics, killer choruses."
The main era of Ocasek and the Cars' work, 1978 to 1988, coincided almost exactly with my peak interest in the rock genre and the Cars were among my favorites.
I was raised on 1970s country and 1950s rock and roll but got into contemporary rock when we moved from Germany to El Paso in the summer of 1979. I was in junior high and it was the heyday of album rock radio. My new friends all listened to KLAQ, then known as "95 Rock," and I was hooked on the bands of the era, from the Cars and Police to Tom Petty and the Heartbreakers, Foreigner, REO Speedwagon, and Journey. (And, less notably, Eddie Money, who also just passed away.)
A decade later, I was out of college and back in Germany as a young Army officer. And I soon drifted from the MTV-driven pop of the day to the revitalized country genre. In 1989, Garth Brooks, Alan Jackson, Travis Tritt, Clint Black, and many others burst on the scene simultaneously.
A busier life and more entertainment options have more-or-less taken me away from daily consumption of contemporary music of any genre. I'm more likely to listen to the music of my teens and twenties than the new stuff these days, finding the latter serendipitously from various streaming services rather than intentionally.
And, alas, I'm old enough that the rock stars of my youth are slowly dying off.