Rich Kids Go to Elite Colleges, Becoming Rich Adults
The economics of higher education is increasing the gap between rich and poor.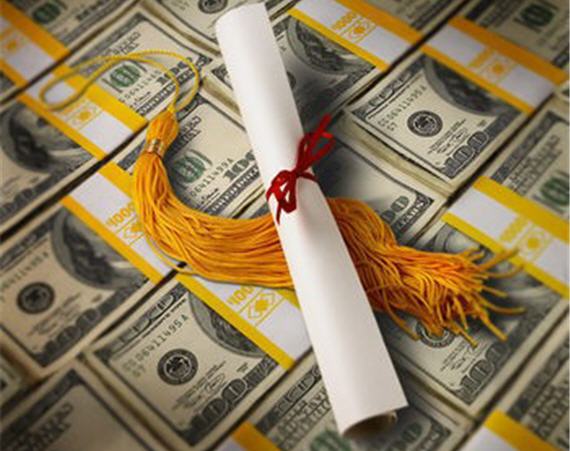 The economics of higher education is increasing the gap between rich and poor.
New America Foundation analyst Josh Freedman in The Atlantic ("Why American Colleges Are Becoming a Force for Inequality"):
We like to view higher education as the "great equalizer" that leads to social mobility. But selective colleges have long been accused of perpetuating class divides, rather than blurring them.

A recent landmark study by Stanford's Caroline Hoxby and Harvard's Christopher Avery lent further empirical evidence to this accusation, finding that high-achieving low-income students do not have access to selective schools. The study showed that the mismatch is due to a lack of knowledge, not quality. Low-income students outside of major urban centers do not even apply to the top-tier colleges for which they are qualified.

[…]

Yet while the information gaps are real and need to be addressed, there is a much deeper structural problem. If most top colleges wanted to be truly equitable, they could not be with their current business model. There is not a golden pot of low-income applicants that schools want but are failing to reach. Instead, many schools don't want more low-income students because they won't be able to pay for them without a major overhaul of school funding practices. Outside of the handful of super-elite universities with fortress endowments, colleges' finances are currently designed around enrolling a disproportionately high number of high-income students. These schools could not afford to support more low-income or middle-income students absent either a huge increase in tuition, a commensurate reduction in spending, or a dramatic change in public funding.

In fact, schools are already moving away from a more equitable system. Colleges actively recruit "full pay" students who can attend and will not need financial aid. A 2011 survey by Inside Higher Ed found that about 35 percent of admissions directors at 4-year institutions, particularly public colleges, had increased their efforts to target "full pay" students. Far from wanting to enroll more low-income students, colleges recruit more affluent ones who will pay full price to attend. A follow-up survey of college business officers found that the most common strategy to deal with financial challenges in the next few years was to "raise net tuition revenue." More than 7 in 10 college CFOs cited this answer. In other words, schools are becoming more reliant on the inequality in the system than ever before.
It's not that the elite colleges are admitting dumb rich kids. It's just that there are more smart kids applying for the best schools than there are openings and the ones with the ability to pay their own way are getting selected. Given a choice between a rich kid in the 98th percentile and a poor kid in the 99th percentile, they'd rather have the former.
High-income students account for about a third of the high-achieving students graduating from high school (see graph above). But estimates suggest that 74 percent of students at the top 146 top colleges came from the richest quartile of households. The Center for Education Policy Analysis (CEPA) at Stanford looked at 174 top schools and noted that richest 20 percent of households were seven to eight times more likely to enroll in a selective institution than those from the poorest 20 percent, even though Hoxby and Avery's research suggests that a fairer distribution should be two to one. The CEPA team also found that the gap between the highest and lowest income groups in college enrollment has increased over time, "as more and more seats in highly selective schools have been occupied by students from high income families."
Freedman is talking about elite private schools like Stanford and George Washington, with annual tuition of over $50,000. And, Freedman contends, they actually need to not only charge but get that much to stay in business.
If GW's demographic profile matched the actual distribution of high-achieving students – that is, if there were one bottom-quartile student for every two top-quartile students — GW's revenue would plummet by about 20 percent. The school would have to raise its tuition for students that are paying full price. But there would be far fewer of them. To take in the same amount of money as they currently do, GW would have to raise its price by approximately $30,000 per full-pay student, for a sticker price of about $90,000 a year. The actual increase would likely need to be more, given that families making $120,000 per year are classified as high income but cannot afford a college cost that would consume three-fourths of their annual income.
Yeah, no kidding.
Basically, then, the only schools that can afford to take in a lot of poor students and supply them with financial aid are the handful with huge endowments. But, while most of our most prestigious schools are private, there are many top tier public institutions as well. Surely, given that they operate in the public interest, they can absorb the most promising poor students and set them on the path to breaking the cycle of poverty? Well, not so much.
In fact, the problem is even worse at public universities.
In addition to competing with private schools, public universities are dealing with cutbacks in public funding as state governments turn to austerity to restore their balance sheets. State funding for colleges and universities dropped substantially after the 2001 and 2008 recessions. States are now spending 28 percent less per college student than they were in 2008, according to the Center on Budget and Policy Priorities, and the College Board reports that average state appropriations for higher education per $1,000 in personal income have declined from $9.74 in 1990 to $5.63 today. These budget cuts have forced states to raise their tuitions in turn. Over just the last 10-year period, combined tuition, fees, and room and board at public 4-year universities have increased 45 percent in inflation-adjusted dollars.

Flagship public universities illustrate this trend. Every flagship state university has seen its tuition increase faster than inflation over the last five years. The biggest price increases are enormous. The University of Arizona raised its tuition 81 percent above inflation, and five other schools saw tuition increases of more than 50 percent in real terms. As one CFO of a public university explained to Andrew Delbanco, the author of College: What it Was, Is, and Should Be, the issue at public schools is "not so much the cost of college, but the shift of the financial burden from the state to the student."
In short, we really don't have public universities in the sense that we had even when I was going to school in the late 1980s any more. The University of Virginia, the flagship public institution of the state in which I live, charges $11,794 in tuition and fees for in-state undergraduate students for the 2011-12 academic year (why they haven't updated their website since then, I don't know). That's a bargain compared to GW. Then again, when you add in books and supplies, room, board, and "personal expenses," the cost more than doubles to $23,984.  Costs are similar at William & Mary, the state's outstanding public liberal arts college, and a smidgen cheaper at Virginia Tech, the state's outstanding engineering school.
Even at these high prices, they're a bargain compared to the Ivies and other elite private schools. For out-of-state students, UVA's tuition is $36,788 and the full cost is $48,988.  So, a huge subsidy by the taxpayer. Still, the prices are not exactly within the reach of non-affluent parents without substantial financial aid or crippling loans.
And, again, this is a relatively recent trend. When I transferred to Jacksonville State in 1986, full-time in-state undergraduate tuition was $400 per semester for all the credits you could handle. Inflation alone would have merely doubled the prices; $400 in 1986 is $848.65 in 2013 dollars. That's part-time job money. Now, it's $283 per credit hour. I took very heavy loads, but let's say you're only taking the traditional 16 hours. That's $4528 a semester and $9056 a year just for tuition for the two main semesters. At a very non-elite institution.
Indeed, the only leveling that the public institutions are doing these days is that it costs pretty much the same thing to attend the very best state schools as it does the no-prestige regional teaching colleges.