Richard Goodwin, Aide And Speechwriter For Two Presidents, Dies At 86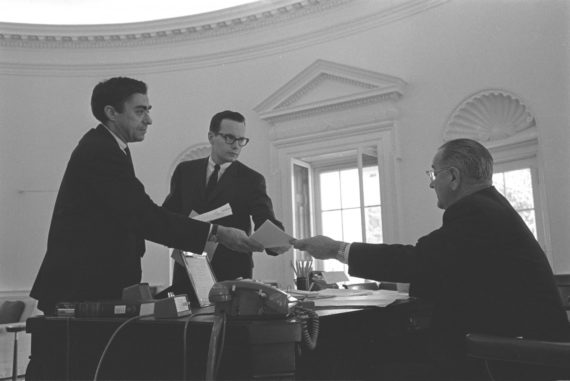 Richard Goodwin, who served as a senior aide and speechwriter for both President John F. Kennedy and President Lyndon Baines Johnson before going on to a long career as a journalist and writer, has died at the age of 86:
Richard N. Goodwin, a top adviser and speechwriter to Presidents John F. Kennedy and Lyndon B. Johnson who was credited with coining the term "the Great Society" to describe Johnson's ambitious domestic agenda of the 1960s before parting ways with the president over the Vietnam War, died May 20 at his home in Concord, Mass. He was 86.

The cause was complications from cancer, said his wife, Pulitzer Prize-winning presidential historian Doris Kearns Goodwin.

Early in his career, Mr. Goodwin was something of a prodigy of public service. Before he turned 30, he was a law clerk at the U.S. Supreme Court, a congressional investigator who helped uncover the television quiz-show scandals of the 1950s, a speechwriter for Kennedy, a White House official and a deputy undersecretary of state.

Known for his craggy face, blunt manner and ever-present cigars, Mr. Goodwin had a sharp mind — he was first in his class at Harvard Law School — and, some would say, sharper elbows. He was considered one of the closest confidants of Kennedy and his brother Robert F. Kennedy, then the attorney general.

In his book "A Thousand Days," about Kennedy's presidency, historian and White House adviser Arthur M. Schlesinger Jr. pronounced Mr. Goodwin "the supreme generalist who could turn from Latin America to saving the Nile Monuments, from civil rights to planning a White House dinner for the Nobel Prize winners, from composing a parody of Norman Mailer to drafting a piece of legislation, from lunching with a Supreme Court Justice to dining with [actress] Jean Seberg — and at the same time retain an unquenchable spirit of sardonic liberalism and unceasing drive to get things done."

During the 1960 presidential campaign, Mr. Goodwin worked alongside head speechwriter Ted Sorensen as one of Kennedy's most gifted phrasemakers. He then became the top White House authority on Latin America and launched the Alliance for Progress, an economic development program for Central and South America.

In 1961, soon after the catastrophic, American-backed Bay of Pigs invasion that attempted the overthrow of the new socialist regime of Fidel Castro in Cuba, Mr. Goodwin had a secret meeting with Ernesto "Che" Guevara, an architect of the Cuban revolution, while both were in Uruguay to ratify the Alliance for Progress.

"But, of course, when we started this conversation though, he said, 'Mr. Goodwin, I'd like to thank you for the Bay of Pigs,' " Mr. Goodwin recalled in a 2007 gathering at the John F. Kennedy library in Boston. "He said, 'We were a pretty shaky middle class, support was uncertain, and this solidified everything for us.' So what could I say? I knew he was right."

Over the objections of State Department diplomats, Mr. Goodwin arranged a goodwill tour by Kennedy to South America, which turned out to be a resounding success. Mr. Goodwin later moved to a top position at the newly formed Peace Corps.

(…)

In April 1964, Mr. Goodwin recalled in a 1988 memoir, "Remembering America: A Voice From the Sixties," he found himself skinny-dipping in the White House swimming pool with Johnson and another presidential adviser, Bill Moyers.

"Now, some men want power so they can strut around to 'Hail to the Chief,' " Mr. Goodwin recalled Johnson saying as they splashed in the pool. "Some . . . want it to make money; I wanted power to use it. And I'm going to use it. And use it right if you boys'll help me."

Mr. Goodwin took the name the Great Society from a 50-year-old book by a British sociologist to describe an idealistic vision of America encompassing advances in civil rights, health care, education, environmental preservation and what became known as "the War on Poverty." Johnson first used the term "Great Society" in a speech in May 1964.

The following year, soon after civil rights marchers were attacked by police officers and vigilantes on the Edmund Pettus Bridge in Selma, Ala., Johnson asked Mr. Goodwin to draft a speech addressing the country's racial divisions.

In just eight hours, Mr. Goodwin composed an address that Johnson delivered before a joint session of Congress on March 15, 1965. Often called the "We Shall Overcome" speech, after a popular civil rights anthem, it was one of the most powerful statements of Johnson's presidency.

"Our mission is at once the oldest and the most basic of this country: to right wrong, to do justice, to serve man," Johnson said. "What happened in Selma is part of a far larger movement which reaches into every section and state of America. It is the effort of American Negroes to secure for themselves the full blessings of American life. Their cause must be our cause too. Because it is not just Negroes, but really it is all of us who must overcome the crippling legacy of bigotry and injustice. And we shall overcome."

After the speech, Mr. Goodwin returned with Johnson to the White House, where they sat up talking and sipping Scotch until 3 a.m. At 33, Mr. Goodwin had, in many ways, reached the summit of his career.

Sitting with LBJ, he "could indulge, inwardly, my mingled arrogance, pride, excitement at authorship of words that had touched, might change, the nation," he later wrote.

Within months, Johnson signed the landmark Voting Rights Act of 1965, which banned discrimination in voting and ­office-seeking in the United States. He gave one of the pens he used to sign the bill to Mr. Goodwin.
More from The New York Times:
Richard Naradof Goodwin was born in Boston on Dec. 7, 1931, one of two sons of Joseph and Belle Fisher Goodwin. Dick and his younger brother, Herbert, grew up in Brookline. Dick was first in his class at Tufts University, graduating in 1953, and in Harvard Law School's class of 1958. He was a clerk for Associate Justice Felix Frankfurter of the Supreme Court for a year. His brother, a Massachusetts district court judge in Brookline for many years, died in 2015.

In 1958 he married Sandra Leverant, with whom he had a son, Richard. She died in 1972. He married Doris Kearns in 1975. They had two sons, Michael and Joseph. Besides his wife and sons, he is survived by two granddaughters.

In 1959, Mr. Goodwin joined the staff of a House subcommittee investigating rigged television quiz shows. Part of "Remembering America" focused on the scandals and was a basis for the 1994 film "Quiz Show," which he helped produce. His work impressed Robert Kennedy, and he was enlisted for Senator John Kennedy's staff. He and Theodore C. Sorensen wrote most of Kennedy's presidential campaign speeches.

Mr. Goodwin's play, "The Hinge of the World," on the struggle during the Inquisition between Pope Urban VIII and Galileo, who was accused of heresy for arguing that the earth was not the center of the universe, had its premiere in Guildford, England, in 2003. It was produced in Boston in 2009 as "Two Men of Florence."

"Richard Goodwin's talent as a playwright was unique," Edward Hall, who directed both productions of the play, said in an email. "He had the rare ability to take huge ideas and render them into human drama. Being in a rehearsal room with Richard will remain a highlight of my career. His characters were enriched by an author who blended a lifetime's experience of working close to power, with a deep understanding and care of humanity."
In addition to working as a playwright and writing books about politics and other issues, Goodwin also kept a foot in the political work. In 1968, for example, he worked for both Senator Eugene McCarthy and Senator Robert Kennedy during their campaigns for the Presidency, and he was among the people accompanying Kennedy after his victory speech in the ballroom of The Ambassador Hotel when he was assassinated on June 5, 1968. He also wrote the concession speech that former Vice-President Al Gore delivered after he lost the final legal challenge over the vote count in Florida after the 2000 Presidential election:
As noted above, Goodwin was married to noted historian Doris Kearns Goodwin.
Photo Credit: (Yoichi Okamoto/Official White House photo/LBJ Library)