Rick Perry Advocates the Biblical Virtues of Keynesianism
Rick Perry makes a valid point about bringing the economy back to Biblical principles.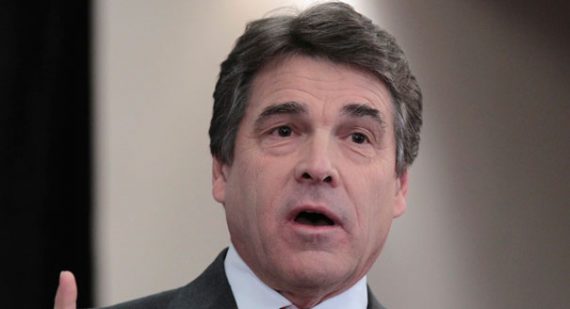 I had hoped that I could maintain my general policy of ignoring Rick Perry, except to point out his past history of seditious statements towards the Republic. I have this policy because Rick Perry tends to just tick me off. If there is something decent, prudent and wise that an office-holder should do, such as spending money to fight wildfires when your state is plagued by wildfires, or pardoning someone from death row who, according to the best forensic investiagators in the world, is innocent of murder, you can count on Rick Perry to do the exact opposite of the wise, decent, and prudent thing. He will cut spending on fighting fires and allow an innocent man to be executed because, well, that's how he rolls. He's awful. But I ignore him because I don't live in Texas, Perry doesn't hold national office, life is short, and I don't need to get too mad about a guy who's unlikely to get a chance at a third term in office.
Alas, it appears that he is poised to jump into the Presidential race soon, and by all accounts would do pretty well, even though his governorship of Texas has been a disaster and the man himself is an incompetent monster. Which means I can't ignore him.
So if Perry runs, trust me, my beloved OTB readers, you can rely on this analogy: Alex Knapp is to Rick Perry as Doug Mataconis is to Sarah Palin.
All that said, I feel like it's only fair, after calling him a monster, to point out that he said something rather smart recently. Last month, Perry gave an interview with televangelist James Robison, in which he brought up the story of the Seven Years of Plenty and Famine from the Book of Genesis, and put it into a modern context. Here's the quote:
I think in America from time to time we have to go through some difficult times — and I think we're going through those difficult economic times for a purpose, to bring us back to those Biblical principles of you know, you don't spend all the money. You work hard for those six years and you put up that seventh year in the warehouse to take you through the hard times. And not spending all of our money. Not asking for Pharaoh to give everything to everybody and to take care of folks because at the end of the day, it's slavery. We become slaves to government.
This is, I'm assuming, Rick Perry's attempt to interpret Joseph's tenure as Prime Minster of Egypt in the Book of Genesis. Sure, he got the years wrong, but it's basically a solid principle. For those of you who haven't been to Sunday School, here's the gist of the story: Joseph, he of Technicolor Dreamcoat fame, was a slave in Egypt. The Pharaoh had been troubled by a strange dream, and eventually Joseph was called upon to interpret it. Joseph told Pharaoh that his dream meant that there would be seven years of plenty, which would then be followed by seven years of famine.
Pharaoh was struck by this and made Joseph the Prime Minister of Egypt. Under Joseph's tenure, for seven years the farmers of Egypt were heavily taxed — 20% of their grain was taxed and stored in warehouses. Then during the following seven years of famine, Egypt had plenty of grain to ride out the rough patch, thereby preserving the country.
This is often alluded to as a wise example of stewardship – and I agree! And in the modern world, we have a name for this: Keyesianism. During good years, we increase taxes so that government runs a surplus when times are good. That way, it can better afford to spend more and run deficits during lean years to ensure economic stability.
Of course, Perry does warn against becoming slaves to Pharaoh – which actually did happen in Genesis. According to the Bible, the government of Egypt didn't give its surplus grain back to the farmers who raised the crops in the first place. They sold its surplus grain back to the hungry masses. So as the famine continued, and people had less and less money, they ended up selling their property, land, and even themselves to the government in exchange for grain. Which consolidated Pharaoh's power and turned Egypt into a proto-feudal state.
And I agree that that's a bad thing. It would have been much more decent policy for Pharaoh to have simply given the grain away, instead of building up his own power-base at the expense of the starving. So there's another point for Perry.
So even thought I don't like Perry, it's comforting that there's at least one GOP candidate who believes in a counter-cyclical fiscal policy. Because that was Perry's point, right?