Rick Perry Is A Tenth Amendment Hypocrite
First it was same-sex marriage, now it's a abortion. Rick Perry hasn't met a Constitutional Amendment usurping state power he doesn't like.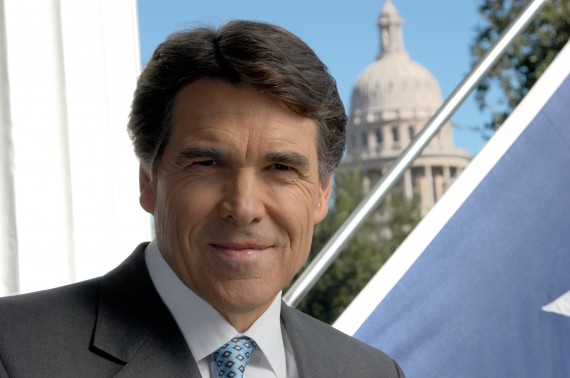 Just last week, I noted that Texas Governor, and probable Presidential candidate, Rick Perry had reversed his previous states right's position about same-sex marriage and come out in favor of a Federal Marriage Amendment.
Now, he's done it again.
Last week, Perry told reporters in Houston that abortion is an issue that should be left to the states:
Despite holding personal pro-life beliefs, Texas Gov. Rick Perry categorized abortion as a states' rights issue today, saying that if Roe v. Wade was overturned, it should be up to the states to decide the legality of the procedure.

"You either have to believe in the 10th Amendment or you don't," Perry told reporters after a bill signing in Houston.  "You can't believe in the 10th Amendment for a few issues and then [for] something that doesn't suit you say, 'We'd rather not have states decide that.'"
That didn't sit well with some so-called "pro-life" groups:
The Susan B. Anthony List president Marjorie Dannenfelser asked Perry to understand the importance of examining abortion through a federal lens.

"Governor Perry has been a long time friend of the pro-life movement and we welcome and appreciate all the work he has done for women and unborn children as Governor," she said.  "We agree that certainly there is a lot that can be done at the state level to reduce the number of abortions, but that does not diminish or eliminate the federal government's responsibility to protect human life in all of its stages."
Just as he did when his statements that individual states should be able to decide whether to legalize same-sex marriage were criticized by hard-right social conservatives, Perry quickly flip-flopped and came out in support of a Constitutional Amendment that would outlaw abortion:
[Perry's] spokeswoman, Katherine Cesinger, said by e-mail today: "Gov. Perry is proudly pro-life and successfully championed strong pro-life legislation in Texas including parental consent, this year's sonogram bill and a budget that significantly defunds abortions in Texas. The governor has long supported overturning Roe v. Wade, and would support amending the U.S. Constitution, with the backing of Congress and the states, to protect innocent life."
Given the speed with which he flip-flopped on these two issues, there's no reason that any future comment that Perry makes about the 10th Amendment or the relationship of the Federal Government to the states should be trusted. He's shown himself to be a complete hypocrite who will change positions on this issue it is politically expedient. It seems fairly obvious now that the paeans he has made to the 10th Amendment during his time as Texas Governor as his political speeches against Obama Administration initiatives such as the Affordable Care Act were just positions he adopted to appear to the newest meme among activist conservatives. It also tells us that his little jabs about Texas secession were just red meat nonsense meant to rile up the crowd.
Of course, it's no surprise that he might change his tune now that he's likely running for President:
It's easy for governors to advocate for states' rights: Doing so effectively maximizes the power they wield. Once a candidate makes it to the Oval Office, however, his or her power is diminished by permitting states to go their own ways.

Presidents, being power hungry, are unreliable defenders of what Perry is espousing.
Perry isn't even a candidate yet and he's already proven himself to be unreliable:
he's reinforced the impression that he'll cave on matters of federalism at the first sign of political expediency. Granted, he is hardly alone in being opportunistic about states rights and local control, but it is strange that he made such a point of touting his 10th Amendment bona fides and waxing eloquent on the beauty of local decision-making, only to quickly reverse himself after the inevitable blow-back. Was he unaware that social cons would object? Then again, few voters actually care about federalism, so maybe these flip flops only help his electoral chances. I wouldn't be surprised if he reverses himself on medical marijuana next.
Count on it.