Rick Perry: Retired, But Still Governor Of Texas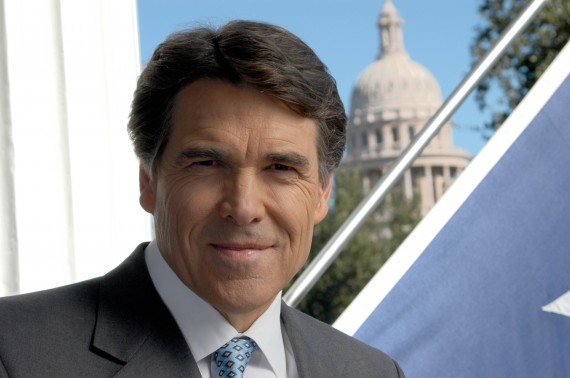 Thanks to what seems like an odd quirk in the Texas State pension system, Rick Perry is collecting retirement benefits for his previous years as a Texas public official while still serving, and receiving a salary, as Texas Governor:
Rick Perry has done something his opponents have been hoping he'd do for years: retire. But it's not what the governor's detractors had in mind.

Perry officially retired in January so he could start collecting his lucrative pension benefits early, but he still gets to collect his salary — and has in turn dramatically boosted his take-home pay.

Perry makes a $150,000 annual gross salary as Texas govenor. Now, thanks to his early retirement, Perry, 61, gets a monthly retirement annuity of $7,698 before taxes, or $6,588 net. That raises his gross annual salary to more than $240,000.

Perry spokesman Ray Sullivan said the governor's early collection of his pension benefits is "consistent with Texas state law and Employee Retirement System rules.

(…)

"Perry was legally able to begin collecting the employee class annuity under the 'rule of 80.' The combination of his U.S. military service, state service and age exceeded 80 years and qualifies him for the annuity under Texas Government Code 813.503 as amended in 1991," Sullivan said. "Perry continues to pay into the Employees Retirement System with a 6.5 percent withholding from his state salary."

Perry will get credit for his the subsequent years he works as Texas governor, so he'll receive a higher pension benefit if he serves out the remaining three years of his term as Texas governor, officials said. He also is eligible for Social Security benefits and lifetime, state-provided health care.

The early retirement manuever came to light Friday in new ethics disclosures from the Federal Election Commission, which requires all candidates running for federal office to provide details about how they make their money.

Perry's presidential campaign had sought two successive delays of the personal financial disclosure filing but had to turn them in by 5 p.m. Thursday.
It's completely legal, but still dammed odd, and probably not the kind of image one wants to present while running for President.