Rick Perry To Skip Future Debates?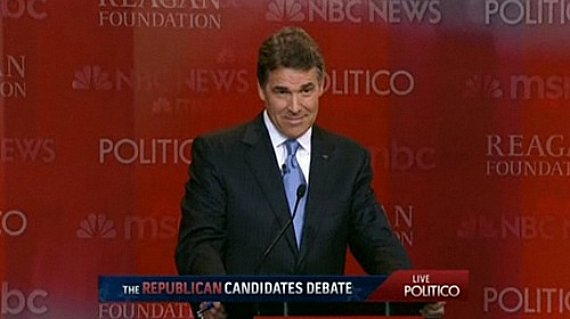 Rick Perry's aides may have hit on the best way to deal with the fact that their candidate doesn't do well in debates, he may just not show up for anymore debates:
Rick Perry saw his poll numbers swoon after a series of shaky debate performances in September. Now his campaign says the Texas governor may get a lot more selective, potentially skipping some of the jousting contests between now and when voting for the Republican presidential nomination starts in early January.

"We are going to evaluate each debate as it comes and take each one on its own merits," said Perry spokesman Mark Miner, adding that for now, Mr. Perry is confirmed only for the next GOP debate, set for Michigan Nov. 9th. At least five more debates are now scheduled between the Michigan contest and the Iowa caucuses Jan. 3rd.

The campaign argues that with less than 10 weeks to go before the first votes fly, the debates devour too much time for travel and preparation. "The primaries are right aroud the corner and there is simply more to do than there is time to do it," Mr. Miner said.

"Is it death by debate?" asked Katon Dawson, South Carolina chairman for the Perry campaign. "Are there too many? Yes. Are they trying to focus on single issues and pick people apart? Absolutely."

"You have to prioritize exactly what you're campaign is going to do and what it's going to look like and what you're best at," he said in an interview. "I don't think Rick Perry has ever hidden from anything."

Mr. Perry has made no secret of his distate for the debates. "These debates are set up for nothing more than to tear down the candidates," he told Fox News' Bill O'Reilly Tuesday night. "It pretty hard to be able to sit and lay out your ideas and your concepts with a one minute response."

He went on to say that if he had to single out any one mistake, "it was probably ever doing one of the [debates], when all they're interested in is stirring up between the candidates instead of really talking about the issues that are important to the American people."
This isn't a new idea. Conn Carroll at the Examiner suggested it earlier this month. At that time, I noted that there was one serious flaw with the "let's skip the rest of the debates" strategy:
The problem with a strategy like this is that Perry's non-presence at any future debate would be the 800lb gorilla in the room and the story would become why he's avoiding his opponents. You could almost hear the line from Mitt Romney now "I would ask Governor Perry what he would do about the economy, but he's not here." Moreover, whether he chooses to debate his Republican opponents or not, if he wins the nomination he's going to be able to avoid participating in debates with President Obama. He could try to avoid them, I suppose, but again the story would become about what Perry is afraid of, and all of that would enure to the benefit of Obama and the Democrats. So, no, avoiding future debates isn't the answer.
How a strategy like this could possibly help Perry is beyond me. Yes, there is a sub-culture of media paranoia in conservative politics that boycotting the debates might feed into, but Perry has been so weakened over the past two months that any effort to bypass this now-standard part of the Presidential nomination process would be more likely to be seen as an admission of weakness on his part. And, Republican voters are likely to ask themselves, if Rick Perry is afraid to debate Rick Santorum then how can he possibly be trusted to be capable of beating Barack Obama?