Rick Perry Walks Back Social Security Rhetoric
In five days, Rick Perry has gone from calling Social Security a "monstrous lie" to saying we need to have a conversation about fixing it.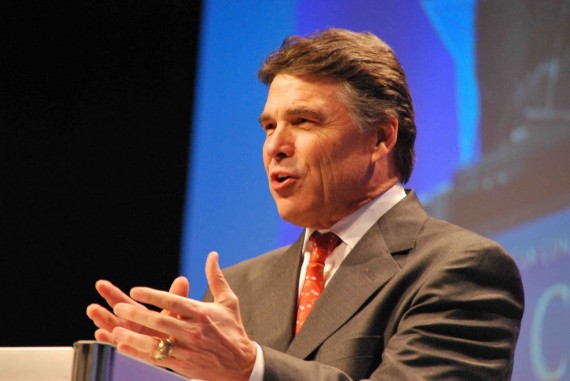 Texas Governor Rick Perry took a big step today to walk back some of the rhetoric he's used to describe Social Security, both in his book and on the campaign trial, in an Op-Ed in USA Today:
These are the hard facts: Social Security's unfunded liability is calculated in the trillions of dollars. Last year, annual Social Security outlays exceeded annual revenues for the first time since 1983. The Congressional Budget Office projects that outlays will be roughly 5% greater than revenues over the next five years, worsening as more and more Baby Boomers retire.

By 2037, retirees will only get roughly 76 cents back for every dollar that is put into Social Security unless reforms are implemented. Imagine how long a traditional retirement or investment plan could survive if it projected investors would lose 24% of their money?

I am going to be honest with the American people. Our elected leaders must have the strength to speak frankly about entitlement reform if we are to right our nation's financial course and get the USA working again.

(…)

For too long, politicians have been afraid to speak honestly about Social Security. We must have the guts to talk about its financial condition if we are to fix Social Security and make it financially viable for generations to come.

Americans must come together and agree to address the problems so today's beneficiaries and tomorrow's retirees really can count on Social Security for the long haul.

We must have a frank, honest national conversation about fixing Social Security to protect benefits for those at or near retirement while keeping faith with younger generations, who are being asked to pay.
This is a sharp turn away from calling it a Ponzi Scheme, a "monstrous lie," or saying that it's an unconstitutional system and that individual states should be allowed to opt-out of it.  Given that the Op-Ed comes out the morning of a Republican Presidential debate, it's also clearly meant to blunt some of the criticism he's getting from fellow candidates over his rhetoric, and to knock down the charge that he wants to end Social Security, a charge that could be political poison in a state like Florida.
I'm not so sure it's going to work. There's already plenty of tape out there of Rick Perry making these statements that his opponents can use in states like Florida, Pennsylvania, and Ohio, and if they use it you know that the Obama campaign, the Democratic Party, and all the pro-Democrat 527 groups and SuperPACs will be using it too. If Perry has to explain himself again every time one of those ads comes, out, it could turn out to be a problem. I'm not sure it will be fatal for Perry, but this is clearly one of those situations where a candidates words will be used against him, again and again and again.
Of course, catch all statements like saying 'we need to speak honestly about Social Security' a "we need to fix Social Security" lead to a whole host of questions themselves. What kind of fixes does Perry, or any of the other candidates for that matter, think we need to be considering? Raising the retirement age? Ending or recalculating cost-of-living adjustments? Increasing the cap on the Payroll Tax? Means Testing? Or, is it something more radical like private accounts? My guess is that neither Perry nor any of the other candidates are going to want to put all their cards on the table when it comes to the specifics of reform, but once Pandora's Box is opened it's going to be hard to avoid coming up with an answer for very long.