Rick Sanchez: Jon Stewart Is A Bigot And CNN Is Run By Jews
Once again, CNN's Rick Sanchez discovers that opening his mouth probably wasn't a good idea.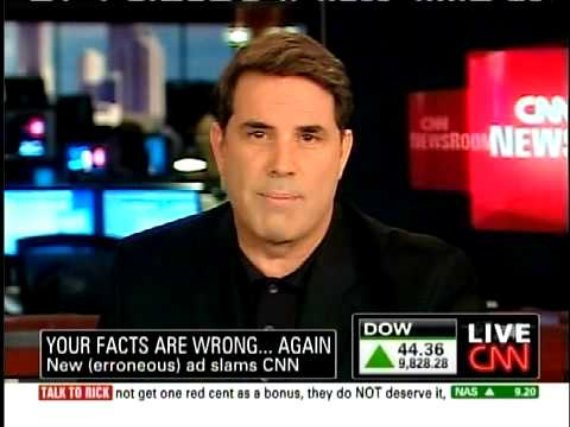 CNN Anchor Rick Sanchez seems to have gotten himself in some hot water with comments he made on an XM Radio broadcast yesterday:
CNN's Rick Sanchez is not happy with being made fun of constantly on The Daily Show and Colbert Report. It is from this jumping off point that he absolutely unleashed on Jon Stewart and Stephen Colbert, and at times his own network, on Pete Dominick's satellite radio show yesterday.

The big takeaway – Sanchez calls Stewart "a bigot," then walks it back a bit, and he implies CNN is run by Jews.
Here's Sanchez on Stewart:
Dominick: How is he a bigot?

Sanchez: I think he looks at the world through, his mom, who was a school teacher, and his dad, who was a physicist or something like that. Great, I'm so happy that he grew up in a suburban middle class New Jersey home with everything you could ever imagine.

Dominick: What group is he bigoted towards?

Sanchez: Everybody else who's not like him. Look at his show, I mean, what does he surround himself with?
Sanchez is no doubt upset with the fact that Stewart has been rather merciless in pointing out the many verbal gaffes, miscues, and downright idiotic statements that Sanchez has made on his show. Then again, Sanchez does provide a lot of material, such as this spring when he expressed surprise at the fact that there would be a volcano in Iceland:
But it's Sanchez's comments about his employer that are raising eyebrows this morning:
Later in the interview, Dominick brings up the fact that Stewart is Jewish, so is a minority himself. Sanchez laughs this off:

I'm telling you that everybody who runs CNN is a lot like Stewart, and a lot of people who run all the other networks are a lot like Stewart, and to imply that somehow they, the people in this country who are Jewish, are an oppressed minority? Yeah.

If that wasn't clear, the "yeah" was sarcastic. "I can't see somebody not getting a job somewhere because they're Jewish," says Sanchez.
Via Mediaite, here's the audio:
Ed Morrissey observes:
Talk about biting the hand that feeds him!  CNN has been rather patient with Sanchez, who hasn't exactly produced blockbuster numbers.  He's certainly produced his share of embarrassing moments, however, and whoever runs the show at CNN has kept Sanchez on the air through it all.
Not to mention the fact that pissing off your employer and taking on Jon Stewart in the same interview probably isn't the smartest thing to do.
It seems that Rick Sanchez has some explaining to do.
UPDATE: CNN Fires Rick Sanchez