Rick Santorum's Faux Outrage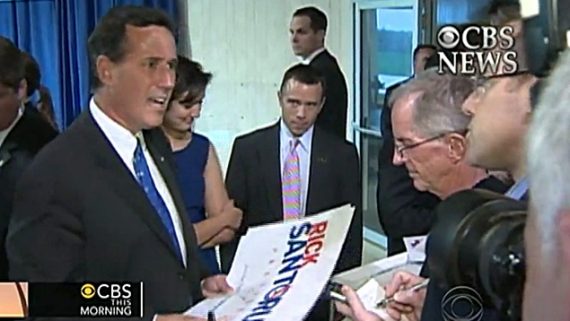 Last night at a speech in Wisconsin, Rick Santorum said that Mitt Romney was the "worst Republican in the country," to face Barack Obama in the fall:
RACINE, Wis. – Rick Santorum urged Republicans here Sunday evening to carefully study the record of Mitt Romney, declaring: "He is the worst Republican in the country to put up against Barack Obama."

At the final campaign rally of a weekend trip to Wisconsin, Mr. Santorum sharpened the tenor of his argument against Mr. Romney during an appearance here at the South Hills Country Club. He offered a litany of reasons for why he said he believed Mr. Romney presented a weak contrast to Mr. Obama, particularly on health care.

"Pick any other Republican in the country," Mr. Santorum told supporters here. "He is the worst Republican in the country to put up against Barack Obama. Why would Wisconsin want to vote for someone like that?
Then, moments later Santorum became angry after the speech when reporters asked him about what he had just said:
When reporters rushed the candidate after his remarks to get a clarification of what he meant, Santorum lashed out, telling the press that he was referring the former Massachusetts governor's record on healthcare, which made him "uniquely disqualified" to run against President Obama.

Pressed by Zeleny on what he meant, Santorum lashed out and called it "bull(expletive)" to even ask for clarification because he frequently criticizes Romney for his role signing the healthcare legislation in Massachusetts that was later used as a blueprint for the national law passed in 2010.

Zeleny noted that Santorum recently had to walk back remarks that there was no difference between Romney and Mr. Obama.

"So he is very sensitive to these questions now. And I think we saw some animation here. It is one of the reasons his supporters like him because he does become animated like this when he is campaigning," Zeleny said.
Here's video of the report that aired on CBS News this morning, which includes part of the speech in question and the video of the confrontation with reporters:
Since nobody seems to have video available that shows Santorum's full remarks, it's hard to comment in full on this but it's clear from what was shown that he didn't just limit his criticism of Romney to the issue of health care. Whether he had done so prior to the excerpted remarks, I don't know. As for the confrontation itself, Zeleny said that Santorum knew that the cameras were rolling when he started yelling at reporters, which leads to the suggestion that the entire incident was an incident of staged faux anger on his part.
That conclusion would seem to be bolstered by the manner in which Santorum responded to the incident this morning:
Former Pennsylvania senator Rick Santorum cursed at New York Times reporter Jeff Zeleny on Sunday while campaigning in Wisconsin, saying, "Quit distorting my words. It's bulls—."

Monday morning, the presidential candidate explained that he was just acting the way a Republican should.

"If you haven't cursed out a New York Times reporter during the course of a campaign, you're not really a real Republican, is the way I look at it," Santorum told Fox News.

Santorum defended his actions even more vigorously in a statement he released this morning: "Earlier today, while campaigning in Wisconsin, I criticized Romney and Obama for their outrageous healthcare legislation. Predictably, I was aggressively attacked by a New York Times reporter all too ready to defend the two of them, and all too ready to distort my words. Let me assure you, I didn't back down, and I didn't let him bully me. I think it is high time that conservatives find the courage to expose the liberal press for what they are, a defender and enabler of Romney's and Obama's liberal agendas."
Indeed, that statement is being used as part of a fundraising email in which Santorum is asking Santorum's to donate $30 (the approximate cost of a subscription to the Times apparently) or more to his campaign. There's nothing more fruitful among the segment of the right that Santorum appeals to than to attack the media, so one has to wonder whether Santorum's apparent anger wasn't just a little bit staged. His campaign sure did act fast to exploit it for fundraising purposes, I must say.
In any case, both of these incidents just strike me as yet more evidence that Santorum is flailing. In many respects, Wisconsin is Santorum's last stand. The delegate math already makes it a near impossibility that he can win the nomination, but if he loses the Badger State it's likely that the pressure on him to withdraw and cease his attacks on the man the party needs to united behind will just continue to grow, and that his future prospects in the party will markedly diminish. I wouldn't be surprised to see more unhinged moments like this if the Santorum campaign thinks they're working to their advantage.