Rivals Focus On Buttigieg In Sixth Democratic Debate
A much smaller debate stage led to a much better debate last night.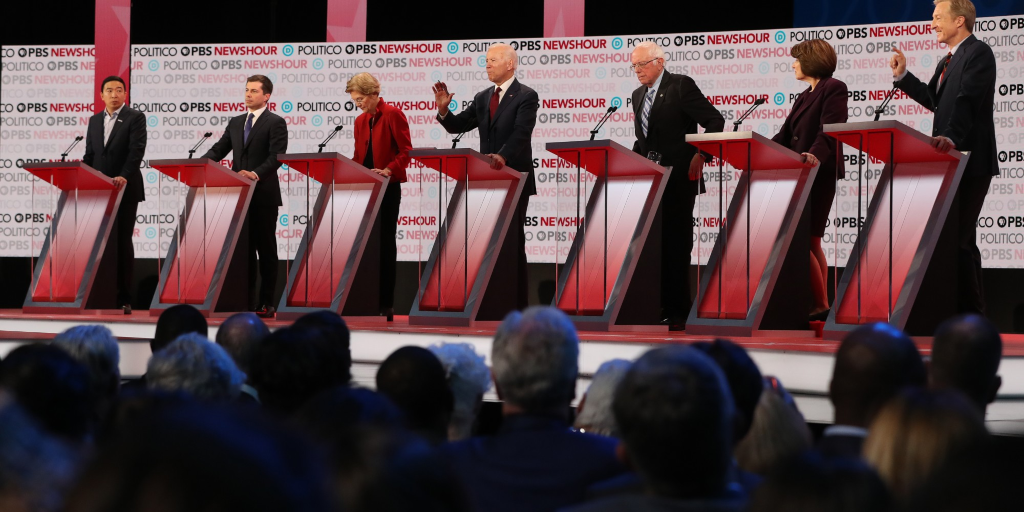 With just 46 days before the first votes of the 2020 election cycle are finally cast at the Iowa Caucuses, Democrats clashed in their sixth debate, and the last of which will take place at a random location around the United States. The most notable thing about last night, of course, is the fact that there were fewer candidates on the stage than there had been at any previous stage of the race. Specifically, the only participants were former Vice-President Biden, Senator Klobuchar, Sanders, and Warren. Mayor Pete Buttigieg, and businessmen Andrew Yang and Tom Steyer. This allowed for more extensive opportunities for candidates to speak, and more substantive back-and-forth exchanges between the candidates than we have seen in the past. For that reason alone it was probably the most informative of all the debates we've seen so far even if few of the candidates said anything that we hadn't already heard.
One example of the smaller debate stage can be seen in the New York Times' calculation of the speaking time that each candidate received in the debate:
Bernie Sanders — 20.5 minutes
Amy Klobuchar — 19.9 minutes
Elizabeth Warren — 19.6 minutes
Pete Buttigieg — 19.6 minutes
Joe Biden — 15.5 minutes
Tom Steyer — 11.2 minutes
Andrew Yang — 10.9 minutes
One can still make arguments about the fact that the debate, which lasted from shortly after 8:00 p.m. until 11:00 p.m., was too long. However, that was more than made up for by the fact that the smaller stage meant that the exchanges were far more meatier and perhaps more likely to have an impact on the outcome of the race. Not unexpectedly, many of the more interesting moments in the debate came as candidates further down in the polls sought to take on the candidates at or near the top of the polls, including former Vice-President Biden, Senators Elizabeth Warren, and Bernie Sanders and newly-minted member of the frontrunners tier, and to some extent South Bend Indiana Mayor Pete Buttigieg who finds himself leading in the polls in Iowa and moving swiftly upward in New Hampshire. In fact, it was Mayor Buttigieg who took part in, or was the focus of, many of the debates most substantive exchanges and clashes:
LOS ANGELES — Mayor Pete Buttigieg of South Bend, Ind., was repeatedly pushed onto the defensive in the sixth Democratic presidential debate on Thursday night, as several of his rivals challenged his political ascent by bluntly questioning his fund-raising practices and credentials for the presidency in a contentious and deeply substantive forum.

Mr. Buttigieg has risen rapidly in the polls in Iowa and New Hampshire in recent months, after his persistent attacks on Senator Elizabeth Warren of Massachusetts and her support for single-payer health care. For many weeks, Mr. Buttigieg, a municipal official who at 37 would be the youngest president in history, escaped corresponding criticism from his fellow Democrats.

That changed here in Los Angeles on Thursday evening in a debate that unfolded in the shadow of President Trump's impeachment. Ms. Warren struck back at Mr. Buttigieg for his courting of wealthy donors at private fund-raisers — including a recent event at a so-called wine cave — and Senator Amy Klobuchar of Minnesota expressed clear skepticism of Mr. Buttigieg's electoral track record and public accomplishments. Taken together, it amounted to the most strenuous challenge so far to a relative political newcomer who has captivated many voters with his soaring rhetoric and intellectual mien.

Ms. Klobuchar, a three-term senator, rebuked Mr. Buttigieg most pointedly for dismissing the value of experience in Washington. She gilded her attack with praise for other candidates, hailing Ms. Warren for designing a new financial regulatory agency, former Vice President Joseph R. Biden Jr. for directing vast resources to cancer research and Senator Bernie Sanders of Vermont for championing veterans.

"While you can dismiss committee hearings, I think this experience works," Ms. Klobuchar told Mr. Buttigieg, noting that despite his claims to electoral strength, he lost campaigns for state treasurer in Indiana and for the chairmanship of the Democratic National Committee.

Mr. Buttigieg parried the criticism from all directions. He accused Ms. Warren of seeking to impose "purity tests" for a fund-raising model — eschewing elite donors — that she herself did not follow as a Senate candidate, and he raised the subject of their comparative affluence, pointing out that Ms. Warren was far wealthier. He also invoked his experience in the military as proof of his seasoning, and cited his identity as a gay man who campaigned for office in "Mike Pence's Indiana" as proof of his political mettle.

But his candidacy appeared to enter a new stage over the course of the evening, as his image as an articulate political wunderkind faced a rigorous test that is unlikely to ease up anytime soon. Even Andrew Yang, the former tech executive who has been a good-natured presence in every debate so far, got in a light jab at Mr. Buttigieg by alluding to candidates who must "shake the money tree in the wine cave."

The Democratic primary battle as a whole seemed to be at a transition point on Thursday, as seven candidates, the smallest field so far, engaged for about two and a half hours at Loyola Marymount University in exchanges that were spirited and often funny — providing a wide-ranging debate over matters of global diplomacy, economic prosperity and impeachment. Four top-tier candidates remain in the race, with Mr. Biden leading in the national polls, followed by Mr. Sanders and Ms. Warren, and Mr. Buttigieg surging in the earliest primary and caucus states.
The Los Angeles Times has its own recap of last night's proceedings, as does The Washington Post:
LOS ANGELES — A pointed and personal clash over the corrupting influence of wealthy campaign donors dominated the Democratic presidential debate Thursday, as Sen. Elizabeth Warren and South Bend, Ind., Mayor Pete Buttigieg tangled over each other's ability to govern with integrity.

The confrontation, which ignited after weeks of simmering disagreements between the two, provided the biggest fireworks in a night filled with elevated voices, waving arms and some of the most aggressive exchanges of any of the debates this year.

Seven candidates onstage — the smallest debate of the year — fought over health care policy, age and experience and whether they had the ability to defeat President Trump.

One of the most prominent issues of the night, and one of the focuses of the attacks against Mayor Buttigieg, came on the issue of fundraisers and specifically the fact that Buttgieg has held many high-dollar, restricted-access fundraisers across the country as part of his record-breaking

Amid the jabs and counterpunches, former vice president Joe Biden focused on his central campaign message in his smoothest and most commanding debate of the year. He said he would fight to regain a spirit of cooperation with Republican lawmakers, despite a poisonous political atmosphere in Washington.

"If anyone has reason to be angry with the Republicans and not want to cooperate, it's me the way they've attacked me and my son and my family," he said, alluding to the recent Republican focus on his work in Ukraine when he was vice president and his son Hunter Biden's work with a Ukrainian gas company. "But the fact is, we have to, we have to be able to get things done."

Warren's assault on Buttigieg for holding fundraisers with wealthy donors, including a recent event in Napa, Calif., which took place in a catered wine cave with a crystal chandelier, marked a dramatic shift in her past practice of avoiding debate-stage conflict with her rivals.

"Think about who comes to that," the senator from Massachusetts said, making the case that big-dollar donors don't have the same concerns as those who are struggling with student loan debt or medical debt.

"Billionaires in wine caves should not pick the next president of the United States."

Buttigieg, who has recently pulled ahead of Warren in Iowa polling, hit back by arguing he had the lowest net worth of anyone onstage. He accused Warren of "issuing purity tests you cannot yourself pass," since she held closed-door fundraisers during her 2018 Senate campaign and transferred $10.4 million of that money into her presidential account.

Sen. Bernie Sanders (Vt.), who like Warren does not hold high-dollar events in the current campaign, targeted Biden for a fundraising strategy similar to Buttigieg's. "He's received contributions from 44 billionaires," Sanders said. "Pete, on the other hand, is trailing. . . . You only got 39 billionaires contributing."

Sen. Amy Klobuchar (Minn.), who separately targeted Buttigieg for having a thin political résumé, quickly joined in. "I did not come here to listen to this argument!" said Klobuchar, who made her most forceful debate appearance. She added: "I have never even been to a wine cave."

The stark differences in style and substance, coming just 45 days before the first votes in the Iowa caucuses, gave a still-undecided party some clear choices between moderation and disruption, healing political divides and stoking partisan fights and fresh energy and deep political experience.

Buttigieg was the target of the most attacks, with Sanders dismissively describing him as an "energetic guy" and Klobuchar referring to the 37-year-old mayor as a "local official" who has played down the more substantial political experience of others on the stage.

"I just think you should respect our experience when you look at how you evaluate someone who can get things done," she said.

Buttigieg responded by arguing that his accomplishment was not the size of his electoral win in his city but the place in which he won. "Want to talk about the capacity to win?" he said. "Try putting together a coalition to bring you back to office with 80 percent of the vote as a gay dude in Mike Pence's Indiana."
For the most part, each of the candidates who participated in the debate had a good night, perhaps in no small part due to the fact that there was a smaller stage, which gave the candidates more time to expand on their answers rather than having to compress their arguments into short answers that could fit into unreasonably short time limits. As a result, I do not think that any of these candidates will be hurt by the outcome of the debate and that each of them could end up being helped to some extent.
Notwithstanding the fact that Mayor Buttigieg was the major focus of the debate, perhaps the biggest winner last night was former Vice-President Biden. For the most part, he floated above the fray as those beneath him in the polls attacked each other rather than attacking him. More importantly, unlike previous debates where it appeared that he was having trouble getting his thoughts together or responding to attacks, Biden was at the top of his game last night and proved able to both make his own case for his candidacy as the person in the race best situated to defeat President Trump in the fall and to respond to those attacks that did come his way. This continued a trend from the November debate when Biden was on a larger stage and still performed much better than he did in previous debates,
Similarly, Mayor Buttigieg had a very good night last night notwithstanding the fact that he was the focus of much of the on-stage fighting last night. On the fundraising issue, for example, Buttigieg effectively pushed back on that criticism from Senator Warren by pointing out that much of her campaign war chest came from a Senate campaign fund that had benefited significantly from high-dollar donors and the fact that her campaign still benefits from such fundraisers even though she does not personally appear at them. Additionally, Buttigieg also handled questions about his youth and inexperience, something that Minnesota Senator Amy Klobuchar in particular raised.
Obviously, debate performance tells us little about what kind of President a candidate will be, nonetheless it is seen by many as a surrogate for how these potential nominees would be able to stand up against a candidate like Donald Trump, either in a General Election Debate or on the campaign trail. That being said, last night's debate gave us the best opportunity yet to take a look at the frontrunners for the nomination, as well as candidates such as Andrew Yang, Tom Stever, and Amy Klobuchar for whom strong performances in the early state races is a do-or-die issue.
While the race will likely take a backstage for the next two weeks or so as we celebrate the holidays, we'll learn in the coming weeks what impact the debate had on the race, but given the lack of any real soaring moments or utter gaffes by any of the candidates I'm going to guess that it won't end up having much of an impact at all. Biden will continue to lead the race, while Mayor Pete and Senators Warren and Sanders fight it out for second place. The big question after this debate whether any of the last-chance candidates are able to rise above the crowd. Of all of the candidates on the stage, the one I'd say to keep an eye on is Minnesota Senator Amy Klobuchar, who is slowly moving up in the polls in Iowa and New Hampshire. Whether it will be enough to boost her into a contenders slot remains to be seen.
If you missed it, you can watch the full debate video here: