Robert Mugabe Resigns As President Of Zimbabwe
After nearly four decades in power, Robert Mugabe has stepped down after a military coup. What happens next is another, more complicated, question.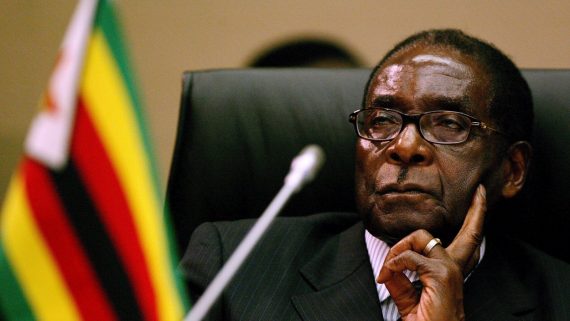 Robert Mugabe, who has ruled the African nation of Zimbabwe for thirty-seven years and turned what was once a prosperous nation that seemed as if it had the potential to become one of the few successful nations on the African continent, has finally resigned from office after a week of uncertainty in what was obviously a military coup supported by political rivals in his own ruling party frustrated by his efforts to turn the country into a personal dynasty ruled by his family:
HARARE, Zimbabwe — Robert Mugabe, who ruled Zimbabwe since independence in 1980 and once proclaimed that "only God will remove me," resigned as president on Tuesday shortly after lawmakers began impeachment proceedings against him.

The speaker of the Parliament, Jacob Mudenda, read out a letter in which Mr. Mugabe said he was stepping down "with immediate effect" for "the welfare of the people of Zimbabwe and the need for a peaceful transfer of power."

Lawmakers erupted into cheers, and jubilant residents poured into the streets of Harare, the capital. It seemed to be an abrupt capitulation by Mr. Mugabe, 93, the world's oldest head of state and one of Africa's longest-serving leaders.

"It's the best thing that's ever happened to Zimbabwe," Perseverance Sande, 20, said in central Harare minutes after news of the resignation began spreading, as crowds of people started singing around her. "I've been waiting so long for this moment."

Mr. Mugabe, who controlled the nation by handing out the spoils of power to his allies and crushing dissent, had refused to step down even after being expelled on Sunday from ZANU-PF, the political party he had led for four decades.

Then on Tuesday, party members introduced a motion of impeachment, invoking a constitutional process that had never before been tested.

The party's political rival, the Movement for Democratic Change, seconded the motion, a striking sign of the consensus in the political class that Mr. Mugabe must go — one that formed with astonishing speed after the military took Mr. Mugabe into custody last Wednesday.

Lawmakers were still discussing the impeachment motion when Mr. Mugabe's justice minister, Happyton Bonyongwe, walked up to the stage. He was booed, because of a rumor that he had been offering bribes to sway votes against impeachment. Then he whispered into the ear of Mr. Mudenda, the speaker, and handed him a letter.

Calling the lawmakers to order, the speaker announced that he had received an urgent communication from the president. As the crowd grew quiet, Mr. Mudenda — with a wide smile across his face — read out the letter.

Lawmakers immediately screamed and shouted. Once-bitter rivals from ZANU-PF and the Movement for Democratic Change shook hands and hugged.

Even Mr. Mugabe's closest allies appeared taken aback. Reached by telephone, George Charamba, the president's longtime spokesman, declined to comment, saying only, "I'm concerned about the stability of my country."

In Africa Unity Square, the capital's main public area, scattered shouts were heard a few minutes after the announcement by the speaker. Then, as word began spreading by mouth and by phone, the shouts, cries and honking of cars rose in a deafening crescendo. Hundreds of people ran to the square, hugging and jumping, as the crowd soon swelled into the thousands.

"I'm happy," said Presca Nzendora, 32, a street vendor who was hugging a friend, jumping up and down. "Bob has resigned! We were starving because of him."

Bryan Moyo, 30, who works in internet security, ran into the middle of the square in his dark suit and red tie. "Thirty-seven years is not a joke," he said. "He's the only president I've ever known. It's indescribable. It's been hell. I feel like we've been liberated a second time."

Nicholas Nyamaka, a 65-year-old taxi driver, said: "I used to think it would never come. It's a dream come true. So finally the suffering is over."

The state broadcaster interrupted its programming to report that Mr. Mugabe had resigned and that a new leader could be sworn in as early as Wednesday. Emmerson Mnangagwa, the vice president whom Mr. Mugabe abruptly fired last week, setting off an internal revolt, is widely expected to lead the country, at least until national elections scheduled for next year.

For nearly four decades, Mr. Mugabe ruled through a heavy mix of repression of his opponents and rewards for his allies. He oversaw the massacre of thousands of civilians in the 1980s and outmaneuvered rivals in his party and in the opposition. Even in his 90s and weakened by age, he kept potential successors at bay.

But he pushed too hard by trying to position his wife, Grace, 52, as his successor. Despite being a newcomer to politics who had no role in the nation's liberation war, she made clear that she wanted to be president and ridiculed politicians who had been waiting decades to succeed her husband.

The chain of events leading to Mr. Mugabe's downfall started on Nov. 6, when he fired Mr. Mnangagwa, clearing the way for Mrs. Mugabe to take over the presidency at some point. Mr. Mugabe then tried to arrest the nation's top military commander a few days later.

After the military took Mr. Mugabe into custody, ZANU-PF expelled him as its leader on Sunday. But Mr. Mugabe stunned the nation that evening with a televised address in which he refused to step down as president. Pressure from within the country and from abroad had been building on Mr. Mugabe to resign, but observers had warned that the country might have to brace itself for lengthy impeachment proceedings.

The motion of impeachment introduced on Tuesday alleged, among other things, that Mr. Mugabe had violated the Constitution; that he had allowed his wife to usurp power; and that he was too old to fulfill his duties.

Earlier on Tuesday, Mr. Mnangagwa, whose firing led to the military intervention, broke his silence, urging the embattled leader to step down. "He should take heed of this clarion call by the people of Zimbabwe to resign so that the country can move forward and preserve his legacy," Mr. Mnangagwa said.
All of this began, of course, last Wednesday when the military took Mugabe into custody and effectively took over the reins of government in the wake of Mr. Mnangagwa's firing and departure from the country for Mozambique. At the time, it was unclear if their actions were meant to be part of a power grab, or if they were actually moving to protect Mugabe from other forces that might be moving against him. By the weekend, though, it was clear that a coup was underway and that Mugabe's grip on power was effectively over. At that point, both the military and Mugabe's own political party had given him until Monday to either resign or face impeachment. When that time came, Mugabe addressed the nation but failed to resign as many had expected and hoped, and the next steps were unclear. It wasn't until the legislature, in apparent unity between the nation's two major political parties, moved toward impeachment that Mugabe formally resigned. Had he refused to do so, then it's likely that his impeachment would have been a mere formality, of course, but stepping aside potentially saves the country from a wrenching legal proceeding and weeks or months of political uncertainty. Given how bad the situation in Zimbabwe actually is, that hardly would have helped things.
The next step forward for Zimbabwe is uncertain at best.
Even if the military does step aside for an ostensibly civilian ruler such as Mr. Mnangagwa, that hardly guarantees a bright future for the nation. For one thing, Mnangagwa used to serve as one of Mugabe's chief enforcers and has a reputation for being fiercely loyal to the ruling party that has controlled the party under Mugabe's rule for nearly four decades now. It remains to be seen whether he will allow the type of democratic reforms that many of the protester in the street appear to want and which were long denied them by Mugabe and his cohorts. Given the fact that the reason for his departure from the country was tied to a power struggle between him and Mugabe due to Mugabe's desire to install his wife as Vice-President, it's just as likely that he will seek to consolidate power in his own hands and that the political situation in Zimbabwe won't change significantly from what it was like under Mugabe.
Additionally, it will take a significant amount of work and luck to fix the horrible economic conditions that the country finds itself in after four decades of Mugabe's rule. At one point, Zimbabwe showed promise to become an economic powerhouse thanks to riches of minerals and other raw materials wanted by Western nation for high tech products, as well as it's farming industry and other parts of the economy. Thanks largely to Mugabe's mismanagement, self-dealing, corruption, and economic policies that destroyed the economy and caused some of its most productive citizens to flee the country. The result was an economic collapse that led to record-breaking inflation that continues to have an impact even today in a nation that, effectively, doesn't even have a currency of its own anymore. Meanwhile, the country suffered under four decades of mismanagement and dictatorship that resulted in an effective end to democratic politics and the jailing of dissidents on the flimsiest of charges. Even if Mnangagwa and his allies have the best of intentions, it's not clear that anyone is up to the task of fixing what's wrong with the country, or that it's even possible in the short term.
Leaving aside the questions about the future, the end of Mugabe's rule is, of course, a good thing. In his four decades of rule he had become a horrible violator of human rights and an international pariah. I'd like to think that this will result in some good for the citizens of Zimbabwe, and that Mugabe will face justice for the long list of crimes he's committed over the years. In reality, though, he'll probably get away with it all and the people will continue to suffer.
All that being said, at least there is some humor in all of this:
LOL! pic.twitter.com/mIyQy4J27H

— Doug Mataconis (@dmataconis) November 21, 2017