Romney and the Birthers
Romney declared "I believe the president was born in the United States" on national television the day after he announced his 2012 campaign.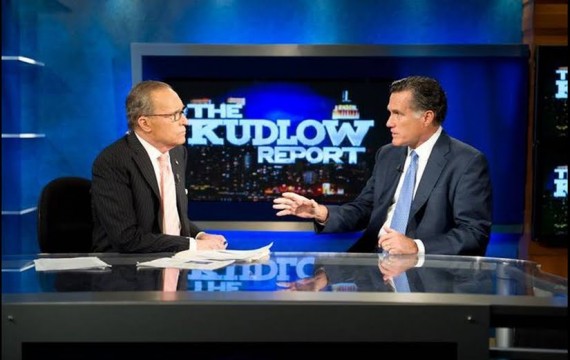 As noted earlier this morning, Mitt Romney is trying to defuse the brouhaha over his "No one's ever asked to see my birth certificate" joke by reiterating that "I've said throughout the campaign and before, there's no question about where he was born. He was born in the U.S. "
While it's  true that he has been willing to suck up to Birther nuts like Donald Trump to court the right wing of his base, which I both understand from a tactical standpoint and despise as a leadership trait, it's my recollection that Romney has indeed always eschewed the Birther claims rather forthrightly. Alas, with Google, Bing, and Yahoo all having switched their algorithms to prioritize recent pages, all my searches for "Romney: Obama born in America" turned up page after pages of stories about the present controversy. That frankly makes no sense; if I wanted that, I'd search Google News rather than the main search engine.
But I did turn up this April 2011 post by Daniel Freedman on Fox Nation titled "Romney to Trump: Obama Doesn't Need a Birth Certificate." Given its age and brevity, I'm going to take the liberty of quoting in its entirety:
According to Romney family lawyers it doesn't matter if Barack Obama was born in Hawaii, Kenya, or even Paris: Because his mother was an American (and not even Donald Trump questions that), he is eligible to be President.

The Romney lawyers investigated this question in the 1960s, when Mitt Romney's father, Governor George Romney of Michigan, was vying for the Republican presidential nomination. George Romney had been born in a Mormon colony in Chihuahua, Mexico, as his grandfather moved there with his wives in the 1880s after polygamy was outlawed in the U.S.

While some opponents nicknamed him "Chihuahua George," his suitability for the highest office because of his birth was never seriously challenged. The reason his campaign faltered was because of his shift in position on the Vietnam War: He went from being a supporter to opposing it, infamously claiming to have been "brainwashed" by military officials. After that Richard Nixon's lead in the polls more than doubled.

Article II of the U.S. Constitution states that "No person except a natural born citizen … shall be eligible to the Office of President," and so the question is: Does natural born citizen mean born a citizen or born in the U.S.? The Founding Fathers were of course aware of both jus soli (birthright citizenship) and jus sanguinis (citizenship through parentage), but deliberately wrote "natural born" rather than something like "born on U.S. soil," arguably to include children born to U.S parents outside the country.

Mitt: Obama Born Here, Period

Mitt Romney forcefully said Tuesday night that he believes President Barack Obama was born in America and that "the citizenship test has been passed."
"I think the citizenship test has been passed. I believe the president was born in the United States. There are real reasons to get this guy out of office," Romney told CNBC's Larry Kudlow the day after he formally announced that he's exploring a run for the White House. "The man needs to be taken out of office but his citizenship isn't the reason why."
This was literally at the beginning of his campaign. Has Romney subsequently backed off this position and I've missed it? If not, it seems odd to argue that his joke was intended as some sort of dog whistle; he's already flatly rejected the Birthers.
Some will point to various comments that Romney has made along the way about Obama somehow being less than American, not championing American values, and the like. But, while some may assign these comments different meaning because of Obama's race and the absurdly lingering questions about his national origin, the fact of the matter is that this sort of language has been used against every Democratic presidential candidate—and, indeed, many Democratic candidates for lower offices—by Republicans for as long as I can remember. That's, for example, what George Allen was getting at with his "Real America" nonsense during the infamous Macaca incident six years ago. It's all part of the notion that America is a unique nation chosen by God to lead the world and that, by extension, only God-fearing, salt-of-the-earth, country folk are really Americans; liberals, especially big city liberals and their cronies in the media and academia are, by extension, somehow less American if not anti-American.
I don't like any of that. But it plays to a powerful sentiment among the base—and, I suspect, a not insignificant chunk of swing voters—and has worked well for decades at stoking support.