Romney and the Military
Romney comes down firmly on the guns side of guns and butter.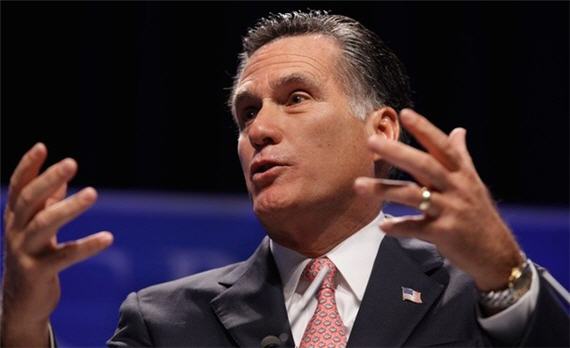 Over the weekend, Mitt Romney said the following in a speech in San Diego (via the BoGlo):
"We have two courses we can follow: One is to follow in the pathway of Europe, to shrink our military smaller and smaller to pay for our social needs. The other is to commit to preserve America as the strongest military in the world, second to none, with no comparable power anywhere in the world."
(This was passage that led Erik Kain to refer to "Europe" as a "sneer word" as I noted here).
Now, setting aside the false choice inherent in Romney's statement, let's considered its philosophical significance.
Several thoughts occur:
1.  Romney here appears to be saying that if he has to choose, he chooses military power over taking care of the social needs of the citizenry.  Even recognizing that military power is important, this is a telling statement.  It is odd, or so it seems to me, to so easily dismiss the importance of social needs and to, to use Erik's word, sneer at the Europeans for diverting more resources to that than to military power.
2. Of course, an underlying question:  how big is big enough?  As Doug Mataconis noted recently, he US already spends the most in raw terms than any other country in the world.  Indeed, the US spends six times was the second place country (China) spends and over 11 times what the number three county (Russia) spends.  In terms of the Europe quip and Romney, it is worth noting that four of the top ten in raw spending are European countries (France, the UK, Germany, and Italy).  Further, along those same lines, Doug notes:
If you add in the military budgets of the NATO and non-NATO allies in the Top 20, it amounts to more than 70% of the worldwide military spending, dwarfing the spending of nations like China, Russia, and Iran to a considerable degree. Based on sheer numbers alone, the idea that the United States isn't spending enough on defense, a refrain one hears frequently from the hawkish wing of the GOP, is quite simply absurd.
If we go beyond raw numbers and look at spending as a percentage of GDP, we see that the US is only bested by Israel, a state that has pretty immediate reasons to spend a lot on security: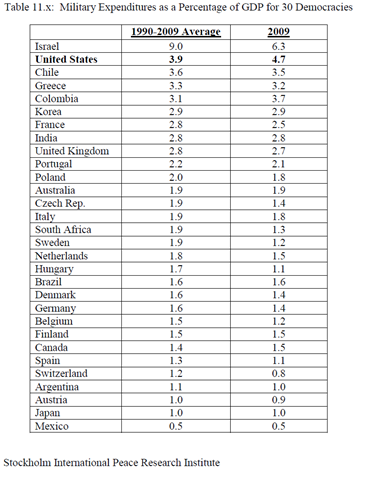 So, the question is:  would it really damage US national security to come a little closer to the norm for other liberal democracies?  It would be possible, in fact, to cut back on defense spending (both to aid deficits and also to think a bit about those pesky "social needs") and still have the largest military in the world by several orders of magnitude.
3.  Who are we protecting ourselves from?  Recognizing that one of the foundational tasks of government is to protect the governed, there is no doubt that a military is necessary.  But who, exactly, is it that we are arming ourselves to defend against?  We are geographically isolated from any state that could possibly harbor serious ill will to the US.  Further, threats to the United States proper aren't going to be stopped by conventional military forces.
Yes, there are reason to want to be able to project power and protect interests.  A simple example that even persons prone to more pacifistic sentiments would agree is a navy that can keep the seas open for trade (which is one of the reasons it is given special mention in the US Constitution).  However, we are not fighting a world war.  There is no Soviet Union to prepare to repel from western Europe.  Iran, even if they acquire a nuclear weapon, is not going to conquer the world.  China, billion people or no, is not going to invade the US and, really, it is against their national interest to engage in the US in a military confrontation (even in the guise of New Cold War).  So, who is the menace?  Global jihadists?  Do we have to spend 4% or more of our national wealth to fight them?
Apart from pure national greatness jingoism of the crudest form, what ideas undergird this call (and it is not just Romney's) for more military spending when we already spend an enormous amount?  I would consider this nothing but pandering to a crowd of veterans in a military town during Memorial Day weekend, but this is not a new position for Romney nor for the GOP in general.