Romney, Bachmann Lead GOP Race In New NBC/WSJ Poll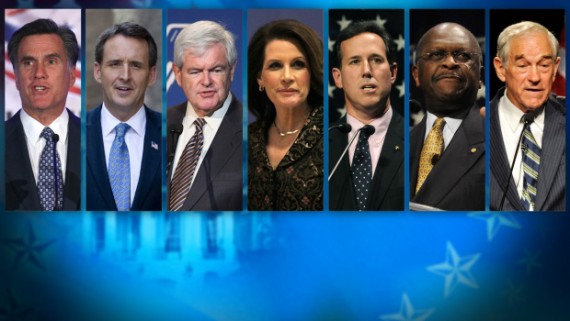 The Michele Bachmann surge continues, and the fortunes of candidates such as Tim Pawlenty and Herman Cain continue to falter:
Rep. Michele Bachmann of Minnesota has stormed into second place among Republican primary voters in the race for the GOP presidential nomination, but former Massachusetts Gov. Mitt Romney remains the front-runner, according to a new Wall Street Journal/NBC News poll.

The poll, taken between July 14 and July 17, found continuing turmoil in the Republican race to be the "anti-Romney." Mr. Romney remained the first choice of 30% of GOP primary voters in July, the same number as June. But beneath him, the stability ends.

In April, Donald Trump was rising to challenge the front-runner. In June, former Alaska Gov. Sarah Palin was second with 14% and businessman Herman Cain was just behind with 12%. Now, Ms. Bachmann has 16%, up from 3% in June, and Texas Gov. Rick Perry – still undecided about running, but widely expected to announce his candidacy on Thursday – comes in third with 11%.

Former Minnesota Gov. Tim Pawlenty, once seen as a formidable challenger for the nomination, has slid back to 2% in the poll, from 4% in June and 6% in April. Mr. Pawlenty now lags being former Pennsylvania Sen. Rick Santorum nationally as he bares down in Iowa, hoping to rescue his campaign with a strong showing in the Ames, Iowa, straw poll Aug. 13.

(…)

Rep. Ron Paul is in fourth place nationally with 9%, with former House Speaker Newt Gingrich at 8% and Mr. Cain at 5%. Mr. Cain, the former chief executive of Godfather's Pizza, slipped from 12% in June.

Former Utah Gov. Jon Huntsman, who joined the presidential race last month with a flurry of attention and a promise of civility, has yet to catch fire. He is at the back of the pack with 2% support, up from 1% the month he announced his candidacy.
The race is still in flux, but clearly there are a few trends emerging:
Mitt Romney is the clear frontrunner, something that's been confirmed by too many polls to list at this point.
Michele Bachmann is the anti-Romney, for the moment but her history of flaky comments, lack of a real legislative record, and lack of Executive experience are going to work against her if and when;
Rick Perry comes along. He isn't even in the race and he's already at 12%. Watch this guy.
The Herman Cain boomlet is over. Thankfully
Tim Pawlenty is in serious, serious trouble. Unless he can start turning things around at the Ames Straw Poll and the debates that start in September, his campaign is going to see fundraising drying up and we're likely to see supporters jumping ship to other candidates. Additionally, I stand by my earlier prediction that Rick Perry's entrance into the race would be the death knell for Pawlenty.
Off course, the poll is flawed because it does not accurately reflect America's deep longing need to see Thaddeus McCotter in the White House.
Yes, I am kidding.