Romney Bets on Bad Economy
Dan Balz titles today's column "Romney bets his candidacy on the economy." My reaction upon seeing that was, that's a pretty safe bet.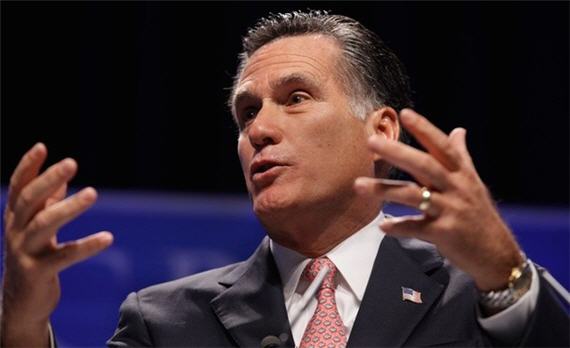 Dan Balz titles today's column "Romney bets his candidacy on the economy." My reaction upon seeing that was, that's a pretty safe bet.
Republican Mitt Romney will formally launch his second campaign for the White House on Thursday with an operation leaner and wiser than it was four years ago and a message singularly focused on what he sees as President Obama's greatest area of vulnerability: jobs and the economy.

Romney and his advisers are working backward from November 2012. They believe that the economy will decide the outcome of the election and that the president has yet to convince voters that his economic policies have worked. They argue that Romney's long experience in the private sector — his tenure as an elected official was just four years — makes him the Republican best positioned to challenge the president on how to fix what's wrong.

"This election is going to be a referendum on President Obama and his handling of the economy," said campaign spokesman Eric Fehrnstrom. "He didn't cause the economic recession, but his policies have prolonged it and deepened it in some respects. We wondered what it would be like to elect a president who has no experience. Now we know."
Whether Romney can take the Republican nomination or persuade voters that he'd be better than President Obama on the economy remain the be seen over the next eighteen months. But if the economy comes roaring back, Obama's a shoe-in for re-election. So, any would-be challenger betting on something other than the economy is a fool.
Democrats dispute all that and say Romney's vulnerabilities on economic issues are far greater than the president's. "The president made the hard choices, exercised sound judgment, and his policies are helping American industry give people jobs again," said Democratic National Committee press secretary Hari Sevugan. "Mitt Romney made no choices, exercised bad judgment and has a record of helping big business take jobs away."

Still, the president's team has already shown it takes Romney's candidacy seriously. The first video ad aired by a newly formed independent group that is run by two former White House officials targeted Romney.
It doesn't work that way. Obama inherited a bad economy and likely did pretty much what anyone else in his position would have done given the options and pressures. But the voters will judge him on results and care very little about criticisms of Romney's alternative plans that weren't tried.