Romney Campaign: Embassy Protests Wouldn't Be Happening If Mitt Was President
The Romney campaign is doubling down on bizarre foreign policy pronouncements.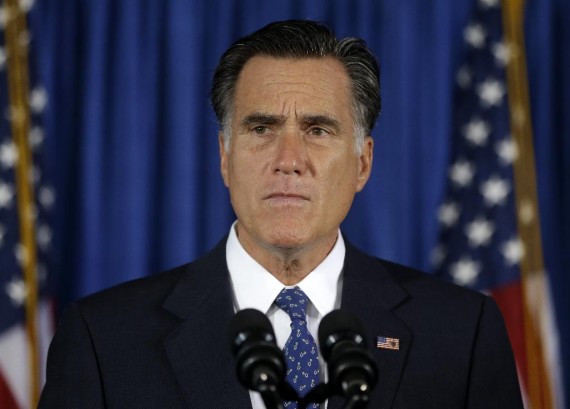 One of Mitt Romney's top foreign policy advisers made the rather astounding assertion that the embassy protests currently sweeping the Middle East wouldn't be happening if Mitt Romney were President:
Advisers to Mitt Romney on Thursday defended his sharp criticism of President Obama and said that the deadly protests sweeping the Middle East would not have happened if the Republican nominee were president.

"There's a pretty compelling story that if you had a President Romney, you'd be in a different situation," Richard Williamson, a top Romney foreign policy adviser, said in an interview. "For the first time since Jimmy Carter, we've had an American ambassador assassinated."

Williamson added, "In Egypt and Libya and Yemen, again demonstrations — the respect for America has gone down, there's not a sense of American resolve and we can't even protect sovereign American property."

The aggressive approach by Romney's campaign thrust the issue of foreign policy to the forefront of the presidential campaign a day after the Republican candidate was widely criticized for blasting Obama while U.S. embassies in Egypt and Libya were under attack.
Kevin Drum doesn't take the comments seriously:
At one level, of course, this is just dumb campaign bravado. Your guy is weak and vacillating and our enemies laugh at him. My guy is strong and resolute and our enemies fear him. But it's also nonsense. Reagan's resolve didn't stop Lebanese militants from bombing a Marine barracks in Beirut. Bush Sr.'s resolve didn't stop Saddam Hussein from invading Kuwait. Bush Jr.'s resolve didn't stop al-Qaeda from destroying the World Trade Center and killing 3,000 Americans.

This kind of thing makes for pretty speeches, and Republican audiences lap it up. But there's nothing behind it.
Rod Dreher is appalled:
This is idiotic and malicious. These barbarians massing outside our embassies would be doing exactly the same thing if Romney were president. And the strong implication here that Obama's negligence got the ambassador to Libya killed is just foul, an appalling attempt to exploit the murder of Amb. Stevens for political gain. What is wrong with these people? I've thought the Romney-bashing on the protest issue was a bit excessive, but I take it all back. I was wrong, and Noah was right.
As is typically the case with Romney's campaign, there was no detail provided as to what, exactly, Romney would have done differently that would have prevented any of these embassy protests? Do they think that all it takes is a more aggressive approach toward Islamic nations, as many on the right seem to want? Do they suggest that we could have done something to keep Mubarak and Qaddafi in power despite all the evidence to the contrary? It strikes me as fairly easy for a political opponent to sit on the sidelines and say that things would be different if they were in office, but unless they give you some idea of how it would be different, they're basically just blowing smoke.
If nothing else, it strikes me that this is yet another example of Romney's sometimes bizarre and often vague foreign policy worldview. We've seen it before in Romey's comments on everything from Russia to the War Of Afghanistan. And, as Noah Millman notes, the candidate's recent comments about the attacks in Egypt and Libya demonstrate something rather important about his foreign policy worldview:
Romney's attack isn't primarily an issue because of timing or decorum, as Daniel Larison points out, nor even because this wDas an instance not only of absurd mendacity but absurdly-easily-checked mendacity (though those are probably the reasons that so many Republicans groaned when he first made the attacks). It's primarily relevant because it is of a piece with Romney's bizarre foreign policy worldview, according to which the only important audience for our foreign policy statements is domestic.
As foreign policy, that is monumentally stupid. Striding across the globe and acting without any care at all for the opinions and sensitivities of the people of other sovereign nations really only accomplishes the same kind of loss of influence that the U.S. experienced during the Bush years in the wake of the Iraq War. This isn't to say, of course, that foreign public opinion should trump doing what is in the best interests of the United States, but being aware of how your policies are being perceived in the rest of the world is something that any sensible leader would want to know. There's no point, after all, in needlessly creating ill feelings that could someday develop into hostility, or worse. That doesn't seem to matter to Mitt Romney, who seems to think that the only relevant question about foreign policy is how jingoistic it is. Of course, that's not entirely surprising since it seems to be exactly what the Republican base wants:
"As we watch the world today, sometimes it seems that we're at the mercy of events instead of shaping events," Romney said. "The Middle East needs American leadership, and I intend to be a president that provides the leadership America respects and will keeps us admired throughout the world."

That wasn't the tough talk some people in the audience had hoped to hear. Many wore bright orange stickers from the National Rifle Association that read "Defend freedom. Defeat Obama." A heckler in the crowd who accused Romney of "politicizing" the violence in Libya was drowned out by chants of "USA! USA! USA!"

"Romney needs to speak up more about foreign policy," said 75-year-old Sophie Nicholson, wearing a straw hat and dark glasses to shield her from the noonday sun. "What happened in the Middle East was horrible, and Obama goes on another apology tour? It's embarrassing."

In fact, the White House disavowed a statement from the Egyptian embassy condemning "religious incitement" — an apparent reference to an inflammatory anti-Muslim film — issued hours before protesters scaled the walls of the Cairo compound and attackers killed four diplomats in Benghazi. Obama also said on Wednesday from the Rose Garden that "there is absolutely no justification for this type of senseless violence. None." But it is an article of faith among conservatives like Nicholson that the president has insulted U.S. allies and appeased its enemies, weakening America's status as a global power.

"Blogs and the conservative leaders of the party were crazy about what Romney said," said Quentin Kidd, director of the Wason Center for Public Policy at Christopher Newport University. "They want him to be even harder on Obama. The real question is what the small percentage of undecided voters think, because despite what everyone may think, this election will be won in the middle."
The question is whether or not this is the type of foreign policy that appeals to that vast middle that will decide the election. I don't know for sure, but something tells me that it isn't. Poll after poll in recent years has shown that Americans in general, and especially those people who identify themselves as "independent," are much more skeptical of an aggressive foreign policy than Republicans and conservatives tend to be. It still doesn't seem as though foreign policy will be a major factor in voter decisions over the next two months, but it does play into the Obama campaign's efforts to turn the election into a choice between two candidates rather than a referendum on the President's first four years. In a choice election, the Obama campaign will obviously try to use Romney's foreign policy hawkishness as a reason to argue to voters that he isn't ready to get over the Presidency. It doesn't necessarily even have to be an explicit attack by the President. This is something that can be handled quite well by surrogates and, of course, by simply repeating Romney's own words, which always seem to come back to bite him.
It's possible, of course, that this situation could spiral out of control in a manner that ends up hurting the President politically. Already, there are reports from a London newspaper that the U.S. had some kind of advance warning of the attack on the consulate in Benghazi, although the United States is emphatically denying that this is the case. A poll decline for Obama in the wake of the embassy situation, though, would be atypical from the way public opinion typically reacts during an international crisis. Usually, the initial reaction to such an event in the polls is an increase in the polls for the President in what some have called a "rally around the flag" effect. Indeed, even President Carter saw his poll numbers increase in the immediate aftermath of the seizure of the American Embassy in Tehran, only to see them start to fall later on as the crisis dragged on, and then again after the failure of the Desert One rescue mission. We haven't really seen any polling that takes this week's events into account yet, but I would suspect that, when we do, it will show at least an uptick in the President's job approval numbers at the very least. How long at will last depends on the course of future events.
As for Romney, I found these recent comments by his adviser to be, in a word, bizarre mainly because it's hard to believe that there's anything that a President of the United States can do to impact the Arab Street. Indeed, I think the most insightful comments about Romney's approach to this situation was summed up best by Jon Huntsman during an appearance today on Morning Joe:
Former U.S. Ambassador to China and presidential candidate Jon Huntsman said on Friday that Mitt Romney's response to the violent protests in the Middle East and North Africa posed a "problem" for the man he endorsed several months ago.

As protests raged outside the U.S. Embassy in Cairo and an attack on the U.S. consulate in Libya earlier this week left four Americans dead, Romney's decision to criticize the Obama administration was ill-advised and was a lost opportunity, Huntsman said on MSNBC's Morning Joe.

"This was an opportunity to instruct, to elucidate, to educate, to talk about how you put the pieces back together again in North Africa and the Middle East," he said. "Not to condemn, not to criticize, not to turn it into a political event, but to explain to the American people what we're going to do during a time of need, during a time of crisis, during a time of uncertainty."

In a time where relations between the U.S. and the Arab world is strained, and questions surrounding the broader implications of the Arab Springs are prevalent, Huntsman said that Romney should have explained his position on the democratic uprisings of late.

"I don't know what Governor Romney is proposing at this point," Huntsman said.
Nobody does, Governor Hunstman. I'm not even sure Governor Romney knows what he's proposing.