Romney Catching Up To Santorum In Pennsylvania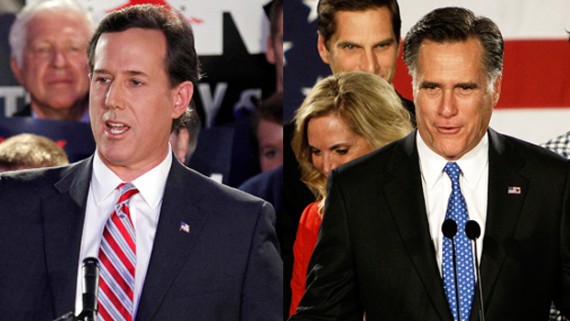 The Pennsylvania primary is still a month away, but already Rick Santorum's once seemingly insurmountable lead there may be slipping away:
Rick Santorum appeared to be the Republican presidential candidate to beat in Pennsylvania a month ago.

With the state primary four weeks away, Santorum now finds himself nearly tied with former Massachusetts Gov. Mitt Romney among the state's Republicans, and support is eroding rapidly, according to a Franklin & Marshall College poll out today.

"The real Rick Santorum has emerged," said G. Terry Madonna, director of the Franklin & Marshall College Poll.

"Santorum ran a disciplined campaign for eight months, but a month ago he began veering off message into all these cultural and social issues," Madonna said, referring to flare-ups over women in combat and contraceptives. "That may help with his core voters, but they're already with him. This is supposed to be about expanding your base."

The poll of 505 registered Republican voters, conducted March 20-25 in conjunction with the Tribune-Review and other media outlets, shows Santorum clinging to a small lead over Romney, 30 percent to 28 percent, within the poll's 4.2 percent margin of error.

That's a big change from February, when Santorum, once a U.S. senator from Penn Hills, held a commanding 15-percentage-point lead over Romney in the poll.

"I was really rooting for Santorum because he's from Pennsylvania, but I switched over to Romney because I think he has a better chance of beating Obama and that he'd do a better job of running this country like a business," said poll participant Rick Bierer, 51, a factory worker from Ford City.

Rep. Ron Paul of Texas, a Green Tree native, and former House Speaker Newt Gingrich, who grew up near Harrisburg, are a distant third and fourth in today's poll.
Regardless of what happens next week in Wisconsin, Santorum is likely to stay in the race until at least Pennsylvania. If he loses Pennsylvania, though, then one has to begin to wonder why he's continuing with an enterprise that is clearly doomed.