Romney Leading Santorum In Wisconsin
With six days to go, a new Marquette University poll shows Mitt Romney leading Rick Santorum in Wisconsin's primary:
Helped by a big edge in ad spending and a growing acceptance among GOP voters, Mitt Romney leads Rick Santorum 39% to 31% in the Wisconsin Primary, according to a new Marquette Law School poll.

That's a major shift since Marquette's last survey in February, which showed Santorum ahead by double digits. Ron Paul is running third in the poll with 11%, followed by Newt Gingrich with 5%.

(…)

Underlying these changes is an improvement in Romney's image in Wisconsin since last month, when Marquette's poll coincided with a low point in Romney's fortunes following a February losing streak.
Most importantly, Romney's favorability among Badger State Republicans has improved significantly since February: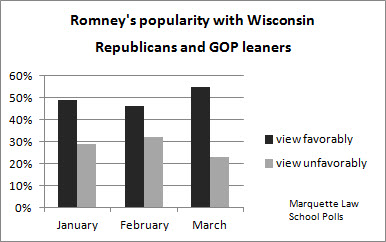 As it stands right now, Romney is in excellent position to sweep all three primaries next Tuesday, but it is Wisconsin that's likely to get the most attention. If Santorum loses here, it will be the fourth big Midwestern primary that he was unable win.