Romney Leads Obama in 3 Latest Polls
Fox, Rasmussen, and Gallup show Romney slightly ahead of Obama. I'm willing to call it a trend.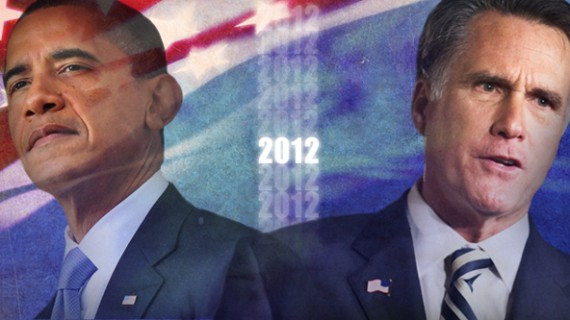 I cautioned about reading too much into Mitt Romney's lead over President Obama in the latest Fox News poll. With Rasmussen and now Gallup showing the same result, however, I'm willing to call it a trend.
Mitt Romney is supported by 47% of national registered voters and Barack Obama by 45% in the inaugural Gallup Daily tracking results from April 11-15. Both Obama and Romney are supported by 90% of their respective partisans.

These results are the first from Gallup Daily tracking of registered voters' general election preferences, which began on April 11 and will be reported daily on Gallup.com on the basis of continuous five-day rolling averages. This initial report is based on interviews with 2,265 registered voters, and highlights the potential closeness of this year's race, with Romney and Obama essentially in a statistical tie. Gallup's previous general election trial heat, from a national poll conducted March 25-26, showed Obama with a slight 49% to 45% lead over Romney.

Gallup began tracking the general election on Wednesday, April 11, after Rick Santorum suspended his campaign for the Republican nomination, making Romney the all-but-assured GOP nominee.
RealClearPolitics doesn't yet include this poll; they show the last Gallup snapshot which had Obama 4 points in the lead.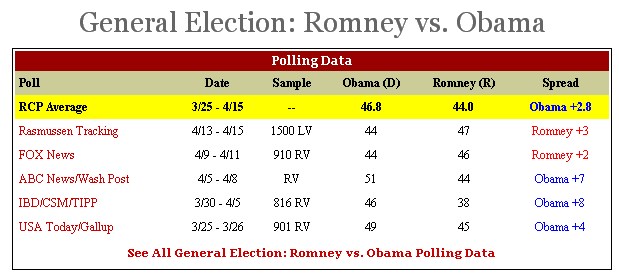 Given that the kerfuffle over whether stay-at-home moms "work" hadn't erupted yet when the Fox poll was taken and that all three of the most recent polls show essentially the same margin, it strikes me as reasonable to conclude that the swing toward Romney is largely a function of his becoming Obama's presumptive fall opponent. That simply elevates his stature from Some Guy to The Guy.
To be sure, as Frank Newport notes, this is just a moment in time and we're way out from the poll that really matters, the November election:
History shows that the candidates' positioning in the spring of an election year is not necessarily good at forecasting the election outcomes. For example, in an April 20-22, 1992, Gallup poll, incumbent President George H.W. Bush was ahead with 41% of the vote, compared with 26% for Bill Clinton and 25% for Ross Perot. And in an April 11-14, 1980, poll, incumbent President Jimmy Carter led Ronald Reagan by 42% to 34%, with John Anderson receiving 18% support. Both Bush and Carter, of course, ultimately lost their re-election bids.

Still, the current results, and the results that will follow as Gallup tracks the race on a daily basis, provide an excellent, scientific way to understand the dynamics of the election campaign, and the impact of foreseen and unforeseen events in the weeks and months ahead. And, at this point, the results show that the 2012 presidential election is shaping up to be a close race.
That last bit, boldface mine, is the key takeway here. I'm not at all confident that Romney has moved into the lead; indeed, I think Obama has the inside track to keeping his job and have thought that even before the economy started to improve and Romney reminded me how wooden he is as a campaigner. But it's sure looking like we'll return to the very tight races that we saw in 2000 and 2004 rather than the perfect storm of last cycle.
UPDATE: Less than two hours after posting this, CNN sends out a BREAKING NEWS alert that Obama holds a 9 point lead over Romney in its latest poll. Obviously, it's an extreme outlier–and Gallup's sample has been unusually pro Obama of late–but it's worth noting as a counter to the trend.