Romney Making A Comeback In Michigan?
The race appears to be tightening in The Wolverine State.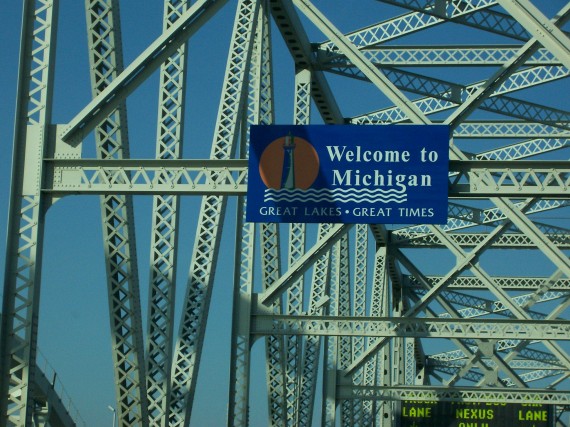 Just a week ago, Public Policy Polling put Mitt Romney 15 points behind Rick Santorum in Michigan.   It was the first of several polls last week showing Romney trailing Santorum in the Wolverine State. The signs of panic among the GOP Establishment were quite apparent, and talk of brokered conventions started to get louder. That was before the Romney campaign and his SuperPAC started blanketing the Michigan airwaves with ads targeting Santorum on earmarks and his Congressional record. Today, PPP is out with a poll that seems to show that Romney has started closing the gap as the campaigning gets down to he final eight days:
The Republican race for President in Michigan has tightened considerably over the last week, with what was a 15 point lead for Rick Santorum down to 4. He leads with 37% to 33% for Mitt Romney, 15% for Ron Paul, and 10% for Newt Gingrich.

The tightening over the last week is much more a function of Romney gaining than Santorum falling. Santorum's favorability spread of 67/23 has seen no change since our last poll, and his share of the vote has dropped only 2 points from 39% to 37%. Romney meanwhile has seen his net favorability improve 10 points from +10 (49/39) to +20 (55/35) and his vote share go from 24% to 33%.

What we're seeing in Michigan is a very different story from Florida where Romney surged by effectively destroying his opponent's image- here Romney's gains have more to do with building himself up.

Groups Santorum has double digit leads with include Protestants (up 47-30), union members (up 43-23), Evangelicals (up 51-24), Tea Partiers (up 55-20), 'very conservative' voters (up 54-23), and men (up 40-28).

Romney is leading the field with women (38-34), seniors (42-34), moderates (35-24), 'somewhat conservative' voters (40-34), and Catholics (43-31).
Newt Gingrich's continued presence in the race is helping Romney a lot. If he dropped 45% of his supporters would go to Santorum, compared to only 29% for Romney and it would push Santorum's lead over Romney up to 42-33. 47% of primary voters think Gingrich should drop out while only 40% believe he should continue on, but he's certainly not showing any indication he'll leave.

Santorum's advantage over Romney seems to be a reflection of voters being more comfortable with where he is ideologically. 48% of voters think Santorum has more similar beliefs to them, compared to only 32% who pick Romney on that question. 63% of primary voters think Santorum's views are 'about right' compared to only 42% who say that for Romney. 37% believe that Romney is 'too liberal.'
From the numbers, it's clear that Romney has managed to boost his own numbers in the race largely at the expense of the other rest of the field other than Santorum, as well as likely picking up undecided voters. Santorum was at 39% in the last PPP poll, and he's at 37% in this one, which is little more than a statistical blip on his part. Looking at the favorability numbers, it doesn't appear that Romney's campaign has had any impact on Santorum's favorability ratings. In fact, there's been absolutely no change in that number from the previous poll. Mostly likely what we're seeing here is a reflection of the campaigning that Romney has done in the state over the past week, the emphasis he's placed on his ties to the state, as well as emphasizing his business experience. Most interesting, though, is the fact that Romney's previous comments about the auto bailout don't seem to have hurt him among Michiganders at all, with 34% of voters saying that opposition to the bailout would make them more likely to vote for a candidate, 27% saying that opposition to the bailout is a negative, and 35% saying it doesn't matter to them either way.
All of this means, of course, that Wednesday debate, which actually takes place in Arizona, is likely to be crucial:
It is the first debate since Mr. Santorum swept contests in Colorado, Minnesota and Missouri two weeks ago, and it comes as he is under more scrutiny for his background and positions, including his opposition to many prenatal tests and his assertion on Saturday that the government's role in education is "anachronistic."

Despite moving to the top of four national polls and several state ones, Mr. Santorum remains a long shot to prevent the well-financed, well-organized Mr. Romney from winning the nomination.

Wednesday's debate could change that dynamic. A strong performance by Mr. Santorum, or a particularly weak one by Mr. Romney, could ensure a shocking upset in Michigan, the other state that will vote a week from Tuesday. If that happens, the nomination could slip from Mr. Romney's grasp.
The one thing that's clear given the way the past two weeks have gone is that Senator Santorum is going to be under the microscope at this debate to a far greater extent than he ever has before. More importantly, though, it means that a significant part of the debate is likely to focus on social issues and the statements that Santorum has made on everything from contraception to women in the military to same-sex marriage. How that plays out in the context of a Republican nomination fight, though, is unclear. You're not going to hear Romney, or Gingirch, or even Paul argue that Rick Santorum is too socially conservative, because they're not going to risk pissing off the same people that Santorum is appealing to. What could happen, though, is that Santorum's positions on these issues will have a negative impact on independent voters (Michigan has an open primary) and Republican women to such an extent that they start lining up behind Romney to stop him.
Whatever happens, though, there's one thing that's clear to me. Michigan is not going to be a blowout for either candidate. No matter who wins, be it Romney or Santorum, they're margin of victory is likely to be in the low single digits. That means that, even if Romney squeaks out a win next Tuesday this race will be far from over and we'll all be heading into the next showdown in the Super Tuesday states, where Romney has several areas of vulnerability notwithstanding his monetary and organizational advantages.
Stay tuned, this circus is far from over.