Romney Not Sealing The Deal With Conservatives
If the reaction at this year's CPAC is any indication, Mitt Romney still has some work to do to seal up his party's base.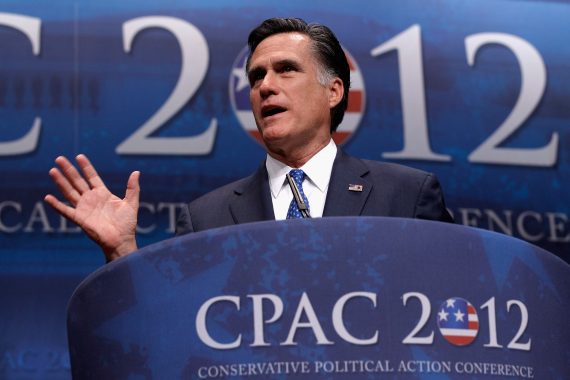 If the reaction of the attendees at this year's Conservative Political Action Conference, and the conservative pundits who have been watching the proceedings here at the Marriott Wardman Park, are any indication, it's pretty clear that Mitt Romney is still not sealing the deal with the conservatives who have had doubts about him from the beginning of this process:
Mitt Romney wanted to use his CPAC speech Friday to allay concerns about his candidacy on the Republican right, but with one ad-libbed word he reinforced conservative fears that he's not one of them.

"I was a severely conservative Republican governor," Romney told the annual gathering.

The response was immediate.

"Severely?"

"I have never heard anybody say, 'I'm severely conservative,'" Rush Limbaugh noted on his show.

"That didn't get a lot of applause," firebrand Rep. Steve King (R-Iowa) observed with a tight smile.

"Some things are too funny to comment on," a laughing Newt Gingrich commented as he walked into the conference to give his own speech.

Romney's address won repeated applause. He outlined his conservative credentials, both in his public and private life, and offered a strong indictment of President Barack Obama. But by going off-script to use an awkward modifier that no movement conservative would ever affix to themselves, he made clear why, despite vast advantages in money and organization, he's still struggling to win the trust of a party base needed to secure the GOP presidential nomination. He's just not a natural fit.

Success at CPAC is hardly a perfect indicator for how a candidate will perform with the Republican electorate. Romney knows this well, having captured the straw poll here in the past only to lose the nomination to a candidate, John McCain, who was booed when he addressed the conference just weeks before securing the GOP nod.

Yet Romney's trio of losses Tuesday and his all-out effort to woo the base here — he used some variation of "conservative" 25 separate times in his speech — underscores the degree to which the party has shifted in the four years since McCain captured the nomination.

The old nominating game standbys, the notions of inevitability and success begetting success, have proven irrelevant in 2012. Romney rolled in Florida and cruised in Nevada — and then, without an aggressive campaign, had nothing to show for it in Minnesota, Missouri and Colorado. This election has proven momentum-proof to date.
That's not to say that Romney's speech got boos yesterday, because it didn't. In fact, the applause was generally pretty loud and sustained at the right times and the speech was, overall, fairly good for a Romney speech (at least he didn't break into an extended discussion about America The Beautiful). At the same time, though, it seemed at many times that he was trying far too hard to emphasize his conservatism as a way to address the doubts that many in the crowd no doubt have about him, and it seemed force at times. The "severely conservative" line, for example, got heavy applause but at the time seemed even more forced than it reads on paper. Would Romney have used a line like that if it weren't for the fact that his opponents primary argument against him has been to accuse him of not being conservative enough? I doubt it.
Based on the entirely unscientific discussions I had with several people after the speech, it didn't seem like Romney's speech did much to win over the doubters, either. If you were an "Anybody But Mitt" person before the speech, you still were one after the speech. One speech isn't going to change minds overnight, but the fact that it seems to have done little to alleviate the doubts suggests that Romney still has a way to go to win the base over. Of course, there's nothing that succeeds like success and if Romney is the guy who ends up winning the nomination I personally have little doubt that most hard-core conservatives will get in line behind him rather quickly, because if there's one person in the 2012 race they dislike more than Mitt Romney it's Barack Obama, and they're not going to pass up the chance to vote against him in November.
If the conservatives at CPAC are not buying Romney, though, they appear to be really warming up to Rick Santorum:
The man who's making the latest bid to become the once-and-for-all Romney alternative, Rick Santorum, all but grabbed the CPAC activists by the lapels in his speech Friday, arguing that conservatives ought to nominate one of their own this time.

"Conservatives and tea-party folks," Santorum said near the top of his remarks. "We are not just wings of the Republican Party — we are the Republican Party."

The GOP, he argued, "will no longer abandon and apologize for the policies and principles that made this country great for a hollow victory in November."

Later in his address, Santorum directly brought up the tea party-infused Republican 2010 wave, claiming that Republicans won because they were enthusiastic about their candidates.

Turning to this year's election, and clearly alluding to Romney, the former Pennsylvania senator asked: "Why would an undecided voter vote for a candidate of the party who the party's not excited about?"

Santorum's introducer and the chief patron of his super PAC was more blunt.

"It didn't work with Bob Dole, it didn't work with John McCain," said Foster Friess, warning against nominating establishment favorites.

But with Santorum re-emerging and Newt Gingrich still lingering, Romney is making a newly aggressive case about what separates him from both Dole and McCain and his current conservative rivals.
Romney's response to the rise of Santorum this time around looks like it's going to be the same as his attacks on Gingrich, to point out the fact that Santorum's record in Washington reveals him to be far from the conservative that he now claims to be. Whether that will work coming from a guy like Romney remains to be seen, but the more important point is that attacking your opponent's bona fides isn't necessarily the best way to convince the conservative base that they can be comfortable with you. And that, in the end, is the problem that Mitt Romney has had from the beginning of this process.
Photo via The Daily Caller