Romney Rules Change
Mitt Romney's forces won a rules change that will allow future nominees to have more say over their conventions. While this strikes me as a no-brainer, some conservative activists are up in arms.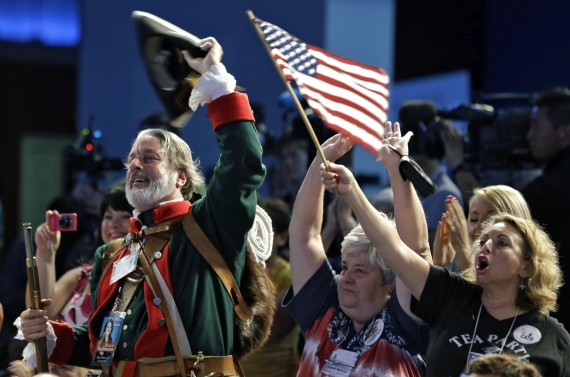 Mitt Romney's forces won a rules change that will allow future nominees to have more say over their conventions. While this strikes me as a no-brainer, some conservative activists are up in arms.
Melissa Clouthier pointed me to the controversy via Twitter and cites a blog post by Michelle Malkin.  Given the decreasing overlap in our audiences, I'll quote liberally (no pun intended):
Drew McKissick is a longtime conservative activist and blogger who is in attendance at the Republican National Convention's Rules Committee meetings. He and others on the ground are sounding the alarm over rules changes that he and many other attendees believe will hurt grass-roots movement conservatives. The battle is being cast by some observers as a narrow fight between Ron Paul advocates and the rest of the party. Drew says that's not true. And many other state delegations who oppose top-down delegate choices are chiming in.

First, here's Drew's call to arms (my emphasis added in bold):

Fellow conservatives,

Those who are in Tampa working to maintain the influence of grassroots conservatives in the Republican Party need your help!

This past Friday, the RNC's Convention Rules Committee voted – after several contentous votes – to change the party's rules to allow future presidential candidates to have veto power over who can be delegates from any state – in other words, take power away from the grassroots and their ability to elect fellow conservatives as delegates.

This represents a brazen move by several Washington Beltway consultants and party insiders to diminish the power and influence of conservatives over the party.

At least 29 members of this committee are filing Minority Reports to the full convention to try and make sure that these changes are NOT adopted into the final changes the full convention will approve on Tuesday. But we need your help to spread the word. 28 members are required to issue a minority report for the convention to even consider…and you can be sure others are working behind the scenes to peel some of them off before the meeting…so we need to create pressure for others to join!

Let me stop here and say that this is NOT…REPEAT NOT a move by a bunch of disgruntled Ron Paul supporters. This is a group of long-time conservative activists, even "party regulars" and lots of Romney supporters, many who go back to the Goldwater days.
There's more to Drew's appeal but you get the drift. Michele reports that the Texas GOP delegation, Matt Kibbe of FreedomWorks, Julianne Thompson of Georgia's GOP delegation, and others are outraged. Mostly, they're worried that the grassroots—read: conservative activists—are being disenfranchised.
Since this is a future rules change—i.e., one that won't impact the existing delegates or anyone else who knows how their own interests will be impacted—this strikes me as more than reasonable.  Granted, I think political conventions themselves are a relic of a bygone era and would be happy to see the delegates go away and just have the cable networks just give over the time for the big speeches and dispense with all the rest of it, including the writing of party platforms.  Absent that, however, it makes perfect sense for the party's presidential nominee to have more control over the convention than now exists.
Currently, we have the absurd spectacle of a bunch of local party activists getting "elected" in a series of primary elections where 99 percent of those voting think they're simply voting for the party's presidential nominee when, in fact, they're voting for a slate of delegates for said nominee that they almost surely don't know. Then, said delegates go off to a convention city and hammer out a party "platform" that the assembled delegates vote on and then the mass media treat as a meaningful document that the nominee has to spend valuable time talking about.
So, for example, we spend an inordinate amount of time every four years talking about the Republican Party's absurd abortion plank, which calls for a Constitutional amendment to ban abortions, sometimes with and sometimes without an exception for rape and incest. No Republican President—and we've had a passel of 'em—has ever actually proposed this amendment to Congress and there's not a snowball's chance in hell that such an amendment would get a supermajority vote in both Houses of Congress and approval by 37 states. Yet, every four years, we pretend that this platform plank is a real thing.
Beyond that, we have the nonsensical process whereby a candidate can "win" a caucus and then, months later, the state's party delegates get awarded to a different candidate entirely because of arcane rules that have nothing to do with the voters of the state. There was real concern that Ron Paul, who continues to be a novelty candidate with little real support, would wind up manipulating these rules to gain substantial leverage at the convention this year because his handful of supporters happen to be zealots with a lot of time on their hands. Thankfully for Romney, the effort ultimately fizzled out. But it was nonetheless worth amending the rules to ensure that a future (presumptive) nominee could avoid that sort of hijinx from overshadowing his coming out party to the American people.
UPDATE: Mark Levin takes to Facebook to urge, "Damn it, defeat this RINO power grab!"
Conservatives of all stripes, especially Tea Party activists, this is an attempt to destroy your ability to influence the presidential and vice presidential nomination process in the Republican Party.  It is an attempt to eviscerate the input of state parties.  It is a brazen assault on the grassroots.  And it is sleazy to the core.

If I didn't know better, I'd think Obama was behind it.  Instead, Romney's operatives are orchestrating it.
Now, I'm sure I was right.