Romney Scores Triple Primary Win, Santorum Campaign Becomes Quixotic Crusade
The race is over, Rick Santorum just won't admit it.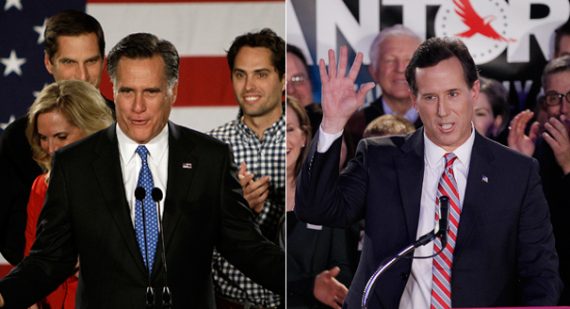 It's been rather obvious for weeks now that Rick Santorum's dream of chasing Mitt Romney all the way to Romney and either overtaking him in the delegate count or at least preventing him from reaching the 1,144 delegates needed to win the nomination on the first ballot was pretty much a fantasy. Last night, though, Mitt Romney scored decisive wins in three primaries and turned Santorum's dream into little more than a delusion:
MILWAUKEE — Mitt Romney tightened his grip on the Republican nomination on Tuesday with a sweep of the primaries in Wisconsin, Maryland and the District of Columbia, and found himself in his first direct engagement with President Obama, an unmistakable signal that the general election would not wait for internal Republican politics.

Mr. Romney emerged from the evening with substantial gains in delegates and a growing perception that he was winning over previously reluctant elements of the party. In winning the main battleground of Wisconsin, Mr. Romney led among strong Tea Party supporters and ran closely with Rick Santorum among those who consider themselves to be very conservative and among evangelical Christians, according to exit polls.

Mr. Santorum, who at one point led in polls here, said he would continue to compete for voters who "have yet to be heard" in the coming primaries, starting with his home state, Pennsylvania, on April 24.

But the day was in some respects the start of the general election. Mr. Obama for the first time singled Mr. Romney out by name, during a major address dedicated to the budget championed by Mr. Romney's marquee endorser in Wisconsin — Representative Paul D. Ryan — which the president called "social Darwinism."

"He said that he's 'very supportive' of this new budget," Mr. Obama said of Mr. Romney while speaking at a meeting of editors and reporters in Washington. Using a mocking tone, and referring obliquely to perceptions of his potential opponent's elite pedigree, Mr. Obama added, "And he even called it 'marvelous,' which is a word you don't often hear when it comes to describing a budget; it's a word you don't hear generally."

Taking the stage to declare victory in downtown Milwaukee, Mr. Romney took his turn to strike general election themes. "President Obama thinks he's doing a good job — I'm not kidding," Mr. Romney said, speaking with a huge American flag behind him and an excited hall of supporters in front of him. "It's enough to make you think that years of flying around on Air Force One, surrounded by an adoring staff of true believers telling you that you're great and you're doing a great job, it's enough to make you think that you might  become a little out of touch."

Even as he assailed Mr. Obama as presiding over a "government-centered society," Mr. Romney spoke in upbeat, elevated and optimistic tones that were steeped in themes of patriotism fashioned for a general election.

"The dreamers can dream a little bigger, the help wanted signs can be dusted off, and we can start again," Mr. Romney said. "And this time we'll get it right."

(…)

And with the presidential race now operating on two distinct fronts, Mr. Romney has the dual task of seeking to dispense with Mr. Santorum even as he begins to directly confront the more impressive arsenal of an incumbent president.

Mr. Santorum was already turning his attention to Pennsylvania, where he hopes to revive his candidacy, and also predicted a win in the delegate-rich state of Texas late next month. Portraying this as the halfway point in the Republican race, Mr. Santorum, speaking in Mars, Pa., said, "Who's ready to charge out of the locker room in Pennsylvania for a strong second half?"

Though Mr. Santorum leads in some polls in Pennsylvania, the surveys of voters leaving polls here in Wisconsin showed new signs that Mr. Romney was perhaps making critical final strides with the sorts of voters who have so far kept Mr. Santorum in the race — the strong Tea Party supporters and those calling themselves "very conservative." Some of that seemed to be a reflection of Mr. Romney's margin of victory here.
According to the RealClearPolitics Delegate Count, Romney now has 652 delegates, Santorum has 269, Gingrich has 140, and Ron Paul has 67. So, this is where the delegate math now stands:
Not counting Republican Superdelegates, there are 1,099 delegates yet to be awarded. Romney needs to win 492 more delegates to get to the 1,144 majority needed to win on a first ballot, or 44.77% of the outstanding delegates, Santorum would need to win 875  (79.62%) of those delegates.
To date Romney has won 58.69% of the 1,111 delegates awarded, Santorum has won 24.21% of the delegates awarded to date. If this trend continued, Romney would end up with an additional 645 delegates, putting him at 1,297 delegates at the end of the process. At his pace-to-date, Santorum would end up with an additional 266 delegates, putting him at 535 delegates at the end of the process.
Ryan Lizza, Joshua Putnam, and Andrew Prokop use a much more detailed delegate projection model but essentially come to the same conclusion:
Romney will be 22 delegates short of the 1,144 he'll need to win the nomination. That might sound like good news for Rick Santorum, but according to Putnam's count there will also be 598 unbound delegates remaining at this point. These delegates can support any candidate, either because they are chosen in non-binding caucuses or conventions, or because they've been directly elected in primaries. If Romney is only slightly short of his magic number, it will be easy for him to win the support of unpledged delegates from states that he won, like Illinois, Maine, and Washington.

For Santorum to have a shot at blocking Romney's nomination, he actually needs to hold Romney well below the magic number by the time the remaining contests end. One of the only ways that could happen is if California, where we assume Romney will win 154 out of 172 delegates, behaves in the exact opposite way our model predicts.

So it is over? Yeah, pretty much.
Indeed, it is. At this point Santorum has the choice that I noted yesterday. He can either take this race to Pennsylvania and risk being humiliated again in his home state. Or, he can bow out now and tell his supporters to accept the reality that the race is over. Based on what we heard from him last night, Santorum still seems to be leading his supporters down the garden path:
Santorum spoke in his home state of Pennsylvania and framed the speech around the state, which votes on April 24.

"This isn't the time to sit down and rest," he told supporters. But the former Pennsylvania senator seemed tired and his speech lacked the energy of previous campaign nights. He referenced General George Washington and pulled out a pocket version of the Constitution and the Declaration of Independence during his talk to underline the importance of the state. He promised to go out and "fight" for liberty and to hear the "real significant voices of everyday Americans" who have yet to vote.

Santorum suffered an 18-point loss in Pennsylvania in 2006, when he lost his Senate reelection bid.

He has been campaigning hard there the past few weeks and spent the past two primary nights in the state.

Santorum's spokeswoman Alice Stewart downplayed Romney's wins in Maryland and the District of Columbia to CNN before Santorum spoke.

"Every primary night you're going to have some winners and you're going to have some losers," she said, and sought to look forward in the process to the next vote in Pennsylvania. Santorum also mentioned Texas in his speech.
This is, of course, utter nonsense. We're long past the halfway point in this race and the idea that there's any realistic chance for Santorum to catch up to Romney, overtake him, or prevent him from getting the nomination at this point is sheer absurdity. This race is over, even if Rick Santorum doesn't acknowledge it yet. The only question is how much longer it will be before his phone starts buzzing with phone calls from Republican leaders telling him it's time to give it up, and whether he will listen to them.