Ron Paul: American Foreign Policy Is The Primary Motivation For Terrorism
Ron Paul is again making the argument that American foreign policy has contributed to terrorism. He's more right than wrong.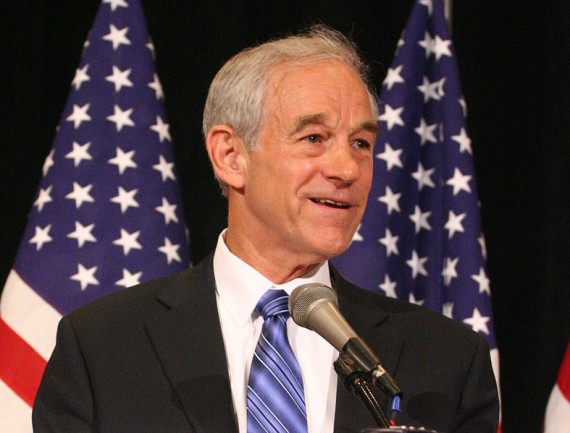 During a campaign appearance Sunday in Iowa, Ron Paul returned to a theme that earned him attention, and no small degree of scorn, during the 2008 campaign when he made the assertion that American policy in the Middle East was in at least some sense responsible for stirring up the passions that terrorists have exploited:
Two weeks away from the tenth anniversary of the 9/11 attacks, presidential candidate and Texas Rep. Ron Paul says that U.S. intervention in the Middle East is a main motivation behind terrorist hostilities toward America, and that Islam is not a threat to the nation.

At a campaign stop on Saturday in Winterset, one man asked Paul how terrorist groups would react if the U.S. removed its military presence in Middle Eastern nations, a move the candidate advocates.

"Which enemy are you worried that will attack our national security?" Paul asked.

"If you're looking for specifics, I'm talking about Islam. Radical Islam," the man answered.

"I don't see Islam as our enemy," Paul said. "I see that motivation is occupation and those who hate us and would like to kill us, they are motivated by our invasion of their land, the support of their dictators that they hate."

Regarding 9/11, Paul said that attacks against the U.S. from Middle Eastern groups at home and abroad can be traced to the foreign presence of U.S. troops, as well as America's relationships with dictator regimes.

Paul referred to a military base in Saudi Arabia, the birthplace of Islam, as a key motivator in the Sept. 11th attacks. Osama bin Laden viewed it as an American desecration of holy land.

"After 9/11, (people said) 'Oh yeah, it's those very bad people who hate us,' but 15 of (the hijackers) came from Saudi Arabia," said Paul. "One of the reasons they attacked us, is we propped up this Sharia government and the fundamentalists hated us for it."
This isn't a new area for Paul to trod upon. In fact, it was the catalyst for a rather memorable exchange between him and Rudy Giuliani during a debate in South Carolina in May 2007:
On Iraq, Rep. Ron Paul of Texas, the Libertarian candidate for president in 1988, stood alone in railing against the decision to go to war, comparing it to a quagmire he said engulfed U.S. troops in Vietnam a generation ago. "We don't go to war like we did in Vietnam and Korea, because the wars never end," he said.

When Paul later suggested that terrorists attacked on Sept. 11, 2001, because of what he described as America's 10-year campaign of bombing in Iraq, an angry Giuliani demanded that he retract the statement.

"I don't think I've ever heard that before, and I've heard some pretty absurd explanations for September 11," Giuliani said.

Paul refused to give in, saying that terrorists react to the United States' actions in the world. "If we ignore that, we ignore that at our risk," Paul said.
Here's video of that exchange from nearly three years ago:
As Jesse Walker noted at the time, Giuliani's comment that he'd never heard the blowback argument before is either an indication that he knows little about foreign policy, or that he just doesn't pay attention to it. In either case, whether you agree with it or not, the fact remains that the presence of American troops in the Middle East, and specifically in the Kingdom of Saudi Arabia was cited by Osama bin Laden as one of the grievances against the United States. And it's also true that America's history of intervention in the Middle East — whether in Iran, Lebanon, Iraq, or the Israeli-Palestinian conflict — has, more often than not, been fraught with mis-steps that have led to the loss of American lives.
And Andrew Sullivan made the point that Giuliani openly lied about what Paul said:
Giuliani, interestingly, openly lied about Ron Paul's position on 9/11. Paul specifically did not make a statement, as Giuliani immediately claimed, that the U.S. invited 9/11. I rewound to double-check. It was the Fox questioner who ratcheted up the stakes on that question, not Paul. Paul demurred on a specific answer and switched the question to the general issue of blowback. As to who's right, the answer is both. Bin Laden – still at large and operating within the territory of Pakistan, an alleged ally which Cheney recently visited – both justified the 9/11 attack on those grounds but has a theology that doesn't require such a casus belli. But now he doesn't even need the theology. We have, alas, made more terrorists by our bungling in Iraq than Bin Laden could have dreamed of just six years ago.
That, I think, is the point that Congressman Paul, somewhat inarticulately, was making, both last night and during his campaign appearance in Iowa this week. American intervention and adventurism in the Middle East, which has been marked mostly by a history of bungling and backing the wrong guy 9 times out of 10, has helped the al Qaeda's of the world recruit from among the Arab masses. Add to that the fact that we are perceived, whether incorrectly or not, as being biased on the one issue that unites the Arab world, the Israeli-Palestinian crisis, and you've got the makings for resentment.
Moreover, as James Joyner noted when he wrote about that May 2007 exchange here at OTB, al-Qaeda has cited American policy has one of its grievances against the United States:
Al Qaeda has listed its grievances against us many times. This list, compiled from their 1998 declaration of jihad, is a good summary of their demands:

The end of U.S. aid to Israel and the ultimate elimination of that state;
The removal of U.S. and Western forces from the Arabian peninsula;
The removal of U.S. and Western military forces from Iraq, Afghanistan, and other Muslim lands;
The end of U.S. support for the oppression of Muslims by Russia, China, and India;
The end of U.S. protection for repressive, apostate Muslim regimes in Saudi Arabia, Kuwait, Egypt, Jordan, et cetera;
The conservation of the Muslim world's energy resource and their sale at higher prices.

(…)

The reason the United States rather than Denmark or Holland or Canada was at the center of the jihadist threat was our foreign policy. We're the number one supporter of Israel on the international scene, often standing alone among major powers in that regard. We sell modern military equipment to Arab dictators that the jihadis view as apostate. We do everything in our power to keep oil prices down. Our footprint in the Middle East is huge and our policy objectives are diametrically opposed to those of the Islamist fanatics.
None of this means to insinuate that 9/11 was our fault, clearly it was not. Nor is it a call to completely disengage from the Middle East, to do that at this point would be to invite chaos. To the extent that he's saying this, Congressman Paul is both wrong and incredibly naive in his estimation of how the Muslim world would react to American disengagement from the Middle east. However, it strikes me that it's important to understand why people are attacking you, even if it's clear that their perceptions are incorrect (point #4 above, for example. is completely false). It's certainly a more useful way of looking at the issue that the simplistic view of those who assert that groups like al Qaeda simply "hate us for our freedom." Certainly, the more libertine culture of western nations in anathema to people such as these, and its cited in their propaganda, but they haven't spent the past decade or so blowing things up because people can buy Playboy and watch soft-core porn on Cinemax. There's something more going on, and it's worth understanding what something that is.
Would al Qaeda still exist if we had acted differently ? Probably, people like that don't need a justification for their murderous philosophy. But, because we've handed them one on a silver platter (and also because we've backed and propped up governments that have paid little respect to individual rights), it's made it much easier for them to recruit followers from the Arab street.