Ron Paul: Not So Much Denial Back in the 1990s (Plus: Newsletters 101)
New video plus a basic primer on Ron Paul's newsletter situation.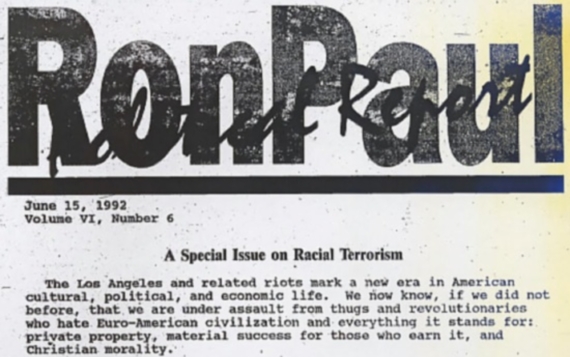 Now, I have already noted (here) that back in the 1996 campaign that Paul spoke as though he was the author of his newsletters, and Doug Mataconis has also provided a video clip from a C-SPAN interview from the mid-1990s wherein Paul clearly plugged the letters.
Now, Andrew Kacyznski (h/t:  Weigel) has found an interview from 1995 in which Paul said "I also do an investment letter — it's called the 'Ron Paul Survival Report' — which is a gold oriented newsletter. But it's also expressing concern about surviving in this age of big government."
Let's roll the tape:
All of this is worth continued coverage, because I still think a lot of reasonable people don't grasp the overall story (and, of course, the Ronulans aren't persuadable, but that's another issue).  And by "not grasp" I mean, have not seen all of the information in one comprehensive package.  A lot of folks seem to envision the newsletters as something like the "Huffington Post" wherein there is a masthead with someone's name on it, but where is it clear who wrote what.  However, this is not the case, as the newsletters where all old-school, snail-mail documents presented as though they were written by Paul.  Further,
The basics:
1.  For some number of years, there were a number of newsletters published under Ron Paul's name (and, at least in some example I have seen, the letters are ended with a facsimile of his signature.
2.  These newsletter contain, amongst other things, a great deal of "end of civilization as we know it" rhetoric alongside racists and homophobic rantings.
3.  These items originally emerged as campaign issues in Paul 1996 campaign to return to congress.  At the time, Paul did not disavow the letters, nor did he claim that they were ghost-written.  Instead, the defense that emerged at the time were along the lines of the "taken out of context" defense.
4.  In 2001, he told Texas Monthly: "I could never say this in the campaign, but those words weren't really written by me. It wasn't my language at all. Other people help me with my newsletter as I travel around. I think the one on Barbara Jordan was the saddest thing, because Barbara and I served together and actually she was a delightful lady."
This admission, by the way, is hardly flattering because it suggests one or more of the following:  a) Paul did not have much regard for the voters that he thought the concept of a ghost-writer was too complicated, b) was easily influenced by campaign staff, and/or c) thought that disavowing the newsletter would turn off some of his electoral support with the type of people who subscribed.
5.  In 2008 he told Wolf Blitzer:
PAUL: It is. And of course it's been rehashed for a long time and it's coming up now for political reasons. But everybody in my district knows I didn't write them. And I don't speak like that

[..]

BLITZER: Congressman, there's a lot of material there. Let me just try figure out, how did this stuff get in these Ron Paul newsletters? Who wrote it?

PAUL: I have no idea. Have you ever heard a publisher of a magazine not knowing every single thing? The editor is responsible for the daily activities. People came and gone. And there were people who were hired. I don't know any of their names. I absolutely honestly do not know who wrote those things.
BTW, calling an 8-page newsletter a "magazine" is misleading, to put it mildly.  It creates the illusion, that many appear to have accepted, that we are talking here about a different type of publication than was the case.
6.  In 2011 he walked away from Gloria Borger, insisting that the story was settled.  In that interview he said:
PAUL:  […] I didn't write them. I disavow them. That's it.

BORGER: But you made money off of them?

PAUL: I was still practicing medicine. That was probably why I wasn't a very good publisher, because I had to make a living.

BORGER: But there are reports that you made almost a million dollars off of them in — in 1993.

PAUL: No. Who — I'd like to share — see that money.

BORGER: So you read them, but you didn't do anything about it at the time?

PAUL: I never read that stuff. I never — I've never read it. I came — I was probably aware of it 10 years after it was written. And it's been going on 20 years, that people have pestered me about this. And CNN does it every single time. So when…
If, by the way, Paul's claims in #s 5 and 6 above are accurate, how do we explain the video linked above (or the one Doug provided or the contemporaneous newspaper account I noted above)?  Is the 2001 admission to Texas Monthly sufficient?  How and why would he allow content of any kind to go out under his name without reading it?
Ok, so what's the problem?
Answer:  Paul bears responsibility for their content because one of the following is the case: he wrote them, he wrote some of them, he wrote none of them but allowed them to be presented to his subscribers as though he did.
If he wrote the passages in question, there is little doubt that he would be unelectable.
If he did not write the passages in question, he has some serious explaining to do, as (at a minimum) it raises questions about his ability to function in a managerial position (e.g., POTUS).  If Paul could not manage a relatively brief (8ish pages per issue as far as I can tell) publication with a small (thousands, I think) circulation rate, how in the world can he function as chief executive of the government of the largest and most powerful (economically and militarily) government in the world?
For those unwilling to dig through the various posts to find examples of the newsletters, let me share a few:
In the October 1992 edition Paul (or someone writing as Paul) notes of the trend of "hiip-hop…urban youth who play unsuspecting Whites like pianos" (which seems to mean car-jacking.  In that passage he suggest buying an unregistered gun, keeping in the car and then, if used, fleeing the scene and wiping down and disposing of the weapon.  In short, this passage preys on fears of blacks (even in small towns like Lake Jackson, TX) and suggests that the only solution is a felony action.  Keep in mind, too, the newsletters frequently spoke of a coming race war (for example—also here).
The same addition (indeed, the same page) equates equal rights for homosexuals as "letting gays force their way onto other' people's property."
In April 1993, the newsletter suggested that Israeli intelligence might have been behind the 1993 WTC attack:  "Whether it was a setup by the Israeli Mossad, as a Jewish friend of mine suspects, or was truly a retaliation by the Islamic fundamentalists, matters little."
December 1990:  MLK was a bisexual pedophile: "King, the FBI files show, was not only a world-class adulterer, he also seduced underage girls and boys"  who also, according to the January 1991  edition, beat his partners:  "St. Martin was a world-class philanderer who beat up his paramours ('non-violence' didn't apply in all spheres, I guess)."
January 1994:  homosexual like getting AIDS:  "They enjoy the attention and pity that comes with being sick. Put it all together, and you've got another wave of AIDS infections, that you, dear taxpayer, will be asked to pay for." 
Also, in the same passage, we see that gay men really only live for sex and therefore "these men don't really see a reason to live past their fifties.  They are not married, they have no children, and their lives are centered on new sexual partners.  These conditions do not make one's older years the happiest."
The "October 1990 edition of the Political Report ridicules black activists, led by Al Sharpton, for demonstrating at the Statue of Liberty in favor of renaming New York City after Martin Luther King. The newsletter suggests that  "Welfaria,"  "Zooville," "Rapetown," "Dirtburg,"and "Lazyopolis " would be better alternatives—and says,  "Next time, hold that demonstration at a food stamp bureau or a crack house." (via TNR).
Also via TNR:  "The June 1990 issue of the Political Report says: "I miss the closet. Homosexuals, not to speak of the rest of society, were far better off when social pressure forced them to hide their activities."
There's a lot more at the links.  At any rate, I am at a loss to see how any of this is defensible.
Really, the bottom line is this:  absent an especially comprehensive and satisfactory explanation, the newsletters utterly disqualify Paul from the nomination, let alone the White House.  Having spent a substantial amount of time researching, reading, writing, and arguing concerning this matter, I can reach no other conclusion.
My other posts on this matter (oldest first):
Note: This started as a brief post to highlight the video, but I decided that I needed a single post that had all the basics of the story in one place for future reference at a minimum.