Ron Paul Steps In It In South Carolina
Once again, Ron Paul showed last night why he could never win the Republican nomination.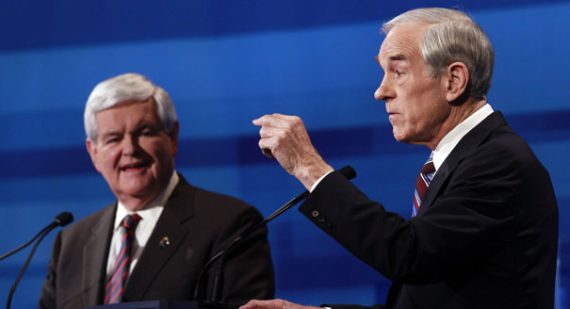 More so than he has in the past, Ron Paul took a drubbing in last night's debate far worse than anything he's seen to date, and it happened because of his foreign policy positions:
MYRTLE BEACH, S.C. — The rivals who largely ignored Ron Paul for much of the campaign gave him a drubbing Monday night.

The Fox News/Wall Street Journal debate pile-on began after Paul answered a question about whether the U.S. government had the authority to kill Osama bin Laden. Booed by the boisterous audience, Paul compared bin Laden's capture in Pakistan to a Chinese dissident hiding in the U.S. and said the U.S. government wouldn't want China to "bomb us and do whatever." He also advocated attempting to capture and question top terrorist leaders instead of kill them.

"I mean, if you think about Saddam Hussein, you know, we did that," Paul said. "We captured him, and we tried him — I mean, the government tried him — and he hung — got hung. What's, what's so terrible about this? This whole idea that you can't capture … what's this whole idea that you can't capture people?"

Paul added: "Just think, [Nazi leader] Adolf Eichmann was captured. He was given a trial. What's wrong with capturing people? Why didn't we try to get some information from them? You know, we're, we're accustomed to asking people questions, but all of a sudden — gone. You know, that's it."

Newt Gingrich quickly jumped on the Texas lawmaker, calling the comparison of bin Laden to a Chinese dissident "utterly irrational." Romney moved to second the former speaker, adding the right solution for bin Laden was the "bullet in the head that he received."
The video of the whole exchange, including the crowd reaction, is worth watching and quite telling in terms of just how badly things went for Paul:
That wasn't the only odd part of the night for Paul. Shortly after this exchange, Paul tried to explain how his arguments in favor of cutting back on military commitments abroad wouldn't impact defense spending at home:
Speaking in a part of the state heaviest on retired military, Paul defended his pledge to cut military spending by arguing that he wouldn't reduce domestic defense expenditures.

"I want to cut military money. I don't want to cut defense money," he said. "I want to bring the troops home. I'd probably have more bases here at home. We were closing them down in the 1990s and building them overseas. That's how we got into trouble. So we would save a lot more money and have a stronger national defense, and that's what we should do," he contended.

He added, in a line that drew big applause — some of his only of the night: "You don't understand there's a difference between military spending and defense spending. Just because you spend — spend a billion dollars on an embassy in Baghdad bigger than the Vatican — you consider that defense spending. I consider that waste."
It's an odd position for Paul to take, given that he's talked repeatedly about cutting $1 Trillion from the Federal Budget in a single year. How he thinks he could do that without significantly cutting the military budget on the domestic side as well as the foreign side is beyond me. Moreover, I'm not entirely sure what Paul is thinking of here. Is he suggesting that we bring the troops home, put them in bases and just keep them there? If we really are reducing our foreign commitments, then there's no need for the same sized military we have today. Of course, telling people in a very pro-military state that probably wouldn't go over very well, so Paul prevaricated.
It's the bin Laden response that I think is going to hurt Paul the most, though. He could have just said "I voted for the AUMF after the September 11th attacks, and this action was taken in compliance with that resolution."Instead, as seems to always be the case with him, he went off on some bizarre tangent that at least made it seems likes he thinks it was a bad thing that we killed Osama bin Laden. I'm largely skeptical of interventionist foreign policies to begin with so I'm sometimes sympathetic with what Paul says, but I have absolutely no problem with the operation that resulted in bin Laden's death, and I don't see how any reasonable person could. Moreover, every single account of the mission makes it rather clear that Paul's fantasy of capturing bin Laden and putting him on trial was just that, a fantasy. Neither bin Laden nor the men with him were going to let him be taken alive, and if SEAL Team Six could help the man live out his death wish then that's just fine with me. I don't see how this helps Paul in South Carolina, or Florida for that matter. His core group of supporters will love it, obviously, but this is just going to make him a target.
It hardly matters, of course, Paul isn't going to be the nominee. But if you needed a lesson in why that is the case, last night was a perfect example.