Ron Paul Versus The Fourteenth Amendment
Ron Paul's opposition to the Fourteenth Amendment would make a Paul Administration an enemy of civil liberties.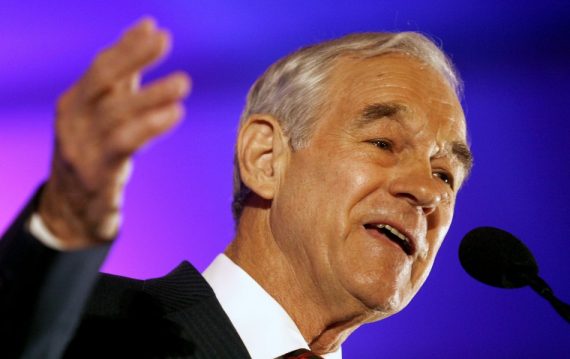 One thing that's overlooked by those who defend Ron Paul on civil liberties grounds is Paul's staunch opposition to what I would argue is the greatest boon to liberty in American history: the 14th Amendment. If it were up to Ron Paul, it'd be removed from the Constitution, and he's said so on numerous occasions. Not only because of his opposition to Birthright citizenship, but because of his opposition to applying the Bill of Rights to state governments.
The grand centerpiece of the 14th Amendment is this:
No State shall make or enforce any law which shall abridge the privileges or immunities of citizens of the United States; nor shall any State deprive any person of life, liberty, or property, without due process of law; nor deny to any person within its jurisdiction the equal protection of the laws.
Over the course of decades of jurisprudence, this portion of the Amendment has been interpreted into what is known as the "Incorporation Doctrine" – which basically says that the Bill of Rights applies to the actions of States, not just the Federal Government. (It's been a bit haphazard – different parts of the different amendments have only been applied to the states ad hoc, over time, as cases come before the Supreme Court.)
It's the Incorporation Doctrine that prevents states from imposing religious doctrines in schools. It's the Incorporation Doctrine that prohibits states from abridging free speech. The Incorporation Doctrine that provides that states have to provide fair trials and compensation for eminent domain. It's the Incorporation Doctrine that says that state governments infringe on the right to bear arms.
A President Paul may not be able to override Congress on matters of foreign policy and the drug war. But I don't think he'll have any problem getting ultra-conservative judges who take a dim view of the Incorporation Doctrine appointed to the Bench – there are definitely legal circles where this is a popular position. He might not be able to get the 14th Amendment repealed, but I wouldn't be terribly surprised if he made a good go at it. If not through outright repeal, then by passing legislation limiting the jurisdiction of the courts over different state government issues (he's introduced legislation in the past to this effect).
It's precisely for this opposition to Incorporation that's made Ron Paul popular among politically conservative Evangelicals. As Benjy Sarlin notes:
[Rev. Phillip] Kayser and other endorsers praise Paul's opposition to federal encroachment on states' rights, especially via the judicial system. The idea is that even if they don't agree with him on individual issues, Paul's ideological belief that almost all federal intervention into states laws are unconstitutional would give them more latitude to restrict abortion and gay rights in their own states and communities.

In an interview with TPM, Christopher J. Neuendorf, pastor of Holy Cross Evangelical Lutheran Church in Davenport, Iowa described this "liberty" as Paul's chief selling point.
Historically speaking, and especially in the last 70 years, the biggest battles for civil liberties have been against infringements by state governments. And the Incorporation Doctrine has been key to that battle in stopping those infringements. But a Ron Paul Presidency would lead to a weakening, if not eventual outright reversal, of Incorporation. Leaving state governments once again able to attack civil liberties more vigorously.
Nehemiah Scudder was a non-interventionist, too.
(cross-posted to League of Ordinary Gentlemen)