Ron Paul Won't Be The Nominee, Much Less President
Ron Paul is surging in Iowa. He's in 3rd place in the national polls and has been for most of the race. He's not Mitt Romney.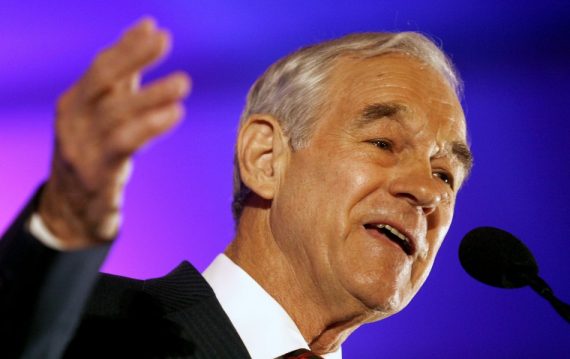 Ron Paul is surging in Iowa. He's in 3rd place in the national polls and has been for most of the race. He's not Mitt Romney. Yet, there's zero chance that he'll be the Republican nominee, much less be elected president.
Andrew Sullivan is tired of media types downplaying Paul's chances. He's hopping mad that Fox News Sunday host Chris Wallace, set to moderate tonight's debate, declaration that, if Paul somehow wins the Iowa Caucuses, "to a certain degree, it will discredit the Iowa caucuses because, rightly or wrongly, I think most of the Republican establishment thinks he is not going to end up as the nominee. So, therefore, Iowa won't count and it will go on." Sully calls for Wallace to recuse himself from the moderator's chair on the grounds that "A man who is openly backing the Establishment against the possible winner of the vote is not an impartial moderator. He is a tool."
He adds, "He's basically saying that the votes of Iowans do not count in advance if they decide for Ron Paul. Between what Ailes demands and the voters want, there is no contest. You want to see contempt for the Republican voter? Forget MSNBC. Try Fox."
But Kevin Drum gets it right:
Wallace isn't openly rooting for one side or another here. He's just making the obvious point that the Republican establishment normally thinks of the Iowa caucuses as a bellwether, but if Ron Paul wins they won't. They'll figure it's just a fluke and move on to New Hampshire. Given the fact that Paul has always had a dedicated band of fanatic supporters willing to give him money and organize support for him, but at the same time has never in his life managed to gain even double-digit support nationally, this is actually perfectly rational. Ron Paul isn't going to win the GOP nomination, and if he manages to pull out some kind of freak victory in a small state with a weird nominating process, well, it's just a freak victory.
This is hard for Paul supporters to hear, but it's simply the truth.
Despite a certain nuttiness, I find Paul appealing on a lot of levels. He's genuinely smart, has a sharply honed view of the world, and says what's on his mind regardless of what his audience wants to hear. That's refreshing and fun.
But we've seen this show before. Paul had a rabid following and repeatedly made news with his fundraising prowess in 2008.  He finished with 21 total delegates, 6 of whom actually cast ballots for him.
Why? Because hard core libertarianism is simply not particularly popular.
While there are significant libertarian strains in both major American political parties, it's not the dominant faction–or close to it–in either. The Republican Party primaries are dominated by Evangelical Christians who very much want government to regulate moral behavior, notably in the cases of abortion, marriage, and drugs. Even though Paul strays from the libertarian line on abortion, he's simply not part of the mainstream in his party.
Aside from ideology, he doesn't have a presidential background. He has no real executive experience and has never won a statewide election. We haven't elected a president with no higher office than the House of Representatives on his résumé in modern times.
Additionally, the fact that he'll be 77 years old by the time the election rolls around is decidedly unhelpful. He's not only older than John McCain was last cycle, he's older than Ronald Reagan was when he ran for re-election. Indeed, he'll be nearly as old as Reagan was when he left office.
Paul's an interesting character and he adds a valuable point of view to the debates. And he deserves to be in the debates, given that he does have sizable support. But his ceiling is somewhere around 15 percent.