Ron Paul's Election Problem: The Issues he Supports
No, Ron Paul is not a viable candidate for president.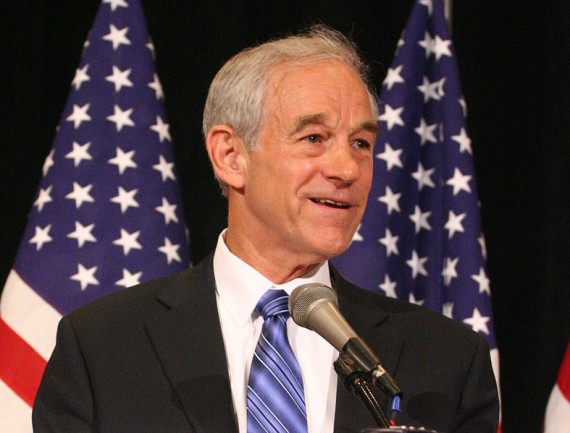 Mother Jones has a list of Ron Paul's 15 Most Extreme Positions.  Now, one might say "Mother Jones!  That's like a commie rag, right?  Of course they don't like Ron Paul!"  Well, regardless of MoJo's ideological predilections  (all joking aside:  liberal, yes; commie, no), the list is legit and provides for a discussion of Paul's actual viability.  This exercise is useful because we are all likely to be treated to a large number of Ron Paul fans (sometime called Paulbots, but I prefer the term "Ronulans"*) who will argue that Ron Paul is a Serious CandidateTM who really, truly, could win the presidency if given the chance.**
Now, if one reads the list one is likely to find things that make one think "what's so extreme about that?"  Indeed, I expect many denizens of OTB's comment section, not to mention some segment of the GOP base would find the following acceptable in whole or in part:
2. Lay Off Half His Cabinet: Wants to abolish half of all federal agencies, including the departments of Energy, Education, Agriculture, Commerce, Health and Human Services, Homeland Security, and Labor.

[…]

11. Stop Policing the Environment: Believes that climate change is no big deal and the Environmental Protection Agency is unnecessary. Most environmental problems can be addressed by enforcing private-property rights. Paul also thinks that interstate issues such as air pollution are best dealt with through compacts between states.
As rhetorical devices, these are ideas that would likely appeal to the GOP base (carrying said policies out is another matter, but we are talking campaigning here, not governing).  However, that is only two of the 15.
Here two other ideas that have clear cache with hardcore libertarians and Objectivists, and might also excite some GOP voters, but which create problems for a campaign:
1. Eviscerate Entitlements: Believes that Social Security, Medicare, and Medicaid are unconstitutional, and has compared the failure of federal courts to strike them down to the courts' failure to abolish slavery in the 19th century.

[…]

12. Not Do Anything, but Still…: Would not have voted for the Civil Rights Act of 1964because it was a "massive violation of private property and contract, which are the bedrocks of a free society."
Of course, as we know, many in the Tea Party want the government to keep their hands off of Medicare, so how well #1 would really go over remains to be seen.  However, the party of the party that likes the Ryan Plan are amenable to serious changes.  #12 is vested in private property rights, and so would appeal to some, but it also carries the baggage of being opposition to guaranteeing civil rights expansion.
However, what about these:
3. Enable State Extremism: Would let states to set their own policies on abortion, gay marriage, prayer in school, and most other issues.
Allowing the states to set their own policies on abortion would make it impossible to make abortion totally illegal in the United States, so this is a verboten position in the GOP.  [updated–see comment section]
Or, how about these two:
7. Let the Oldest Profession Be: Paul wants to legalize prostitution at the federal level.

8. Legalize All Drugs: Including cocaine and heroin.
Ok, libertarians would like these (and, I will confess, I am sympathetic to them as well, but won't get into the arguments at the moment), but social conservatives hate these ideas.  Indeed, even a reasoned discussion of drug legalization is heard by many as a proposal to allow schoolchildren easy access to heroin, so this is a no go.***  There is some softening on public opinion on marijuana, but not on harder drugs.
And, of course, this one has been getting a good bit of public play of late, and would present both a primary problem and a general election one:
5. Rescind the Bin Laden Raid: Instead of authorizing the Navy Seals to take him out, President Paul would have sought Pakistan's cooperation to arrest him.
There are others, but I will leave them alone.  The bottom line is that stuff like 3, 7, and 8 are why Paul cannot make much headway within the GOP primary process and why he is not to be considered a series contender for the nomination, let alone the White House.  If you ever need an easy place to send people who think otherwise, send them to this post.
I do think that Paul will get a bit of a boost this year because of the Tea Party enthusiasm, but exactly how much he can tap into that energy will also depend on whether someone like Bachmann gets into the race or not.
—-
*I do like my Trek refs.
**The fact that he loses every time he is given the chance is typically considered immaterial.
***I jest only slightly.  Pay attention to these things and you will see what I am talking about.