Ross Perot, Presidential Spoiler, Dead at 89
The independent who upended the 1992 Presidential race has passed.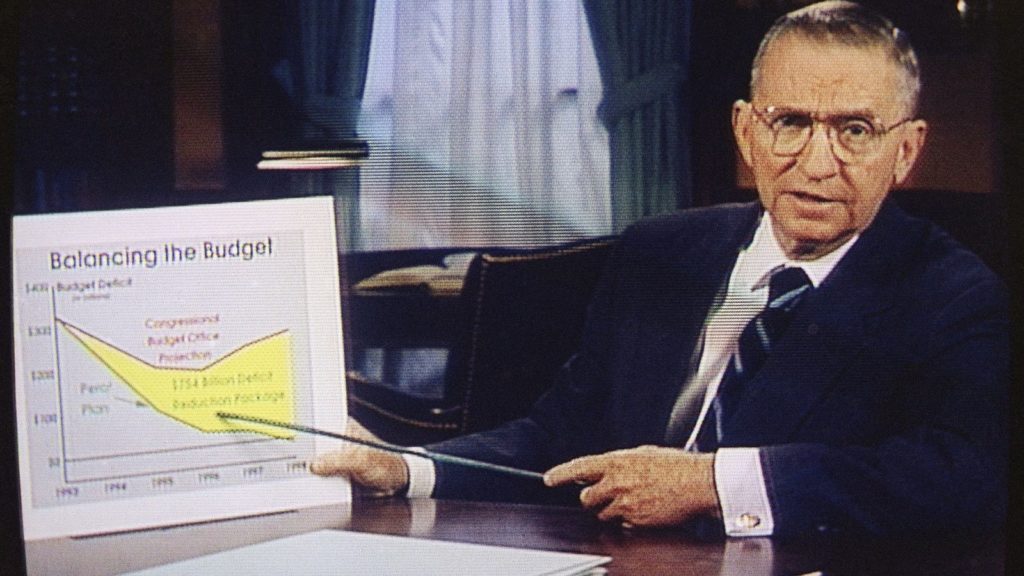 The always-interesting and often infuriating billionaire who twice ran for President as an independent is gone.
WaPo/AP ("Texas billionaire H. Ross Perot dies aged 89"):
H. Ross Perot (pur-OH'), the colorful, self-made Texas billionaire who twice ran for president, has died.

Family spokesman James Fuller says Perot died early Tuesday. He was 89.

Perot rose from Depression-era poverty to become one of the nation's richest men as the founder of computer services giant Electronic Data Systems Corp.

In 1992, Perot jumped into the presidential campaign as an independent candidate, challenging President George H.W. Bush and Democrat Bill Clinton.

Perot drew nearly 19% of the vote, the biggest percentage for a third-party hopeful in 80 years. Republicans blamed him for Bush's defeat.

He had founded EDS in 1962 and sold control of it to General Motors for $2.5 billion in 1984. He later founded another company, Perot Systems.
CNBC ("Billionaire and former presidential candidate Ross Perot is dead at 89"):
Billionaire philanthropist and Independent presidential candidate Ross Perot is dead at 89, CNBC has confirmed.

Perot, who ran for president twice in 1992 and 1996, died after a five-month battle with leukemia, said James Fuller, a representative for the Perot family.

"In business and in life, Ross was a man of integrity and action. A true American patriot and a man of rare vision, principle and deep compassion, he touched the lives of countless people through his unwavering support of the military and veterans and through his charitable endeavors," Fuller said in a statement.
Dallas Morning News columnist Cheryl Hall shares a hagiography ("Ross Perot, self-made billionaire, patriot and philanthropist, dies at 89"). She describes his meteoric rise as "The Bill Gates of the 1960s."
His entry into the 1992 Presidential race was fascinating, as he was so unconventional. In many ways, he was the Donald Trump of the day—rich, outlandish, not much caring what anyone thought—but he was also deeply moralistic and I think a genuine patriot.
Republicans, myself included, long believed that Perot handed the election to Bill Clinton. While the exit polls demonstrated that he drew roughly evenly from both Clinton and President George H.W. Bush, I don't think Clinton would have been viable had Perot not plowed the field ahead of him.
Perot actually led the field for a brief period and was ahead of Clinton for longer. When he suddenly dropped out of the race with bizarre accusations that the Bush family was somehow going to damage his daughter's wedding—and saying that he didn't need to run anymore, anyway, because Clinton would be a good President, the deal was sealed.
Perot's re-entry into the race was weird and muddied the waters further.
Bush was damaged with Republicans because of his reneging on his "Read my lips: No new taxes!" pledge and was further hurt by a recession and the 11th-hour revelations of the Iran-Contra investigation. But, for all of Clinton's considerable talents, I don't think the general public would have been able to stomach voting a draft-dodger and serial adulterer over a World War II hero who had just prosecuted a successful war in the Middle East were it not for Perot's entry. He gave people dissatisfied with Bush an alternative and, when he dropped out, many didn't return to the Bush camp.
Dana Carvey's Perot impressions throughout the cycle were among the highlights of the "Saturday Night Live" of that era.
And the Perot-Al Gore debates on NAFTA were something to behold as well.