Rubio Campaign Telling Donors It's Preparing For A Brokered Convention
Bizarrely, the Marco Rubio campaign seems to be telling donors that their candidate may have to hope for a brokered convention to win the GOP nomination.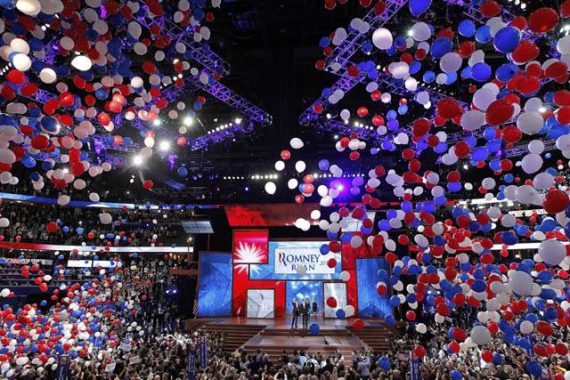 Marco Rubio's campaign is reportedly telling donors that they are preparing for a contested Republican National Convention as part of their strategy to wrest the Republican nomination from either Ted Cruz or Donald Trump:
Marco Rubio's campaign is preparing for a contested Republican Convention as one option to take the GOP nomination away from Donald Trump and Ted Cruz, his campaign manager told top donors at a closed-door meeting in Manhattan Wednesday night.

As Rubio scrambles for support ahead of Super Tuesday, Terry Sullivan, Rubio's top adviser, used a Power Point presentation and took questions from attendees to lay out the two courses that Rubio's quest for the GOP nomination could take in the coming months, two people present told CNN, speaking anonymously to share details from a private meeting.

The first showed the number of states and delegates Rubio would need to clinch the nomination outright before July's convention. The second was the scenario in which none of the candidates gain the simple majority delegates needed to clinch the nomination before the convention, unleashing a messy and potentially unpredictable battle where multiple candidates are vying for the title.

The meeting comes as Rubio is trying to lock up the support of establishment Republicans looking for an alternative to Trump and Cruz. The Rubio campaign needs to convince donors and GOP power brokers that it has a true path to victory. Trump is heading into Super Tuesday as the undisputed GOP front-runner, having won New Hampshire, South Carolina and Nevada, and Rubio has not yet won a state.

Sullivan has acknowledged in the past that a brokered convention might be hypothetically possible, but Wednesday's comments are a concrete indication that the campaign is preparing for such an outcome.

Sullivan gave a "technical" explanation of how a contested or brokered convention would work. According to the sources in the room, the gathering appeared to be a matter-of-fact recognition by the Rubio campaign that a contested convention is very much a possibility.

"One is somebody — Trump or Rubio — wins enough primaries to sew up the nomination in advance of the convention," one attendee said. "The other is that nobody does, and the two candidates go to the convention."

On how Rubio could get the nomination before the convention, Sullivan discussed the possibilities of John Kasich and Ben Carson dropping out, that attendee also said.

Rubio spokesman Alex Conant declined to comment. Sullivan did not immediately respond to a request for comment.

Sullivan also expressed confidence that Rubio would win the Florida primary, two attendees said, despite polling showing Rubio trailing Trump in his home state.

(…)

Coming just days after Bush abandoned his White House bid, one question from these donors and potential bundlers — not all of whom had decided to back Rubio — was whether the Rubio team could reassure them that their money and time would not once again go to waste, according to one attendee.
Not surprisingly, this report, along with the fact that the Republican race is currently at a point where it is at least theoretically possible that nobody will end up with a majority of delegates when the Republican National Convention convenes in Cleveland in July is reviving the seemingly perennial fantasy among political pundits and others of a "brokered convention" in which a party nominee is not selected on the first ballot and the party is required to enter some phase of bargaining among the powers that be to determine who the nominee will be. It's the kind of thing that made for great television during the last episode of the penultimate season of The West Wing, and which we've written about here at Outside The Beltway several times over the years — see here, here, here, here,here, here, here, and here. Talk of a brokered convention was renewed near the end of last year when The Washington Post reported that Republican Party officials were preparing for the possibility that no candidate would have a majority of delegates when the convention convenes in July, but as I noted at the time that report was far less than meets the eye since all it was really saying was that the Republican National Committee was developing a contingency plan for the possibility of a brokered convention, something that would seem to be prudent in any case since it's never clear in any given year how the race for the nomination will turn out and having a contingency plan ready to go makes sense. This didn't mean then, of course, that the RNC thought that a brokered convention was a significant possibility, and now that voting has actually started it seems obvious that "brokered convention" talk is, once again, most likely a fantasy.
Whether or not a brokered convention is a possibility is a matter of looking at how delegates are allocated and who is realistically likely to win delegates going forward. As it stands only three candidates, Donald Trump, Ted Cruz, and Marco Rubio, are likely to win anything other than one or two delegates in any of the contests between now and March 15th when states will no longer be required by RNC rules to award delegates on a proportional basis. After March 15th, the vast majority of the delegate-rich states where candidates will compete will be winner-take-all, meaning that only the candidate who wins will get any delegates. Given the fact that Rubio has not won a single race so far, then, and that he even trails in his home state of Florida, it seems unlikely that he is going to start winning those winner-take-all states unless there is a significant change in the momentum of the race. Instead, it's likely that most of those states will end up continuing to fall into Donald Trump's column. Moreover, if Rubio fails to do well on Super Tuesday and fails to win in Florida, it's doubtful that his donors will stay with him for very long, meaning that his campaign likely would not survive much past March 15th to begin with. Even if it did, though, the idea that Rubio could somehow pull off a surprise win at a brokered convention is unlikely. First of all, in order to do that he'd have to stay in the race to do that and that's not likely at all unless he starts winning primaries somewhere. Second, pursuant to Rule 40(b) of the RNC Rules, a candidate must have a clear majority of delegates in at least eight states in order to have their name placed on the ballot for the nomination. As of this moment, only one candidate is close to meeting that minimum threshold, and Rubio doesn't seem likely to get there over the next three weeks when he faces what is likely to be his do-or-die. In other words, it's not at all clear that Marco Rubio would even be a player in a convention even if the extremely unlikely "brokered convention" scenario did play out.
What's even more odd is that Rubio's campaign seems to be pitching the idea of a brokered convention to donors and potential donors as the most viable manner in which their candidate could become the Republican Presidential Nominee. Given the fact that it's still so early in the process and that the vast majority of delegates remain to be chosen, it's certainly odd to be asking donors to focus on the remote possibility of something that hasn't happened in American politics in sixty years, and something that has not happened since both political parties started selecting the majority of delegates to their respective National Conventions via primaries and caucuses in 1968. Why on Earth would you make this kind of pitch to donors who are clearly looking to be parsimonious with their money after having been burned by a Bush campaign that never lived up to its promises? If I were a potential donor and this is the pitch a campaign was selling to me, I'd be walking out the door and holding on to my wallet because it would seem apparent that even the candidate doesn't seem to think he has a realistic chance of winning the nomination outright. If that's the state the Rubio campaign is in at this point, then he's in even worse shape then I thought and the odds that Trump will be able to march to the nomination virtually unscathed are even higher than I thought.