Rubio Poll Numbers Among Republicans Slip Over Immigration Reform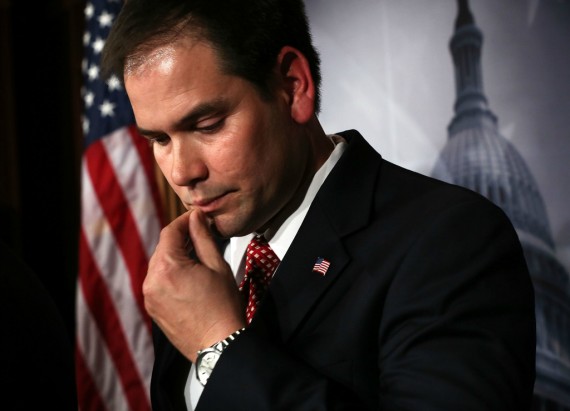 Nate Silver notes that recent polling seems to indicate that Florida Senator Marco Rubio has suffered some damage in the polls among Republicans for his support of the Senate's version of immigration reform:
Only two surveys, one by ABC News and The Washington Post and one by Rasmussen Reports, have tested Mr. Rubio's popularity since the Senate reached the final stages of passing a comprehensive immigration reform bill. Both measured double-digit drops in his net favorability rating among Republicans.

Mr. Rubio is still very popular among Republicans, just not as popular as he once was, particularly in the days after the 2012 presidential election when he became a leading Republican voice and began being discussed as a top contender in the 2016 presidential race.

Indeed, Mr. Rubio led in an average of the first few 2016 Republican primary polls released after the 2012 election, but support for him has faded in more recent 2016 primary surveys.

In the four national surveys conducted in January, an average of 20 percent of Republicans said they would support Mr. Rubio for the party's nomination in 2016. That number dropped to an average of 11 percent in the four primary polls conducted in June.

Before the Senate took up immigration reform, Mr. Rubio was largely a blank slate, upon whom both establishment Republicans and Tea Party supporters could project what they wanted (a dynamic that Barack Obama benefited from in 2008). Now Mr. Rubio has chosen a side, at least on immigration, and as long as it is a top issue in the news, Mr. Rubio may be identified more with the moderate wing of his party.
The chart tells the tale: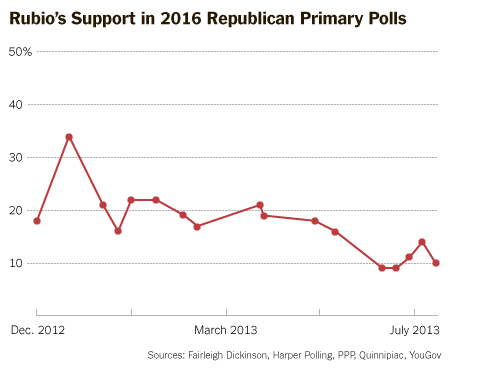 As Silver notes, it was inevitable that Rubio's numbers would slip somewhat from the high's that they'd been at virtually from the time he took office in the wake of the 2010 election. If it had not been immigration that brought the numbers down, it would have been something else. From the point of view of a hypothetical 2016 race, it's arguably better that the dip happen sooner rather than later given that Rubio now has the chance to bounce back among conservatives and continue building bridges to moderate Republicans and the Independent voters who will vote in open primary states. Will it work? Only time will tell, but counting Rubio out at this point is foolish.