Rudy Giuliani Apparently Still Thinks Anyone Wants Him To Be President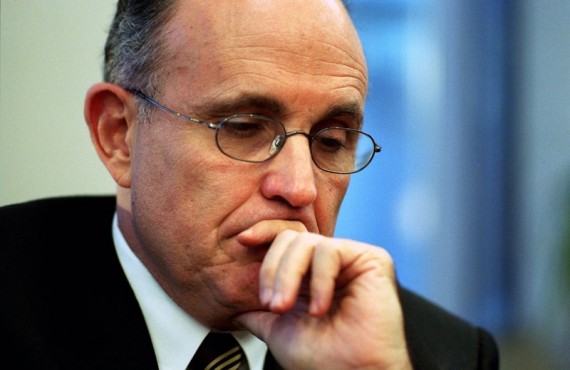 Despite running one of the biggest failures in American political history, Rudy Giuliani says he could be talked into running for President again:
Rudy Giuliani called for a return to American exceptionalism Friday, telling a group of GOP lawyers gathered in the nation's capital that Ronald Reagan fundamentally changed how Americans felt about themselves.

Before Reagan was elected, Giuliani said, much had been written about America's decline and how it was a country of "limited possibilities" that had run its course.

"Sounds familiar, right? There are people who believe that today in America. In fact, some of them are running America," Giuliani said in a speech to the Republican National Lawyers Association, where he appeared to received the group's highest honor, the Ed Meese Award.

"The idea that we're either no better than anyone else, we're just another country with our set of problems or our set of assets, or maybe we're not even as good as others. Ronald Reagan found that to be totally wrong, not a correct view of this country and he changed in a very short period of times how we felt about ourselves."

"That's the most important thing a leader does," he added.

(…)

Giuliani took only one question following his half-hour speech. Asked whether he had decided to launch a 2012 White House bid, he said "not yet," but that it's a possibility.

"I will sure think about it. … It's too early and I want to see how it all develops," he answered. "My major goal is to elect a Republican in 2012. If it turns out that I'm the best one to do that, I can probably be talked into doing it or convince myself to do it," he said.

"If I thought somebody else had a better chance of doing it, I would be a very enthusiastic supporter of somebody else," he added.
Rudy, in your case, anybody has a better chance.