Rudy is in Conspiracy Nut Land
America's mayor talks like a snake oil salesman/conman.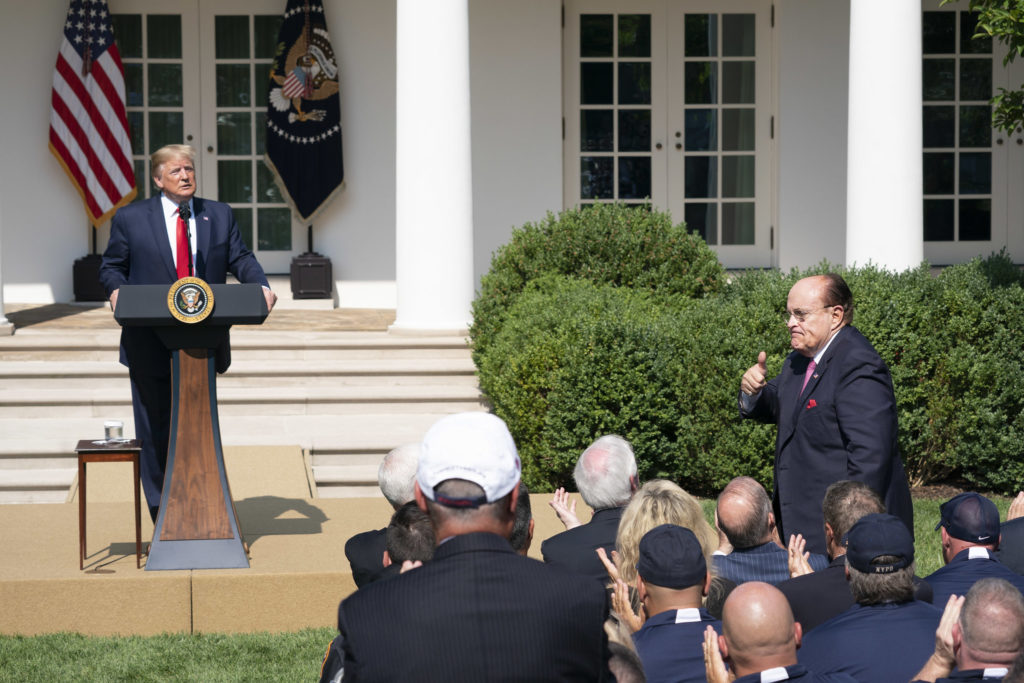 It is not a controversial statement to say that Rudy Giuliani no longer commands the general respect that he did in the days after 9/11 when he was among the most popular politicians in the country. While he has always been bombastic and self-promoting, his descent into being Trump's henchman has squandered his capital with at least half the population.
And while I suspect that diehard Trump supporters will continue to see Rudy as an ally and perhaps only eccentric, it is difficult to listen to him nowadays and take him seriously in the least. He spoke to NPR's Steve Inskeep of Morning Edition earlier this week and came across to me as even more of a con man and conspiracy theorist than ever.
To wit:
INSKEEP:

[…]

We spoke with Lamar Alexander, Republican senator from Tennessee, who's voting for acquittal…

GIULIANI: Yes.

INSKEEP: …But says what the president did was inappropriate, that he did ask for Biden to be investigated and hopefully he won't do that again. Is Lamar Alexander right?

GIULIANI: No, Lamar is wrong. And Lamar is a good friend of mine and he's a fine man, except he doesn't know all the facts. (Laughter) He only knows half of the facts, a lot of them distorted.

[…]

INSKEEP: …You said Lamar is wrong, so does that mean the president's action was appropriate?

GIULIANI: But I understand why Lamar is wrong. He doesn't understand the facts. Nobody has had…
I don't trust people who claim to have "all the facts" and that "nobody" else has. If one has the truth, then share it. But in a world in which secrets are exceedingly hard to keep, the notion that One Very Special Attorney has all the facts is impossible to accept save by very naive people who already want to believe it.
And, for that matter, if Rudy has the facts, why not share them far and wide if those facts are, in fact, good for his supposed boss (whom he claims, in the interview, not to have talked to lately).
Cult leaders and con men claim to have truth that can't be shared, at least not until the time is right! (Also people trying to gin up interest in a podcast so that the advertising dollars will come rolling in).
And, by the way, the stakes in regards to a Biden investigation have ramped up considerably!
GIULIANI: Biden should be investigated, absolutely, 100%…

INSKEEP: And the president should be involved in that?

GIULIANI: …For the crime of multiple bribery.
Who knew?
The interview ends with the following bizarre interchange sparked by the mention of former federal prosecutor Jeffrey Harris:
INSKEEP: …And that you've taken an excellent career and made yourself a joke.

GIULIANI: Well, Jeffrey is wrong. Jeffrey – I haven't seen Jeffrey in 20 years. Jeffrey has no idea of the facts that I have. It's always a good idea to know the facts before you comment. He has no idea the witnesses I have. He has no idea that I have smoking guns like this. He has no idea that I may even have tape recordings.

INSKEEP: Wait a minute. You may even have tape recordings?

GIULIANI: I may even have tape recordings.

INSKEEP: You cannot leave that dangling, either you do or you don't, sir.

GIULIANI: Well, I haven't gotten them yet.

INSKEEP: OK.

GIULIANI: They've been offered to me, haven't seen them.
This is Alex Jonesesque.
This all just so very, very strange.
(But I repeat myself).
Why anyone takes him seriously, I cannot understand. And yet, he has been allowed to act as the agent of the President of the United States in a foreign country.
In other words, while there are plenty of sketchy folks of varying political stripes who populate the mass media environment trying to make a buck, it is normally unusual for such a person to be the president's personal attorney.
This really is the kind of thing that ought to make a lot of Republicans more uncomfortable than it does.