Rudy's Propaganda Tour
Why mount a defense when you can go make a TV show in Ukraine?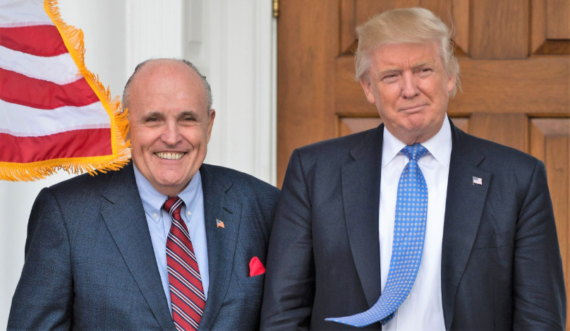 Let's say your been accused of trying to bribe another country's leader into engaging in various actions that would help you in your re-election bid for president. And let's say that you claim that those charges are unfounded and that your actions were above-board (in fact, "perfect"). Indeed, you are so certain of your innocence that you can easily put on an affirmative defense of your actions so that the whole thing will be exposed as the sham it is.
Or, you could refuse to cooperate, complain about process, and, just for kicks, let your personal attorney, who is already implicated in the charges against you, go to the aforementioned foreign country to try and get even more help.
Even as the House of Representatives began drafting charges against President Trump this week, his private attorney, who many believe is partly responsible for leading Trump on the path to his likely impeachment, made an audacious trip to the country at the center of the scandal.

Rudolph W. Giuliani departed Kyiv after meeting with a range of Ukrainians who have been feeding him unproven allegations against former vice president Joe Biden and helping construct a counternarrative that is taking hold in the Republican Party. The latter story line asserts that Ukraine interfered in the 2016 election, including with the baseless theory that Ukraine, rather than Russia, was behind the hacking of the Democratic National Committee.

The purported purpose of the trip was to conduct interviews for a documentary on a right-wing media network. But Giuliani's travel also appeared designed to send a broader and more brazen signal of the disregard that he and Trump have for the unfolding impeachment process.

Source: WaPo, As impeachment tide swirls around Trump, Giuliani drops anchor in Ukraine.
The network in question is the One America Network (OAN), the place Trump goes when FNC hurts his feelings.
Here's the promo for the two-part "documentary."
My favorite part is that "top Ukrainian officials" will "testify under oath." The degree to which these are top Ukrainian officials is dubious (to be kind). More importantly, the notion that being "under oath" in a TV station in Ukraine means anything at all is hilarious. When was the last time Judge Judy brought contempt charges?
Trump, of course, is on board:
President Trump said his personal attorney Rudolph W. Giuliani planned to issue a report to the Justice Department and Congress detailing what he'd learned from his investigations in Ukraine.

Trump claimed not to know what Giuliani was doing in Ukraine this week or what he found out while there, but he asserted that Giuliani says "he has a lot of good information."

"He's going to make a report, I think to the attorney general and to Congress," Trump told reporters Saturday outside the White House. "He says he has a lot of good information. I have not spoken to him about that information yet."

"I hear he has found plenty," Trump added.

Source: WaPo, "Trump: Giuliani will report to Justice Department, Congress on his investigations in Ukraine"
For the record, and as a digression for a moment, phrases like "I hear" or "many people are saying" are just like fingernails on a chalkboard to me. They are utter nonsense and underscore, to me, the utter unseriousness of the person who uses those types of phrases.
One of the persons with whom Giuliani met was Andriy Derkash:
Derkach, an independent lawmaker who was formerly a member of a pro-Russian party in parliament, went to the Dzerzhinsky Higher School of the KGB in Moscow. He is the son of a KGB officer who later served as head of Ukrainian intelligence.

Source: WaPo, Ukraine lawmaker seeking Biden probe meets with Giuliani in Kyiv
Not surprisingly, Derkash is promising dirt on the Bidens.
Derkach said he handed Giuliani documents on allegations relating to inefficient expenditure of U.S. government money on projects in Ukraine and other matters.

The documents do not mention the Bidens. But Derkach makes reference to the energy company Burisma, which had Hunter Biden as a board member.

[…]

Derkach has previously led calls to investigate the Bidens and alleged Ukrainian interference in the 2016 U.S. elections. In 2017, he wrote a letter to the Ukrainian prosecutor general's office, demanding an investigation into alleged interference in the elections by Ukrainian officials to hamper Trump's campaign, claiming this had "seriously damaged Ukraine-American relations."

The July 24, 2017, letter came one day before Trump called on the U.S. attorney general's office in a tweet to investigate "Ukrainian efforts to sabotage the Trump campaign."

Derkach and Dubinsky, however, seem to be experiencing difficulty attracting the support of 150 members of parliament — the number required to form the investigative group.

Source: ibid.
I cannot stress enough that if the administration was interested in working with Ukraine to foster anti-corruption policies, this would not be the way to do it. Having the President's personal attorney interview a handful of Ukrainians who claim to want to fight corruption, is not the way to do it.
At any rate, while Trump is being investigated, and likely soon to be impeached, over trying to get Ukrainian government officials to investigate a chief political rival, his personal attorney is in Ukraine working with a Ukrainian official to investigate his chief political rival.
To my point above: there is no affirmative defense coming from Trump, rather there is doubling down on behavior that got him into trouble in the first place. Indeed, such behavior actually further makes the moral case for impeachment because Trump and his cronies clearly think that the rules do not apply to them.
Stepping outside of the specifics, the basic situation is this: the attorney of the accused has gone to a foreign country to stage a TV show using c-list politicians (to be kind) to be shown on an obscure television network that most people have not even heard of, let alone have access to.
Can anyone with a straight face state that such a scenario is the kind of thing that a neutral observer would find as suggestive that the accused is innocent?