Ruling Class Elites
A bizarre rant in American Spectator contains some interesting thoughts about the nature of America's political elite.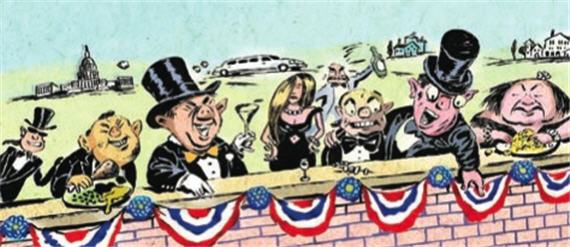 Retired Boston U prof Angelo Codevilla takes to The American Spectator to argue that Democrats and Republicans are largely on the same page in their reaction to the outrages of the financial sector and BP because they're all part of the same "ruling class."  While he takes this to very extreme conclusions, the description of the class itself is interesting:
Today's ruling class, from Boston to San Diego, was formed by an educational system that exposed them to the same ideas and gave them remarkably uniform guidance, as well as tastes and habits. These amount to a social canon of judgments about good and evil, complete with secular sacred history, sins (against minorities and the environment), and saints. Using the right words and avoiding the wrong ones when referring to such matters — speaking the "in" language — serves as a badge of identity. Regardless of what business or profession they are in, their road up included government channels and government money because, as government has grown, its boundary with the rest of American life has become indistinct. Many began their careers in government and leveraged their way into the private sector. Some, e.g., Secretary of the Treasury Timothy Geithner, never held a non-government job. Hence whether formally in government, out of it, or halfway, America's ruling class speaks the language and has the tastes, habits, and tools of bureaucrats. It rules uneasily over the majority of Americans not oriented to government.

The two classes have less in common culturally, dislike each other more, and embody ways of life more different from one another than did the 19th century's Northerners and Southerners — nearly all of whom, as Lincoln reminded them, "prayed to the same God." By contrast, while most Americans pray to the God "who created and doth sustain us," our ruling class prays to itself as "saviors of the planet" and improvers of humanity. Our classes' clash is over "whose country" America is, over what way of life will prevail, over who is to defer to whom about what. The gravity of such divisions points us, as it did Lincoln, to Mark's Gospel: "if a house be divided against itself, that house cannot stand."
These paragraphs show what I mean about taking a point too far.  The first paragraph, aside from its singling out of Geithner, strikes me as dead on.  But I'm less than convinced that the bitter antagonism described in the second paragraph exists.  It is true, though, that the "ruling class" is much more secular than the other.
Who are these rulers, and by what right do they rule? How did America change from a place where people could expect to live without bowing to privileged classes to one in which, at best, they might have the chance to climb into them? What sets our ruling class apart from the rest of us?

The most widespread answers — by such as the Times's Thomas Friedman and David Brooks — are schlock sociology. Supposedly, modern society became so complex and productive, the technical skills to run it so rare, that it called forth a new class of highly educated officials and cooperators in an ever less private sector. Similarly fanciful is Edward Goldberg's notion that America is now ruled by a "newocracy": a "new aristocracy who are the true beneficiaries of globalization — including the multinational manager, the technologist and the aspirational members of the meritocracy." In fact, our ruling class grew and set itself apart from the rest of us by its connection with ever bigger government, and above all by a certain attitude.

Other explanations are counterintuitive. Wealth? The heads of the class do live in our big cities' priciest enclaves and suburbs, from Montgomery County, Maryland, to Palo Alto, California, to Boston's Beacon Hill as well as in opulent university towns from Princeton to Boulder. But they are no wealthier than many Texas oilmen or California farmers, or than neighbors with whom they do not associate — just as the social science and humanities class that rules universities seldom associates with physicians and physicists. Rather, regardless of where they live, their social-intellectual circle includes people in the lucrative "nonprofit" and "philanthropic" sectors and public policy. What really distinguishes these privileged people demographically is that, whether in government power directly or as officers in companies, their careers and fortunes depend on government. They vote Democrat more consistently than those who live on any of America's Dr. Martin Luther King Jr. Streets. These socioeconomic opposites draw their money and orientation from the same sources as the millions of teachers, consultants, and government employees in the middle ranks who aspire to be the former and identify morally with what they suppose to be the latter's grievances.

Professional prominence or position will not secure a place in the class any more than mere money. In fact, it is possible to be an official of a major corporation or a member of the U.S. Supreme Court (just ask Justice Clarence Thomas), or even president (Ronald Reagan), and not be taken seriously by the ruling class. Like a fraternity, this class requires above all comity — being in with the right people, giving the required signs that one is on the right side, and joining in despising the Outs. Once an official or professional shows that he shares the manners, the tastes, the interests of the class, gives lip service to its ideals and shibboleths, and is willing to accommodate the interests of its senior members, he can move profitably among our establishment's parts.
Again, bits of this are over-the-top.   It's true that Reagan and Thomas were and are outsiders from the standpoint of the permanent elite, looked down upon as unworthy of their exalted offices.  But it's rather difficult to argue that a two-term POTUS and a member of SCOTUS are outside the ruling class.    For that matter, while our academic and non-profit elites are much more likely to vote Democrat — indeed, more likely to vote, period — than their economic peers, it's simply absurd to claim that they're more likely to do so than African Americans, who have done so at over 90 percent rate for years.
But it's correct to say that the elite class of whom he's talking are separated by something other than education and money.  It requires having the right education and making money from the right sources.
Much less does membership in the ruling class depend on high academic achievement. To see something closer to an academic meritocracy consider France, where elected officials have little power, a vast bureaucracy explicitly controls details from how babies are raised to how to make cheese, and people get into and advance in that bureaucracy strictly by competitive exams. Hence for good or ill, France's ruling class are bright people — certifiably. Not ours. But didn't ours go to Harvard and Princeton and Stanford? Didn't most of them get good grades? Yes. But while getting into the Ecole Nationale d'Administration or the Ecole Polytechnique or the dozens of other entry points to France's ruling class requires outperforming others in blindly graded exams, and graduating from such places requires passing exams that many fail, getting into America's "top schools" is less a matter of passing exams than of showing up with acceptable grades and an attractive social profile. American secondary schools are generous with their As. Since the 1970s, it has been virtually impossible to flunk out of American colleges. And it is an open secret that "the best" colleges require the least work and give out the highest grade point averages. No, our ruling class recruits and renews itself not through meritocracy but rather by taking into itself people whose most prominent feature is their commitment to fit in. The most successful neither write books and papers that stand up to criticism nor release their academic records. Thus does our ruling class stunt itself through negative selection. But the more it has dumbed itself down, the more it has defined itself by the presumption of intellectual superiority.
This is a bit convoluted, I think, but largely correct. As the recent flap about retroactively taking away a Kennedy School degree earned a decade ago by a Russian spy demonstrates, it's not about the education one receives from going to our elite institutions but rather about the signaling mechanism that having gotten in to begin with sends.   Once in, getting the degree is a foregone conclusion.
Its attitude is key to understanding our bipartisan ruling class. Its first tenet is that "we" are the best and brightest while the rest of Americans are retrograde, racist, and dysfunctional unless properly constrained. How did this replace the Founding generation's paradigm that "all men are created equal"?
This not only grossly exaggerates the attitudes of the current elites but confuses the flowery rhetoric of our Founding elite with their actual attitudes.  There's not much doubt that the people who wrote and signed the Declaration and the Constitution were much less egalitarian than their successors.  Codevilla goes on the cherry pick history to demonstrate just the opposite:  An elite who became ever-more contemptuous of the unwashed masses.  After several paragraphs of this, he comes to:
Franklin Roosevelt brought the Chautauqua class into his administration and began the process that turned them into rulers. FDR described America's problems in technocratic terms. America's problems would be fixed by a "brain trust" (picked by him). His New Deal's solutions — the alphabet-soup "independent" agencies that have run America ever since — turned many Progressives into powerful bureaucrats and then into lobbyists. As the saying goes, they came to Washington to do good, and stayed to do well.

As their number and sense of importance grew, so did their distaste for common Americans. Believing itself "scientific," this Progressive class sought to explain its differences from its neighbors in "scientific" terms. The most elaborate of these attempts was Theodor Adorno's widely acclaimed The Authoritarian Personality (1948). It invented a set of criteria by which to define personality traits, ranked these traits and their intensity in any given person on what it called the "F scale" (F for fascist), interviewed hundreds of Americans, and concluded that most who were not liberal Democrats were latent fascists. This way of thinking about non-Progressives filtered down to college curricula. In 1963-64 for example, I was assigned Herbert McCloskey's Conservatism and Personality (1958) at Rutgers's Eagleton Institute of Politics as a paradigm of methodological correctness. The author had defined conservatism in terms of answers to certain questions, had defined a number of personality disorders in terms of other questions, and run a survey that proved "scientifically" that conservatives were maladjusted ne'er-do-well ignoramuses. (My class project, titled "Liberalism and Personality," following the same methodology, proved just as scientifically that liberals suffered from the very same social diseases, and even more amusing ones.)

The point is this: though not one in a thousand of today's bipartisan ruling class ever heard of Adorno or McCloskey, much less can explain the Feuerbachian-Marxist notion that human judgments are "epiphenomenal" products of spiritual or material alienation, the notion that the common people's words are, like grunts, mere signs of pain, pleasure, and frustration, is now axiomatic among our ruling class. They absorbed it osmotically, second — or thirdhand, from their education and from companions. Truly, after Barack Obama described his opponents' clinging to "God and guns" as a characteristic of inferior Americans, he justified himself by pointing out he had said "what everybody knows is true." Confident "knowledge" that "some of us, the ones who matter," have grasped truths that the common herd cannot, truths that direct us, truths the grasping of which entitles us to discount what the ruled say and to presume what they mean, made our Progressives into a class long before they took power.
In reality, what we had was a government that took on more and more power in order to address the ills of society.   Maybe the practical difference is moot.  But the fact of the matter is that there was never an age when the governing class thought themselves the equal of the governed:  They've always thought themselves smarter and better.
Further, cherry picking statements like Obama's unfortunate campaign slip obscures the fact that most politicians — especially on the Republican side — actually go out of their way to flatter the Real Americans who aren't part of the Beltway Elite.   Indeed, elite has been a bad thing as long as I can remember.
Beyond patronage, picking economic winners and losers redirects the American people's energies to tasks that the political class deems more worthy than what Americans choose for themselves. John Kenneth Galbraith's characterization of America as "private wealth amidst public squalor" (The Affluent Society, 1958) has ever encapsulated our best and brightest's complaint: left to themselves, Americans use land inefficiently in suburbs and exurbs, making it necessary to use energy to transport them to jobs and shopping. Americans drive big cars, eat lots of meat as well as other unhealthy things, and go to the doctor whenever they feel like it. Americans think it justice to spend the money they earn to satisfy their private desires even though the ruling class knows that justice lies in improving the community and the planet. The ruling class knows that Americans must learn to live more densely and close to work, that they must drive smaller cars and change their lives to use less energy, that their dietary habits must improve, that they must accept limits in how much medical care they get, that they must divert more of their money to support people, cultural enterprises, and plans for the planet that the ruling class deems worthier. So, ever-greater taxes and intrusive regulations are the main wrenches by which the American people can be improved (and, yes, by which the ruling class feeds and grows).
For one thing, it's mostly Democrats who argue for "doing something" about this issues.  Most Republicans deny that they're "problems" at all.    Further, it's simply a fact that public policy decisions (home mortgage subsidies, highway subsidies, zoning regulations, making society bear negative externalities of business decisions) created incentives that bolstered these "choices."
Ordinary people have also gone a long way toward losing equal treatment under law. The America described in civics books, in which no one could be convicted or fined except by a jury of his peers for having violated laws passed by elected representatives, started disappearing when the New Deal inaugurated today's administrative state — in which bureaucrats make, enforce, and adjudicate nearly all the rules. Today's legal — administrative texts are incomprehensibly detailed and freighted with provisions crafted exquisitely to affect equal individuals unequally. The bureaucrats do not enforce the rules themselves so much as whatever "agency policy" they choose to draw from them in any given case. If you protest any "agency policy" you will be informed that it was formulated with input from "the public." But not from the likes of you.
I'm not sure that I disagree with any of this except that it's hard to see ordinary government bureaucrats and administrative judges as part of the ruling class Codevilla is railing against.  Indeed, this is the problem throughout the article:  Conflation of elite attitudes, a self-perpetuating ruling elite, and ever-expanding government.  These phenomena are doubtless related in some ways and there's surely some overlap.     But they're not the same thing.
The ruling class's appetite for deference, power, and perks grows. The country class disrespects its rulers, wants to curtail their power and reduce their perks. The ruling class wears on its sleeve the view that the rest of Americans are racist, greedy, and above all stupid. The country class is ever more convinced that our rulers are corrupt, malevolent, and inept. The rulers want the ruled to shut up and obey. The ruled want self-governance. The clash between the two is about which side's vision of itself and of the other is right and which is wrong. Because each side — especially the ruling class — embodies its views on the issues, concessions by one side to another on any issue tend to discredit that side's view of itself. One side or the other will prevail. The clash is as sure and momentous as its outcome is unpredictable.
Has it ever been otherwise?  The difference is that the "country class" has more platforms than ever to vent their displeasure and the "ruling class" has to engage those it governs much more frequently and visibly.