Rush Limbaugh Arrested on Prescription Drug Charges
Rush Limbaugh turned himself in on prescription drug charges this afternoon.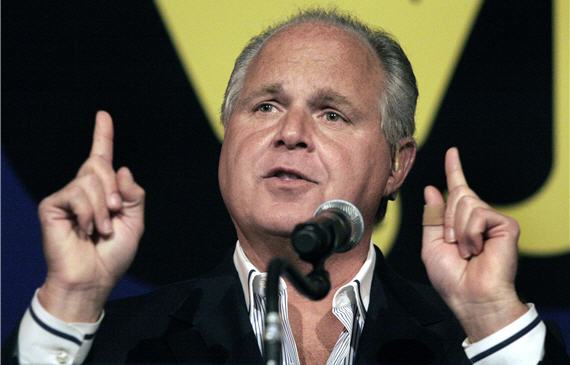 Rush Limbaugh turned himself in on prescription drug charges this afternoon, CNN reports.
Rush Limbaugh was arrested Friday on prescription drug charges, law enforcement officials said. Limbaugh turned himself in to authorities on a warrant issued by the state attorney's office, said agency spokeswoman Teri Barbera. The conservative radio commentator came into the jail at about 4 p.m. with his attorney Roy Black and was released an hour later on $3,000 bail, Barbera said. The warrant was for fraud to conceal information to obtain prescription, Barbera said.
As I noted when the story first broke, taking desperate measures to obtain prescription drugs to which one has become addicted after legitimate use is a far different animal than criminal use of recreational drugs. I say that even though I think both should be legal.
Update (4/29): A much different spin in the AP version this morning.
A three-year investigation into drug use by Rush Limbaugh ended abruptly when the conservative commentator was booked on a single charge of prescription fraud in a deal his attorney says spares him a trial. The charge will be dropped if Limbaugh continues treatment, attorney Roy Black said Friday. "He feels that a great burden has been lifted from his shoulders," he said. "What he told me is that this is the first day of the rest of his life."

Limbaugh surrendered at the Palm Beach County Jail and was booked on a warrant charging him with "doctor shopping," when a patient illegally deceives multiple physicians to receive overlapping prescriptions. The 55-year-old commentator left an hour later, after he was photographed and fingerprinted and he posted $3,000 bail, said Teri Barbera, spokeswoman for the Palm Beach Sheriff's Office. Under the terms of the deal with prosecutors called a pretrial diversion, to be filed Monday, Limbaugh will be cleared of the charge if he stays clean for 18 months and doesn't violate any laws, Black said. Limbaugh has publicly acknowledged being addicted to pain medication.

[…]

As a formality, Limbaugh entered a not guilty plea to the charge, spokesman Tony Knight said. The radio giant has maintained his innocence throughout the investigation. "He was in high spirits," Knight said. "It was all a formality. It's a concluded deal."
I'm not sure I'd have used the phrase "high spirits" in this content. But, yes, I'm sure he's quite relieved to have this behind him.
Under the deal, Limbaugh also agreed to pay the state $30,000 to defray the public cost of the investigation and must pay $30 per month for the cost of supervision, during which time he will continue regular drug tests.
This is an interesting provision and certainly not one available to most of us.
Black said Limbaugh has been drug free for 2 1/2 years. After 18 months, "he will not have any criminal record," he said.
Interesting.
Prosecutors began investigating Limbaugh in 2003 after The National Enquirer reported his housekeeper's allegations that he had abused OxyContin and other painkillers. He soon took a five-week leave from his radio show to enter a rehabilitation program and acknowledged he had become addicted to pain medication. He blamed it on severe back pain.

"The agreement that we entered into makes good common sense," Black said. "The idea is to help the person overcome the addiction … There should be a recognition that people like Rush really should not be prosecuted."
Agreed, although "people like Rush" is a rather vague concept. I would argue that we should not treat addiction, to any substance, as a criminal matter. Even if one opposes legalization of recreational drugs, the emphasis should be on those who distribute them.
Related posts below the fold.

________
Rush Limbaugh and Doctor-Patient Confidentiality
Rush Limbaugh Offers to Mentor Al Sharpton
Florida Supreme Court Denies Rush Limbaugh Appeal
SNL Limbaugh Drug Skit Controversy
To Hell With Values
Limbaugh Getting Third Divorce
10 Questions For Rush Limbaugh
Limbaugh on ScrappleFace
MONEY LAUNDERING II
LIMBAUGH LAUNDERING
KINDER, GENTLER RUSH?
LIMBAUGH TO RETURN
THE END OF MORALIZING?
RUSH REDUX
RUSH ON RUSH
BLACK QB BIAS?
ESPN IRONY
EASTERBROOK FIRED
ROBERTSON ON LIMBAUGH
WSJ ON RUSH
LIMBAUGH RESIGNS FROM ESPN
RUSH ON ESPN
REAGANISM
RUSH ON RECALL
SENSING ON LIMBAUGH